Bones Season 12 Episode 5 Review: The Tutor in the Tussle

Christine Orlando at . Updated at .
There aren't many shows where you'd find a gruesomely decomposing body dumped on Boner Street, but leave it to Bones to go there.
The kid trying to steal the sign and stumbling over the corpse was expected, but Brennan, of all people, getting such a laugh over the street name was not.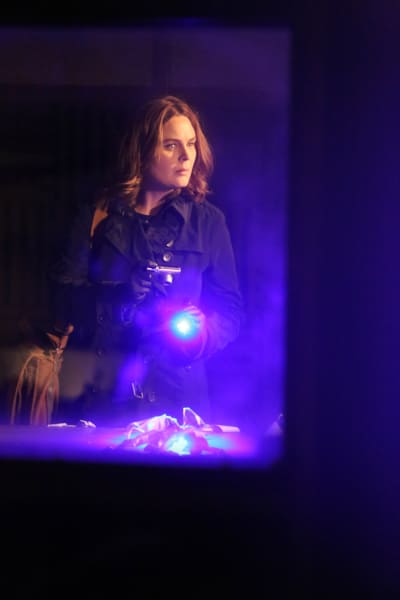 The human penis has no skeleton material of any kind.

Brennan
Let's face it, humor is subjective. 
And Bones Season 12 Episode 5 was a bit of a letdown. 
With only 12 episodes in Bones Season 12, I expect every one of them to knock it out of the park, but this one didn't quite live up to that hope.
However, I did enjoy hearing the team debate who was the best dry cleaner to remove blood, mucus membrane, and fecal matter. 
I wasn't sure where Brennan's issues with her audio books would lead, but it certainly wasn't to Dr. Fisher writing fan fiction.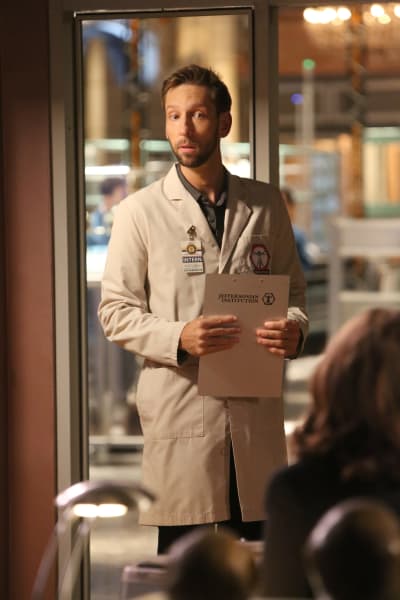 Perhaps it's because Fisher has never been a favorite of mine, but I really didn't care why he had an apparent dislike for Brennan's work. Fisher has always been a malcontent so I never give his complaints much thought.  
Dr. Fisher: Cartoons upset me as a child.
Hodgins: More of an Adam's Family kid?
Dr. Fisher: Twilight Zone reruns actually.
Cam: Everything about you makes more sense now.
Brennan was correct in that the person narrating her audio book was mediocre at best. There's nothing worse than a lackluster narration when listening to a novel. 
Unfortunately, Brennan's attempts at it were no better, maybe even worse, but to her credit she realized it, thanks to Aubrey's lack of a poker face. 
There was little doubt that Aubrey's father would show up this season, but I expected the encounter to pack more of a punch. 
I was a bit surprised that Aubrey would consider letting his father go for any reason, and since he was already on the run as a fugitive, I couldn't imagine him spending much time with another child. 
It was good to see Karen attempting to help Aubrey, as a friend. She seems to have accepted that he's in a relationship with Jessica. 
Also, I enjoyed Karen in this installment more than her previous ones, perhaps because she came across as more honest and less quirky. 
The fact that Philip tried to manipulate Aubrey by playing on his general good nature and kind heart just proved what a low life he really was.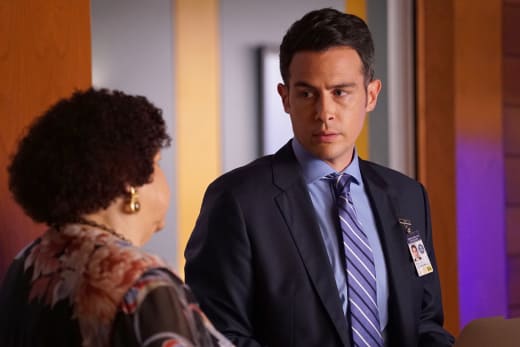 I had no doubt that Aubrey would eventually turn him in, but I expected far more drama considering all of the buildup for this family reunion. 
On a side note, hearing someone call Aubrey "James" was really weird. 
The best part of Hodgins spider debacle was witnessing Cam and Angela bond over it…
Cam: I know Hodgins is your husband and your soulmate, but…
Angela: Oh no. We'll kill him together.

If Hodgins had only said something about the spiders he'd accidentally let loose in Cam's office, she could have fumigated and all would have been forgiven, but that's just not Hodgins. 
Instead Jack slunk out and hid, snickering all the way, and now he'll have to pay the price, as Cam explained in this Bones quote…
Hodgins: So, you're just going to forgive me?
Cam: Well, either that, or I wait until you're lulled into a sense of security, maybe days, maybe months, and then when you least expect it, exact my revenge.
I hope we get to see that revenge before the series ends. 
Finally, we get to the murder of the week…
There was no one involved in this storyline that was actually nice. 
Austin referred to the students that liked and trusted him as merely paychecks and Amy Bryan seemed far more concerned with her school than finding who murdered her best tutor. 
The best moment was the look on Booth's face when Cornelia ran her hand across his shoulders. The man is a trained sniper, yet this woman put a look on his face that made me think he needed a shower just from being near her. 
When Cornelia strutted into interrogation and insisted she was Amy's attorney, I wondered if she was the killer or if she and Amy were in on it together. 
Instead everything circled back around to "Psycho Sue" who didn't actually murder Austin but raised the person who did.
Talk about rage! Jacob not only pushed Austin down a flight of stair but then managed to carry him into the back of the car, dumped the body, and then fired multiple shots into the corpse until you couldn't recognize his face. 
With that, I'd say he takes the "Psycho" crown away from his mother and firmly places it on his own messed up head.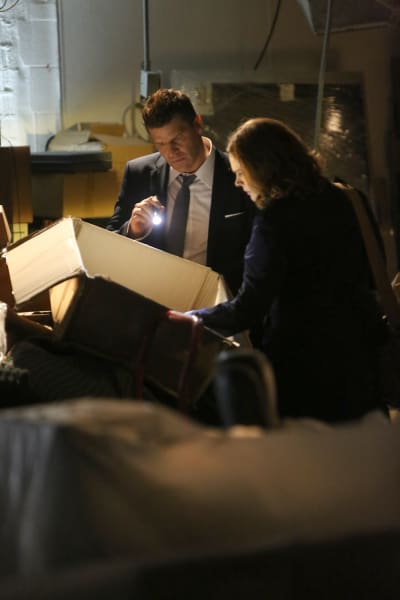 So tell me Bones fans, are you happy to know that Agent Andy is alive? Did you hope we'd at least get a glimpse of Christine and little Hank?
And are you as frustrated as I am at the way they've left us hanging about Max's illness?
Check back this weekend to check out what our Bones round table team thinks about this and more…
And if you can't get enough, you can always watch Bones online here at TV Fanatic. 
C. Orlando is a TV Fanatic Staff Writer. Follow her on Twitter.