Chicago Med Season 2 Episode 9 Review: Uncharted Territory

Elizabeth Harlow at .
Natalie just couldn't catch a break on Chicago Med Season 2 Episode 9 and it doesn't look like things will get easier anytime soon.
Of course she isn't the only one having a rough time -- it wouldn't be Gaffney Medical if the staff's personal lives were smooth sailing. April is facing one hell of an uphill battle in the second half of the season, and Dr. Charles' relationship with his daughter is developing at a glacial pace.
At least it looks like there's hope for some of our docs. Ethan keeps pushing himself to grow as a person, and Sarah's still excitedly quoting psych textbooks. Thank god it's not doom and gloom for everyone!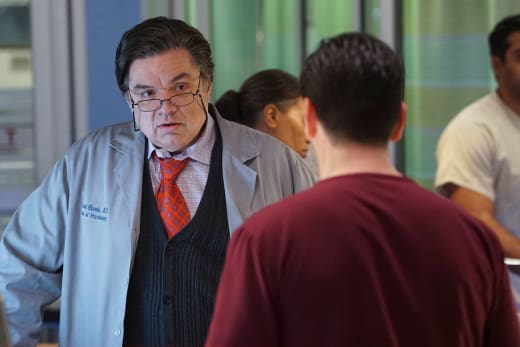 Natalie's patient Ted got me right in the feels. It was just such a tragic case for everyone. Even without the morbidity and mortality review, Ted was going to haunt Natalie.
It wasn't even his intriguing medical case that got me, or the fact that he was basically just a kid. His self deprecating humor was delivered perfectly, and his eager compliance made him seem like an ideal patient. Except that everything in his body just kept going wrong.
I'm looking forward to the M&M for the case (although not to watching Nat get dragged through the mud). This really did seem like a freak case, and the unique teaching method is something that every med show has to do. Once. 
And who knows, maybe being dragged over the coals professionally will help Dr. Manning put her personal life into perspective.
Natalie: You know there are some great apps for tracking calories, too.
Patient: That's way down the line. I mean, after I get a handle on GMOs, gluten, organic vs farm fresh... That's why I like fast food. It's simple
The M&M will also give a better idea of what to expect from Dr. Stohl. He seems like a strange, strange little man. But is he truly a bad boss? His acquiescence to Will's authority as an attending didn't make him seem like a micromanager. Could he be the type to blame others for his mistakes? Or is he just a bore with bad interpersonal skills?
Only time will tell. But the appearance of a departmental authority figure will open up some interesting new avenues for conflict. 
Speaking of conflict, April and Tate could use a lesson on how to resolve it. The couple is facing a potentially awful situation, and the not knowing has got to be one of the worst parts. If they're not able to talk things out and see each other's position, they may not be able to make it, no matter the outcome.
Tate: Look -- you're twelve weeks. If we're considering --
April: We're not.
Tate: April, it's not what I want either. But if your health is in question, the quality of life of our baby is threatened, I -- we need to understand this gets riskier, more complicated after fourteen weeks.
April: Tate, I am Catholic.
Tate: April, it's my baby, too. Don't I at least get to discuss this?
When Tate tried to start the discussion of options with April, I was pretty excited to see where the writers would take the issue. Termination is a touchy subject, and many shows end up taking the easy way out by having the woman experience a last minute miscarriage so she doesn't actually have to make a choice.
Med will at least be treating the topic with the consideration it deserves, stretching the story arc out several episodes. But April's immediate refusal to even have a conversation was disappointing. I'm hopeful that her attitude will change as the story develops, because we and Tate, deserve more than a three word explanation.
I really do hope those two can work it out, whatever the outcome. Maggie might not have been supportive initially, but the pair is cute together and, dammit, I'm invested.
Robyn: "If you're going through hell, keep going." Isn't that what you always taught me?
Daniel: Well, technically, it was Winston Churchill, but...
Robyn: Still, it's never let me down.
Weirdly, I'm less interested in Dr. Charles' relationship with Robyn. I mean, it would be nice to see them reconcile of course, but every time he awkwardly eavesdrop in the hall, I just wish he could give himself some advice about healthy boundaries. Maybe Sarah will be able to get through to him about that.
One thing about the weird Charles-Robyn-Connor triangle that would be interesting to explore would be how the couple's relative daddy issues affect their relationship with one another. What is her take on the Rhodes family drama?
Daniel: A member of my junior staff drew my attention to the fact that, um, I was so focused on her risk factors, that I was blind to the one personality trait that my late brother did not have.
Sarah: What?
Daniel: Grit.
There's probably going to be more tension between the three -- or at least between Connor and Charles -- when patient Meghan is involved in a car crash on Chicago Med Season 2 Episode 10 ("Heart Matters"). Apparently, the crash will "reveal issues that could complicate her surgery."
Am I the only one that had a flash of suspicion that her glass wasn't filled with water? That may be too obvious of a complication, but it's certainly not impossible. 
The over zealous officer who arrested Maggie on Chicago Med Season 1 Episode 12 ("Guilty") will be brought into the ER, and even though the promo is making a fuss about the staff being able to treat her without prejudice, my guess is that Maggie's going to be the one to donate a rare blood type to save her or something.
I'm far more curious to see if the M&M brings Nat and Will closer. Personally, I don't think she should let what happened between the two Jeff's years ago while Jeff H. was drunk affect her so much. But I'm sure that his support will give a case of the "might have beens."
If you missed out on something, no worries, you can watch Chicago Med online. We'd love to hear your thoughts on "Uncharted Territory" down in the comments section! 
Elizabeth Harlow was a staff writer for TV Fanatic. She left the organization in October 2018.