DC's Legends of Tomorrow Season 2 Episode 9 Review: Raiders of the Lost Art

Carissa Pavlica at .
Phil Gasmer, acid-dropper, screenwriter, guardian of the Holy Lance. Nice to meet you.
All kinds of interesting things came to light on DC's Legends of Tomorrow Season 2 Episode 9, including Rip's whereabouts, the origin of the Legion of Doom, an alternative name for the Spear of Destiny and Mick Rory's feelings.
We were even left pondering something magnificently important: Where would you be without George Lucas?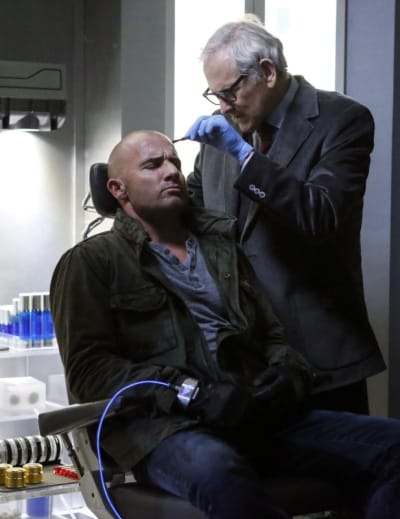 This return leaned into what it does best by recognizing the inadequacies of what it has done before, paying heed to its comical strength and liberally splashing everything with some action sequences.
With the way the humor was dialed up on this one, it's almost a shame Legends won't be airing after Arrow going forward to truly balance out the light and the dark of the DC shows on The CW.
The antagonizing relationship between Mick and Stein that normally drives me mad was played for laughs when Mick decided Stein could be the fixer of all things, mental and physical. 
Mick: I've got an idea.
Stein: So, this would be a new milestone then?
The dismissive way Stein treats Mick grates on my last nerve, but by reaching out to him, Mick allowed Stein into his circle, and now the two have a little better understanding of each other. 
At the very least, Stein might realize there is more than red meat inside the hunk of man he so arbitrarily makes of without a care, and maybe he'll think twice when insulting Mick is his first response in the future.
Hey, I can dream.
What's interesting here is that we went another full hour talking about Leonard Snart without seeing Wentworth Miller. What a cushy job. Seriously. That guy has it made.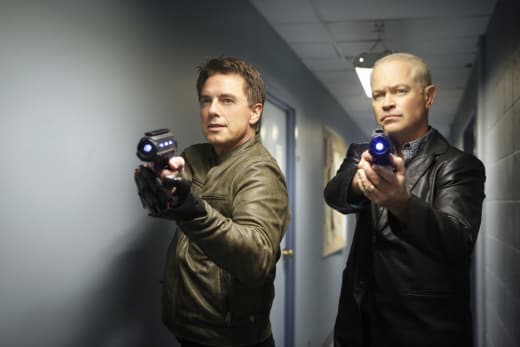 At least the Legion of Doom (Hanna Barbera; thanks, Nate) are being forced to work for their full-time salaries nowadays. 
Even though Merlyn, Darhk and Thawne weren't my first choices for characters to come back from obscurity and/or fan oblivion, John Barrowman and Neal McDonough are having a blast acting with each other and terrorizing on behalf of their characters with cartoonish menace.
The scene in the elevator was classic, and if GIFs had music would be perfection.
If only Matt Letscher was playing Thawne without such a straight face, they'd be killing it. Such that it is, allowing him to be the boss while the other two bamboozle and gut the innocents works well.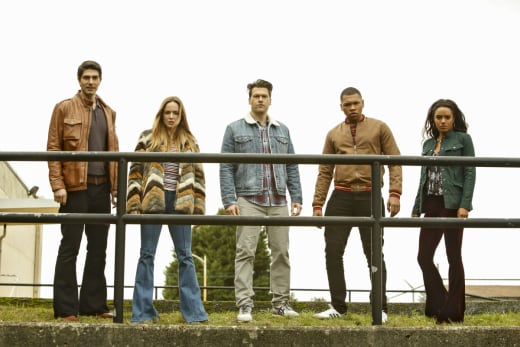 In classic comic form, the good guys and the bad guys happened upon the former Rip Hunter at the very same moment, which was ridiculous, but allowed for the former Captain to go into freak-out mode. 
Arthur Darvill finally got to have a good time on a show where everyone but him was consistently enjoying themselves during DC's Legends of Tomorrow Season 1. Screaming and slapping Jax with a rolled up script were among some standout moments.
And hey, he's the guy who brought so much of that first season ugliness and failure to light! The lines about the actor playing his version of Vandal Savage were so direct I didn't even dare capture them as quotes. They were like an open wound.
It was so to the point that poking them almost seemed cruel.
You know, we can't have the Legion of Doom running around with the Spear of Destiny changing reality, so thank goodness Phil put it into the hands of George Lucas, who was so ready to give up as soon as one of his ideas had wings.
Seriously, why did they make Glucas (that was funny) such a wimp? Poor George. He was a bit like Dorothy in Oz, he only needed to believe to get back home again, or to follow his yellow brick road.
I've never thought about how pivotal Lucas was to the lives of so many, but it's probably true. Would any of you have taken different paths if he hadn't followed his?
And if not George Lucas, then whose past would have to change for yours to follow suit?
I really had a thing for TV, but I cannot track the route of sociology in college, human resources, and dropping out of all things to write and edit. Mentorless!!
If we have to choose between Rip Hunter and Phil Gasmer, I choose Phil. Not only do I wholly approve of Sara's job as ship's captain, but Hunter was a downer. Can't he "die" so we can retain Phil?
It's hard to imagine what the Legion of Doom will do to the guy to get him to put all of the pieces of his life together, or how that is is even possible if he used the functionality of the Waverider to "permanently" alter his DNA.
It's OK with me if Darvill returns as a slightly different character who takes years to reacquire his memories, and in the meantime lastingly alters his personality.
Since Mick was a Time Master the same as Rip, I wonder if the chip in Mick's brain will come into play as a way to "save" Phil and restore his life as Rip. The inactive chip in Mick's brain wasn't mentioned for nothing.
"Raiders of the Lost Art" is Legends embracing what it does best. It's acknowledging deep, philosophical discussions aren't best played out on a time ship while proving they're not needed to tell a memorable and thought provoking tale. 
A very good move, indeed.
Make sure you watch DC's Legends of Tomorrow online if you want to see more of Rip Hunter and Leonard Snart!
Carissa Pavlica is the managing editor and a staff writer and critic for TV Fanatic. She's a member of the Critic's Choice Association, enjoys mentoring writers, conversing with cats, and passionately discussing the nuances of television and film with anyone who will listen. Follow her on Twitter and email her here at TV Fanatic.