Nashville Season 5 Episode 2 Review: Back in Baby's Arms

Tiffany Staton at . Updated at .
Sigh. I love the new Nashville so much. Thank you, CMT.
Tonight's episode focused on common relationship problems – trust issues, infidelity, and lack of communication.
Not only did it showcase Nashville's romantic relationships but it also leaned on some of its fantastic platonic relationships.
On Nashville Season 5 Episode 2, Scarlett struggles to trust Gunnar again, Will finds himself in a compromising position, and Deacon tries to explain his feelings to Rayna.
We didn't see much of Scarlett and Gunnar in the first half but what we did see was a lot of smiles, cuddling and general happiness.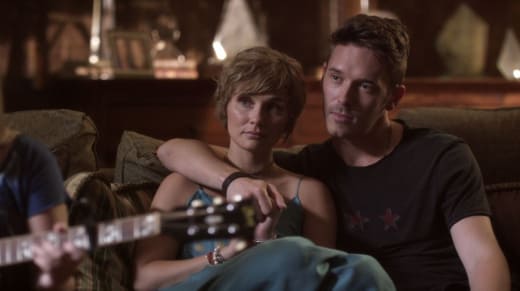 In the second half, we learn that Autumn is still a problem between them as her continued text messages are bringing up all kinds of feelings in Scarlett and not the good kind.
She's jealous, insecure and scared.
I liked how the show let Scarlett work through her feelings. She starts by lashing out at Gunnar and bringing up the past, which is not helpful.
If she had a problem with the girls Gunnar dated in the past or the song she had known about for weeks, she should have communicated that to him earlier.
Still, I think the way it came out was very true to life.
I also liked how she turned to Deacon for advice. They have always had a closer relationship than that of just niece and uncle.
Scarlett: You know when you can't enjoy what you've got because you can't stop thinking about how bad it was when you didn't have it and so you're kinda bracing for that and then you end up screwing up all of the moments. That make sense?
Deacon: Far too much.
Deacon wisely reminds her that fighting is natural and nobody is perfect. Which seems like obvious, useless advice but is easy to forget when you're in the middle of an argument with someone you love.
In the end, when she tells Gunnar she's trying to get over it, it felt like she had really worked to get to that point.
Gunnar changing the lyrics to "blue eyes" to describe Scarlett was the cherry on top of a great arc. The two of them and dreamy duets are GOLD.
When we finally catch up with Will, we see that he's still with Kevin and adjusting to life as an openly gay country singer.
The show doesn't waste any time illustrating this new found celebrity, as their intimate dinner is quickly interrupted by a flirty fan.
Even I was a little offended by how blatantly Jacob hit on Will in front of Kevin.
Kevin's jealousy was expected, although, he's a confident, good-looking guy so I wasn't surprised that he got over it pretty quickly.
Will's interest was also relatively understandable. All of a sudden he's got everyone's attention and it's not rooted in judgment or shame.
Although Will and Kevin dated previously, it seems like their relationship is still very new. Maybe because the circumstances are so different now.
It's obvious Will cares for Kevin, but he also has some oats to sow. His experience with other guys is limited because he was always hiding his sexuality.
Now, it's out in the open and he's getting offers like never before. He may need to explore those before settling down for good.
One offer I don't think he needs to explore is Jacob's. That guy is a jerk. He doesn't respect Will's relationship and to me that means he doesn't respect Will.
Even a one night stand deserves respect.
While I didn't agree with it, I loved that Will went to Gunnar for advice. Theirs is another great platonic relationship on the show.
It was hard to watch Will lie to Kevin. I wanted so badly for him to just be open and honest but we know those aren't Will's strong suits.
He tends to avoid his feelings and hope they go away.
I hope he finds a way to communicate them because I would hate to see him try to deny them, eventually give into them and end up hurting Kevin.
Rayna and Deacon had their own issues as well when Rayna asked him to do a concept album with her and Deacon didn't want to. 
Rayna: Honey, I love you very much but sometimes you can be a complete idiot.
Deacon: There's no disputing that.
Was I the only one thinking Rayna was going to say she wanted to have another baby? It wouldn't be the craziest idea, would it? They're still relatively young.
This episode highlighted what I don't like about Rayna – everything is always about her and everybody has to go along with what she wants.
To be fair, she grew up adored by the world so I'm sure she's always been surrounded by "yes men."
But Deacon, of all people, should not be treated that way. The man has stood by her and supported her through everything.
This one time he chooses to express a different opinion and she won't hear it. She just keeps bugging and guilt tripping him until he surrenders.
Even Glenn doesn't like the idea of a concept album but Rayna wants what she wants.
Even though they've never done a concept album, I feel like most of the songs her and Deacon sing are about their relationship anyway so how will this album be any different?
I thought Deacon did a great job of explaining why he didn't want to the do the album.
They've been through some dark times and it makes sense that Deacon wouldn't want to jump back into them especially considering how bad they make him look and feel.
On the other hand, I do agree that some of the best music comes from the darkest places.
Elsewhere on the episode, Avery is still trying to love Juliette and she is still resisting him despite his valiant efforts.
Juliette: I don't want anyone seeing me like this.
Avery: Juliette, listen to me. You're beautiful, okay? And you're alive. You survived. That's all that matters. It doesn't matter what people think. I mean if anything they'll think you're brave.
Instead she distracts herself by her obsessing over the woman that saved her, Hallie. Never having been a person of faith, she's still trying to understand why she survived.
Juliette has always had very strong emotions and her survivor's remorse is no different. I'm interested to see how a relationship with Hallie could affect and change her, if at all.
Lastly, I think it's pretty obvious that Rayna has a stalker and the most likely suspect is Zack Wells, the Silicon Valley tech billionaire.
He mysteriously gets Rayna's number and finds a random reason to come to Nashville just days before someone sends her flowers and watches her walk around town.
Side notes:
Gunnar's "All Of Me" was my favorite song of the episode, and in my opinion, just as good as John Legend's.
I loved that Avery told Scarlett and Gunnar he loved them before he left. They've come so far to become genuine friends.
If you missed this episode, remember you can always watch Nashville online via TV Fanatic.
Tiffany Staton is a staff writer for TV Fanatic. Follow her on Twitter.