Shadowhunters Season 2 Episode 2 Review: A Door Into the Dark

Justin Carreiro at . Updated at .
I think we can all agree that the adults are not to be trusted on Shadowhunters. They all have their own agendas! Only Luke seems to be the trustful one.
On Shadowhunters Season 2 Episode 2, the adults continued their "I know what's best for you" mantra. We already knew Valentine was despicable, but Victor Aldertree and Jocelyn continue to surprise.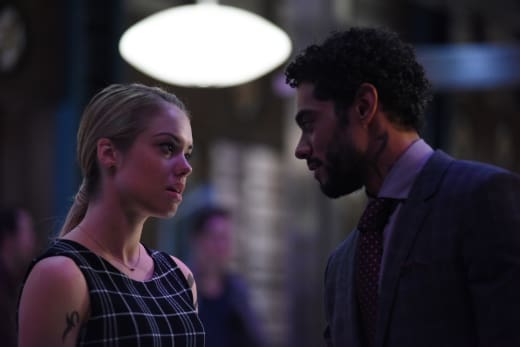 Between the power control set by Aldertree and Jocelyn's lies, it's no wonder the core group feel they need to get the job done. And they're showing results! They're the only ones thinking with reason and composure in the Jace situation.
Does anyone trust Aldertree? There's something about him that screams evil and having hidden motives. It could be the way he politely talks down and threatens people...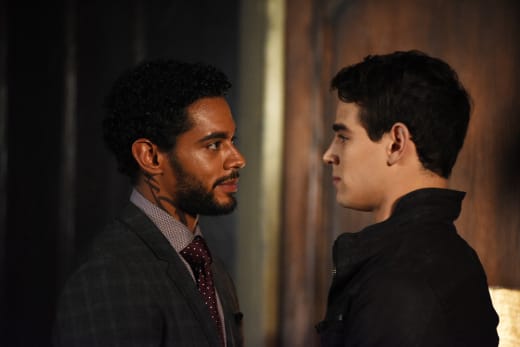 Ever since his first appearance on Shadowhunters Season 2 Episode 1, he's tried to enforce his will on many of the cast. He's demanded them to complete missions or completely keep them confined to the Institute. He's on a serious power trip.
All I can say is poor Lydia! It seems like she is probably getting it the worst from him behind-the-scenes.
Sure, he threatened to de-rune Isabelle and he's forcing Simon to do his bidding. We also can't deny that he has a hidden grudge against Clary! But Lydia is forced to work and report directly to him on a daily basis.
I won't be sad to see this villain go. Let's cross our fingers it will be soon!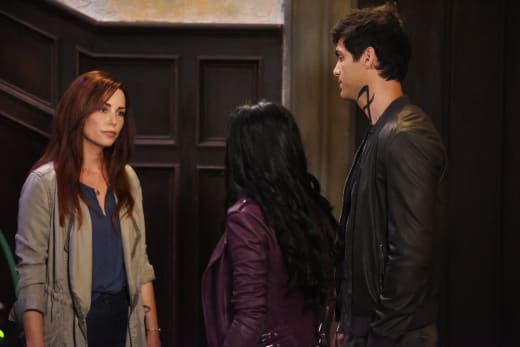 Jocelyn, on the other hand, is having a case of "good intentions" – she's not bad, but she's not right. It's nice to see her care about Clary and want to protect her; she is her mother, after all. But Clary has grown up so much since the first season.
In fact, Clary found the Mortal Cup AND stopped countless demons! She can take care of herself. It was Jocelyn who kept the truth and put her daughter in danger.
Jocelyn: Honey, there's still so much you don't know.
Clary: And whose fault is that?! Everyone says Valentine is the monster, but you...you just tried to murder your own son!
Could her behavior have something to do with Jonathan? There must be more to that story than revealed. Jocelyn is clearly hiding something.
I'm still on the fence about Jace being Jonathan. Valentine keeps bringing up Jace's demon blood experiments and now Jocelyn has mentioned it. But yet, we haven't seen any demon activities from him. It could be a lie?
The theme of experimentation has come up again this episode; not just about Jace but with Dot. It's an interesting idea that the writers are going with – I'd be curious to see what extra powers (or further experiments) Valentine has in mind for this storyline.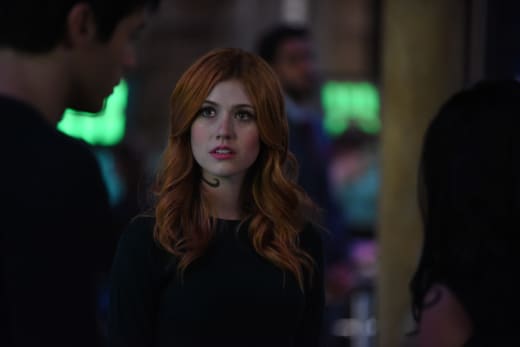 Clary going through her self-discovery phase felt right for this point in the character's development.
She's spent a whole season being thrust right into the action and learning what she can about this new world. Now she's determining what she wants and who she is. Her heading to her "what if?" space (the art school) was a good contrast moment against the Shadowhunters world.
Kudos to the editors for how they portrayed Clary's visit to the school. Her walking through the city and her red hair glowing made her standout against the blandness of the Mundanes. And the warmth felt with the colors and life of the students showed the different future she could've had, if not for her destiny.
I think the situation was best said through her discussion with Isabelle.
Clary: Alec's right, I'm not one of you. I'm just some girl from Brooklyn who went out to celebrate her birthday and came back with a present she never wanted...and can't return.
Isabelle: You don't want to return that present. It's a blessing.
Clary: Not for me. I just...I want to feel normal again, Isabelle. I want my life back.
Isabelle: I'm sure, but don't you get it? You have a target on your back. The Institute is the safest place for you. You have a new life now, you have me, and that's not going to change.
The friendship between these two characters is one of the hidden gems of the show. They have great chemistry together and they give sound advice that doesn't sound too bias. I can't get enough of this friendship.
Does anyone else think Alec is a bit ungrateful towards Isabelle? They love each other as siblings – there's no denying that. But she clearly goes above and beyond to look after her brother and make sure he's fine.
I get it: Jace is Alec's parabatai. And he still has feelings for him.
Still, it doesn't give Alec the right to disregard Isabelle when it's putting his life in danger. His sister cares about him, and she's not overstepping her bounds in the same way Jocelyn treats Clary. That spell was dangerous!
Isabelle: Forget it. He's not doing it.
Alec: Don't listen to her.
Isabelle: No, Alec! I've already lost both parents to Idris and a brother to Valentine. I'm not gonna lose you too.
Alec: Izzy, you said it yourself, we have no choice.
Isabelle: That was before I knew you could die. No, get up.
Alec: He needs me, Iz. I can't...I can't live without him.
He should've listened to his sister. Now his life hangs in the balance! Of course, this happens after we get a "Malec" episode last week.
Speaking of Magnus, I'm liking this new "advisor" friendship between Magnus and Simon. The two didn't connect much last season – they were barely together for non-Clary moments. This gives them more chances to interact and continue the Camille hunt.
Magnus: Oh there you are! And there he is, my baby.
Simon: Your baby?
Magnus: I created him for Camille ages ago. Best gift I ever gave.
Simon: Great. Well then, maybe don't include me on your Christmas list.
Magnus: He didn't scare you, did he?
Simon: No, of course not. I "Encanto'd" him. No biggie.
Camille can't be hiding too far; she seems like the type of character who loves to be the center of attention. Though, her place in Agra looked gorgeous! The set designers did a great job in building the location. The snake statue, however, was creepy – and the actual snake didn't help.
Having Camille return to the series would be fun, but it's nice to have Raphael back again too.
David Castro, who plays Raphael, did a great job last season with his love-to-hate vampire role. Seeing Simon's reaction of coming face-to-face with Raphael again was hilarious! They have great chemistry together; it's almost like Simon reconnecting with a past bully.
Raphael: Do you have any idea what the Clave does to vampires who violate the Accords?
Simon: I'm not sure I want to know.
Raphael: They nail us to crosses and let shafts of sunlight burn off our body parts, one at a time.
Simon: Which body part? You know, don't answer that!
Hopefully Simon will gain the confidence to stand up to people. He's been pushed around a lot this season and last; it will be nice to see him start feeling like a winner. And him mastering his powers might help with that .
The same goes for Jace as well. He's being manipulated and controlled a lot this season – Valentine is messing with his head.  He doesn't seem like the same guy from last season; the mere appearance of Clary made him nearly lose it.
Though, now that he's free from the boat, I don't expect him to relax any time soon. Aldertree is gunning for him! It is not looking good for this Shadowhunter.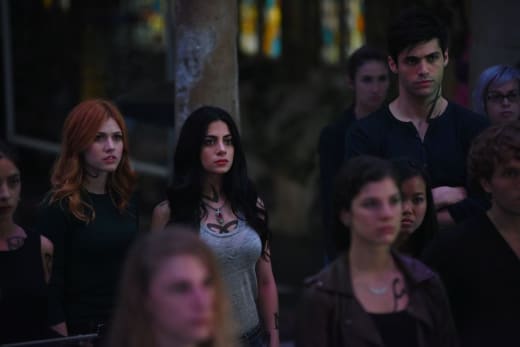 What did you think of "A Door Into The Dark"? Will Alec survive the effects of the spell? Is Dot doomed to die? Will Aldertree punish Simon for not finding Camille?
Missed the latest episode of Shadowhunters? You can watch Shadowhunters online via TV Fanatic. Come back to let us know what you think!
Justin Carreiro is a staff writer for TV Fanatic. Follow him on Twitter.