The Blacklist Season 4 Episode 9 Review: Lipet's Seafood Company

Sean McKenna at . Updated at .
The Alexander Kirk saga came to an end on The Blacklist Season 4 Episode 8, but there were still a few questions left unanswered in connection with it.
Was that the last we've seen of Alexander? What did Red whisper to Alexander? And was Red really telling the truth when he said he's Liz's father?
Unfortunately, The Blacklist Season 4 Episode 9 only briefly touched on the Alexander ordeal at the start of the hour before pushing it aside to focus on something completely else.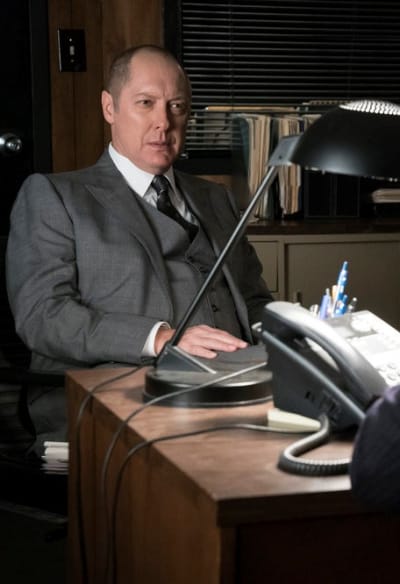 I'm glad that the series has moved on from the battle with Alexander, but those lingering questions are important and hopefully will be answered by season's end.
And for me, especially the question about parentage.
At this point, I don't care if Red is or isn't Liz's real father, but some solid confirmation one way or the other and then moving on would be nice.
Red played a big part in getting Liz pardoned and her special agent status back on "Lipet's Seafood Company," which wasn't a surprise, but he felt almost nonexistent during the hour.
Obviously he has sway with even the most powerful of people, and he worked his magic to usual effect, but I was expecting more from him with regard to what the new larger story might be.
It definitely didn't have quite the same punch when it came to Red and his antics.
That said, Red taking a backseat did give way to allow the other characters to get more time to shine, and Samar was put in the spotlight.
It was an interesting twist that Samar wasn't just covering for the Mossad, she was the one who set up the attack on the terrorist hideout to steal the tech.
Clearly, she was trying to do the right thing in stopping the latest bad guys, but she also sacrificed some trust in doing so.
But why didn't she tell her FBI team? Would they not have helped out? Or was she worried about a leak?
It was great to delve into a character that wasn't Red or Liz again, but it was disappointing that the end result meant a huge rift between Samar and Aram.
Is there any hope left for them?
The two have both expressed their love for each other, and I'm sure they'll find a way back to each other, but it's too bad how things have turned out for now.
At least she managed to turn down what was being played up as a new love interest.
I half expected her to go to him in dealing with her sorrows about Aram. So it was a big play that she told him it wouldn't work out, even if he wasn't engaged anymore.
The biggest surprise had to be Ressler throwing Farook into an oncoming car, killing him.
I figured the usual capture would be in order, or at least just a minor injury.
Did anyone expect Ressler to make some snarky one-liner as he walked away, too?
Would you prefer to be in the White House or the dog house?

Red
This was an OK episode to start the new year, sort of setting up the new chapter for the series, or at least getting Liz back on the team.
But I was expecting a bigger return, especially involving the larger story and what's next.
And while I liked the focus on Samar, and it was a good twist, I'm looking forward to putting Red back into the spotlight.
It's time for Red to make his next big move and really kickstart The Blacklist Season 4 into gear
What did you think of the episode? Do you agree with Aram's decision? Are you surprised Liz was pardoned?
Sound off below and be sure to watch The Blacklist online at TV Fanatic!
NOTE: The Blacklist Season 4 Episode 10, "The Forecaster," airs Jan. 12 at 10 p.m.
Sean McKenna was a TV Fanatic Staff Writer. He retired in May of 2017. Follow him on Twitter.