The Vampire Diaries Round Table: Who SHOULD Have Returned?
Paul Dailly at .
The end is approaching.
That was made perfectly clear on The Vampire Diaries Season 8 Episode 10 when Cade made his presence felt in Mystic Falls, but who will he kill next?
TV Fanatics Justin Carreiro, Mandy Treccia and Paul Dailly discuss Cade killing two characters, past characters reappearing and whether Matt and Damon might become friends. 
What did you think of Cade killing Sybil and Seline?
Justin: I am shocked! Why did he make such a foolish decision?! He needs them to succeed in his plans.
I'm sad we'll be losing Sybil because I liked her character; Seline, on the other hand, not so much. Cade's overconfidence will get the better of him. The thing he needs is more people helping him, not less.
Mandy: I loved it. Even though I liked Seline, the sirens grew stale pretty fast. Cade strikes me as a more interesting villain so I'm glad he'll be taking center stage.
Paul: It was a great twist. I thought for sure their storyline would be dragged to the series finale. Now, we can focus on Cade and his wicked ways.
Was Damon's mind a good place to set much of the episode?
Justin: I wasn't a fan of the setting. With only a few episodes left in the series, The Vampire Diaries needs to go out with a bang. This search through Damon's mind felt tedious.
Don't get me wrong, I liked seeing Tyler and Gran again. It's always great having familiar faces return. However, there are more pressing things that need to get done in the town.
Mandy: Yes, because he's caused so much pain for the characters we love and miss. It was a nice way to add in nostalgia without taking away from the current plot. 
Paul: I liked it. It was the most logical way to bring some long gone characters back to the show. Previously, the show has delved too much into the other side.
Will Matt and Damon become friends?
Justin: Yes and no. They'll never be good friends, but they've known each other for years at this point – they have history. In a way, they're already friends by vicinity and friend group.
Mandy: Probably not. Nor should they. But maybe there will be a bit more of a begrudging respect between them. It's better than the repetitive fight they've been having since The Vampire Diaries Season 1.
Paul: Surprisingly, it seems like they could be. I don't know how long it would take for the friendship to become official, but it seems like it's on the horizon.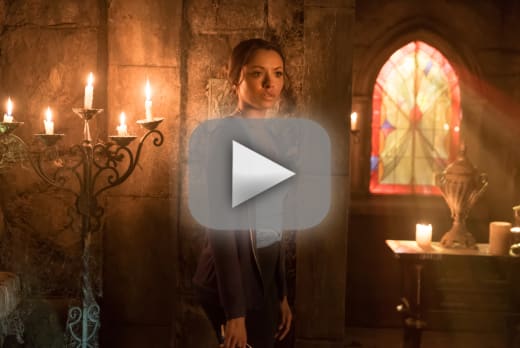 Who would you have liked to return?
Justin: I need The Originals, Jeremy and Jenna, to come back! It's felt like forever since I've seen Jenna on The Vampire Diaries, and Jeremy is always great to have around. They remind me so much of earlier seasons.
With The Originals, since their future is up in the air, it would be nice to see them pop over. It could even just be for one episode. Damon and Rebekah had such good chemistry.
Mandy: Rose. I know Damon wasn't at fault for her death so she doesn't fit into this plot. But I always enjoyed their scenes. Also, Kai. Because I think Chris Wood should be in everything.
Paul: Lexie. A scene between Lexie and Stefan would have been the perfect thing for this episode.
What do you want to happen before the series is over?
Justin: I need Elena to come back and save the day...or cause a mess of drama. I hope her return isn't a quick moment at the end of the series. She needs to appear and shake everything up.
Mandy: Hero Hair Stefan needs to return. I want Bonnie to be happy forever. Stefan and Caroline need to have their June wedding. I'd also like Damon and Alaric to fix their friendship. 
Paul: I want Katherine to return and wind up with Stefan. That would be a great twist. Just kidding, I want Steroline to have their June wedding and Cade to be taken out of the equation.
Remember you can watch The Vampire Diaries online. Get caught up now!
Over to you, The Vampire Diaries fanatics, hit the comments with your take on the questions. 
Note: The Vampire Diaries Season 8 Episode 11 airs February 3 on The CW. 
Have a look at the teaser below:
Paul Dailly is the Associate Editor for TV Fanatic. Follow him on X.