Black Sails Season 4 Episode 4 Review: XXXII Trusting the Untrustworthy

Gil Griffin at .
Leave it to Nassau women to achieve what Nassau men can't.
In Black Sails Season 4 Episode 4, a more an informative, necessary bridge to a next chapter than a riveting standalone, that much is clear.
For the better part of the hour, Billy Bones and Israel Hand alternately try to pry apart pirate-liberated slave alliance co-leaders Capt. Flint and Long John Silver. In separate conversations with each leader, Bones and Hand spread seeds of doubt about the other's loyalty.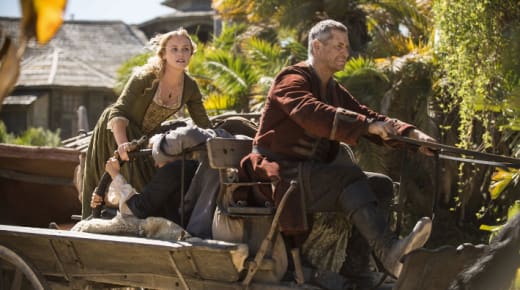 Flint and Silver even discuss the rifts their haters are trying to create, but when 60 minutes is up, only Guthrie manages to make that happen.
She craftily and suddenly does it by making like an old-fashioned Major League Baseball team's general manager, proposing, negotiating and executing swaps of star talent.
Fresh from orchestrating a captive Max for 20 pirate prisoners deal, she dangled to Flint and Silver that tempting, blockbuster trade offer:
The fort and all its weaponry, complete surrender of all British troops in Nassau and unconditional release of pirate prisoners...for the hidden Urca de Lima treasure and safe passage for herself and her people out of Nassau.
If you were Flint or Silver, wouldn't you seriously consider that? 
Yeah, it's a lotta loot to give up. Still, you'd essentially have complete control of Nassau — and the glory of having taken it by kicking serious British Empire ass and driven away Guthrie forever.
But, if you take the deal, you're gonna have soldiers who'll be seriously pissed that you decided for them to give away treasure they'd been fighting for years to get a piece of.
You'll have newly-liberated slaves even more pissed about what they think is your part in causing overseers to torture and kill their loved ones. And how long would it be until the humiliated British Empire regrouped and invaded Nassau?
What a moment when Silver and Flint, who've been thick as thieves, disagree while talking to Guthrie.
Silver: The answer is no. Absolutely, no. If she thought you could win this fight, why would she be offering to sell the victory to us, even for a fortune?
Guthrie: I have had enough of this...and I am ready for it to end.
If you're Guthrie, in making this deal, you're gaining something tangible — the treasure — which your husband can now safely return to the Spanish in Havana and avoid a larger war. Maybe you can even trim a little off the top of the treasure and pay back his debts.
You and those closest to you — your husband, your handmaid, who yearns to reunite with her family in London and your former lover, Max, can get away from Nassau and safely start fresh elsewhere. 
But Guthrie would be losing something emotional; something that has no price tag — her bond with Nassau. As Guthrie told Max, while giving her a sense of closure to their previous love affair, Nassau is her and she is Nassau.

Eleanor: Some time ago, you asked me to leave Nassau with you, to avoid ruin. If I'd said yes, where would we have gone?
Max: I have no idea.
Eleanor: I was so close to saying yes. There were good reasons to say yes and I heard it in my mind, trying to speak it over and over again. When the moment finally came, I spilt so much of myself into this place, in that moment I honestly didn't know where I ended and it began. There may be ways of severing oneself in that way — sacrificing one part to save the other. In that moment, I honestly couldn't find something sharp enough to make the cut.
Max: What would have been enough?
Eleanor: I truly am sorry — for all of it. If there was a way I could make things right here, I'd do it.

There were a couple of odd things about Guthrie's deal, though.
If it were so important, wouldn't Flint and Silver at least have talked it over in private first, before answering?
Come on!
Let's say this were buying a house. Would you be OK with your partner making the decision for both of you in front of the real estate agent, without the two of you talking it over first? Would your partner's saying "trust me," be good enough?
Trust factors in REALLY big in the hour.
Working out who does and doesn't trust who works out to a complicated and comical mathematical equation.
Neither Silver nor Billy trust Max or Guthrie, for all they've done to undermine the pirates.  Flint stopped long ago trusting Billy, because he turned some of the crew against him. But he's forced to trust Billy to ensure Madi will get to a liberated plantation unharmed to heal the rift Billy caused between the pirates and slaves.
(Again, leave it to a Nassau woman rebuild an alliance a man tore apart.)
Israel Hand — who desperately needs psychotherapy for his Blackbeard backstabbing issues he's clearly not over — tells Flint not to trust Silver. Silver, Hand told Flint, might go all Blackbeard on him and betray him. 
Silver no longer trusts Billy, who very clearly lays out to Silver why he doesn't trust Flint.
Billy: How long ago was it that the two of us agreed that Flint threatened to be the end of us all? That he would find ways of driving us over and over into that storm 'til there was none of us left? We survived him — you and I. And now, you want to follow him into what? A massive slave revolt? A war against the British Empire? How is this not just the next storm in a very long line of them? You told me once, that the people he holds closest are most at risk of being consumed by him.
Silver: That, he and I have discussed it at length. So I thank you for your concern. But I'm going to be just fine.
Billy: I'm not talkin' about you. I understand that you've come to care for a...Madi.
Silver: Be very, very careful, Billy.
Billy: If anyone is at risk of being consumed by his need for this war, it's her.

But none of those scenarios contained the biggest lapse of trust and judgment. That award, ladies and gentlemen, easily goes to Gov. Rogers. If you thought Rogers was a fool for letting Capt. Jack Rackham, Anne Bonny and 40 other pirate prisoners live, you underestimated his foolishness.
Rogers' decision to trust a lieutenant to be in charge of the pirates while he sped to Nassau — as fast as the wind in his sails could carry him, anyway — to rescue his wife, seemed like an incredibly stupid idea from the get-go.
Couldn't you just see the pirates freeing themselves?
When we watch Black Sails online or on TV, we know this show rarely is predictable. But this plot development was a letdown.
When the Redocats turn the below deck area into a spontaneous UFC arena and Rackham sends one man after another to get his ass handed to him, you just know its a matter of time until Anne Bonny steps up.
And you just know she's gonna find a way to come out on top, bloodied hands and all. Even with severely cut hands, she miraculously snatches the shackle keys, flings them to Rackham, who frees others and it's on.
Repeat the mantra: Leave it to Nassau women to achieve what the Nassau men can't.
However telegraphed Bonny's going ballistic may have been, it's unclear whether she'll survive. If she doesn't, she'll have made the ultimate sacrifice to the pirate cause. Then it'd be her, not Rackham, whose bravery would live on in pirate lore.
Bonny may not be the only martyr. What about Julius, who leads a slave uprising at the Edwards Estate? Doesn't matter to him whether it's the Redcoats or the pirates, he's determined to kill anyone he deems an obstacle to freedom. 
Gotta wonder, though, might Madi — who helped broker the pirate-slave alliance in the first place — be one of Julius's targets?
If so, that would be bad news for both Billy and even Flint, in Silver's eyes. Silver even makes a veiled threat to Flint, if she were to be harmed.
Silver: Billy told me I should worry...that you will be Madi's end. That's all he wanted in exchange for Max. For me to sit still while he warned me that your commitment to the greatest possible victory in this war of ours...would consume her and eventually lead to her death.
Flint: That's a smart thing for him to say, if his intent is to split us apart. I suppose we should've expected nothing less. Do I need to be concerned that you took nearly two hours to tell me about it?
Silver: We are at our least rational...when we're at our most vulnerable. If nothing else, this is a good reminder that, without a doubt, she is the point at which I'm at my most vulnerable.

The hour's most exciting moment, though, takes place before Guthrie's last wheeling and dealing.
It's when Blackbeard's former ship, the Revenge, is spotted on the horizon from land by both the pirate resistance and the British loyalists — and until the British banner is raised, neither side knew what was in store. Tension and suspense marked the moment.
Lots of questions beg answers: Who'll win the battle of the beach — Billy's soldiers or the governor's forces?
Will Bonny survive? What happens to Rackham and his seriously depleted army?
Did Flint really accept Guthrie's deal and can Silver trust him not to screw up?
The questions all beg for your comments. Fire away! 
Gil Griffin is a staff writer for TV Fanatic. Follow him on Twitter.