Nashville Season 5 Episode 6 Review: A Little Bit Stronger

Tiffany Staton at .
Tonight's theme was women getting stronger.
Rayna got stronger by beefing up security at her house.
Juliette got stronger by dealing with the thoughts and feelings that were pulling her toward church.
Scarlett got stronger when she accepted the result of last week's music video.
Maddie's relationship with her parents got stronger as she confided in them about her and Clay's struggles.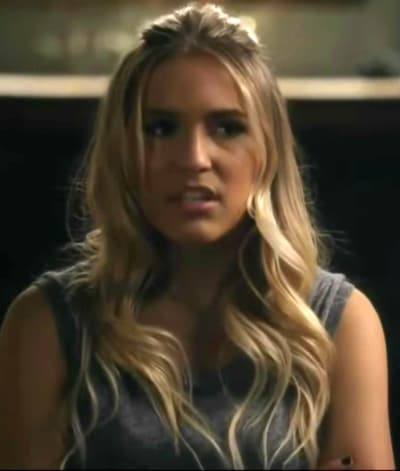 So let's start with Maddie. On Nashville Season 5 Episode 6 Maddie and Clay are dealing with their age difference, among other things.
Seven years is a pretty big difference; especially at that time in their lives. Maddie is still in high school, while Clay is almost half way through his twenties.
Women do mature quicker than men but that doesn't apply to their situation. Maddie is immature for her age, while Clay seems wiser than his 24 years. He was obviously forced to mature earlier in life due to his parents issues.
Maddie deserves some credit. She's trying to understand his condition. She even has an honest, heartfelt conversation with not one but two of her parents this episode.
Maddie: Why do people have to be so complicated?
Rayna: Because they're people.
She even tells Rayna Clay is bi-polar. I was surprised by her admission, but I loved Rayna's response.
Who is she to judge? She fell in love with an alcoholic. It eventually worked out for them but to say the road, to where her and Deacon are now, was bumpy is an understatement. 
Maddie's subsequent conversation with Deacon was equally impressive. She seems to really be trying to see things from other people's perspectives.
I just realized people are like worlds, like whole worlds inside. So big, ya know? Everyone's walking around like with their own history and feelings and different ways of seeing things and it just boggles my mind.

Maddie
Juliette, on the other hand, is trying to understand how her old world fits into her new reality.
She's progressed further in her recovery by learning patience and cooperation.
Of course, Juliette's feistiness is always there too.
Rayna: I'm gonna go out on a limb and say it was your feistyness that got you through this.
Juliette: I'm gonna take that as a compliment.
Rayna: You should.

I'm glad she's spending more time with Hallie, who is basically a saint, and it's rarely a bad thing to seek comfort in the church but she needs to stop pushing Avery away.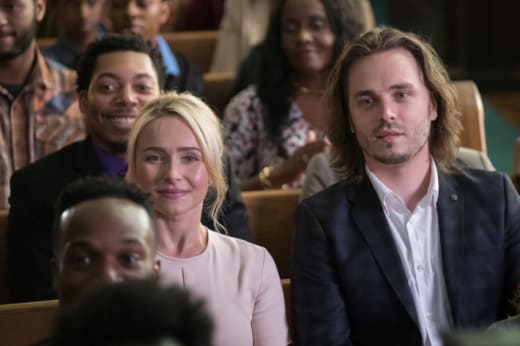 He is always there for her and she constantly accuses him of wanting to leave.
Avery: What are you talking about? I've been here every second.
Juliette: Until I'm better…
Avery: I'm still here!
Juliette, you gotta stop, girl.
That man is damn near perfect. He's hot, kind, forgiving, and he's shown he'll love her through anything. Plus, this episode reminded us he can still put on a really great show.
I was bummed that Juliette wasn't at his gig. He supports everything she does but she couldn't be there for his first show in who knows how long?
I'm worried Juliette's number one priority will always be Juliette. Some people can't change even if they want to. Unfortunately, that doesn't bode well for Avery and Cadence.
At least she's moving in the right direction in her recovery. Maybe she has to be self-absorbed right now; maybe her recovery requires that kind of commitment.
Despite catching the alleged stalker and Rayna getting a restraining order against him, the storyline doesn't seem anywhere near finished.
In fact, I'm not convinced this guy is even THE stalker. He seems too obvious. Plus, this week Zack was acting a little weird again.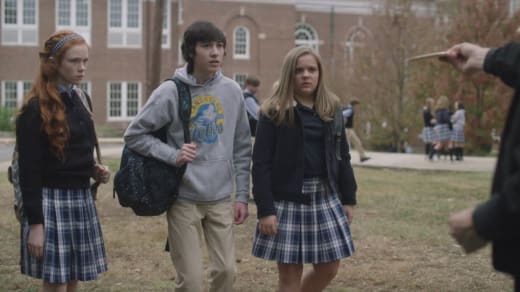 His laugh when Luke mentioned bugging his office; Luke's concern over trusting him; the way he watched Will undress.
Okay, the last one probably just means he's gay and hasn't come out yet as a lot of people speculated after his conversation with Will last week.
But still. He's back on my list of stalker suspects.
What do you guys think? Who is the stalker?
Should Rayna continue to trust Zack or were Luke's concerns valid?
How will Juliette and Will do back at Highway 65?
Side notes:
The girls' hair was ON POINT this episode -- Rayna's curls, Juliette's braided updo, Maddie's half up, half down messy bun.
I was so happy to see Luke! He was a great character and we even got to see him perform. I didn't, however, buy that he would agree to sell his label so quickly and casually.
Avery's song was my favorite this week, but I may be a little biased because I love the character so much.
Something's happening between Scarlett and Damien and I'm not happy about it. Gunnar, get your tall hair back here!
Don't forget, if you missed this episode you can watch Nashville online via TV Fanatic.
Tiffany Staton is a staff writer for TV Fanatic. Follow her on Twitter.