Finally, the mole hunt is over.
It may have only taken the better part of two seasons, but a lot of loose ends got largely tied up on NCIS: Los Angeles Season 8 Episode 15.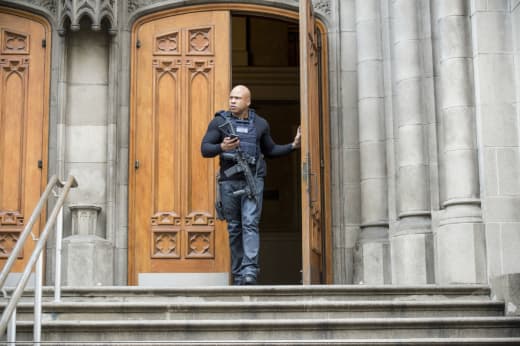 I say "largely tied up" because there's still nothing definite about Sabatino. He claimed he was just playing along to get info on the rogue agents.
But he's such a slimy bastard that who knows?
Unfortunately, he was the only one left alive after Hetty's warehouse bombing on NCIS: Los Angeles Season 8 Episode 15.
So the team was working from one know-nothing CIA officer and one cell phone belonging to Sharov, a dead CIA officer.
You wouldn't think that would be enough to qualify as clues, but the Wonder Twins, Eric and Nell, tracked one call to the church where Kensi was originally being held.
I thought finding Joelle there instead was a real twist.
I'd never found she and Callen to be a great couple. He was the least "civilian" of any of the team, so to pair him with someone outside the business was a real stretch.
Only now we find out she was in the business, as a CIA officer monitoring Callen, in a real shocker. Especially for Callen.
Hetty: Callen, step away from CIA Officer Taylor:
Deeks: Oh, snap!
Joelle: Callen, I'm sorry.
Sabatino: And I'm the bad guy.
At least Hetty caught on to her, albeit relatively late in the game.
I'd say that fully opens the door for Callen and Anna.
The team's biggest problem was rampaging Deeks: charging into the church, beating up Sabatino, berating Hetty.
Sam [to Callen]: He's too close to this. He's getting careless, losing focus.
Deeks: But I haven't lost my hearing.
At least Goofy Deeks was back by episode's end. After he rescued Kensi, he carried her out over the threshold, and both were so giddy.
Makes you wonder how much longer they're going to dawdle before setting a date.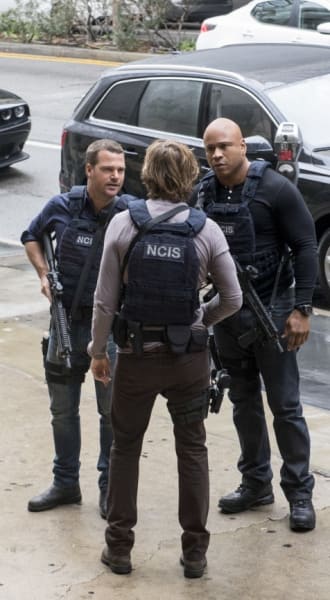 Fortunately, Kensi had her head in the game when she wasn't doped up, playing mind games with Sullivan/Ferris.
Sweetheart, you were a job.
Kensi. Maybe. Or maybe I made you feel like losing a leg didn't matter.

Sullivan
Maybe it was just desperation, but Kensi looked back in fighting form. 
She would have taken out Ferris if the two other disposable CIA agents hadn't intervened.
I'm still fuzzy about what Ferris' actual plan was. 
As much as he threatened to cut off Kensi's leg, he seemed genuinely alarmed when Kensi appeared to be choking. Even after she gutted him, he didn't retaliate.
So he must have been under some sort of orders from higher up. It was just never clear how holding Kensi gave this rogue group any kind of leverage.
Even Owen got into the action, from his deathbed.
First, fire the guard.
Second, the hospital staff isn't going allow a patient who's drugged up and in and out of consciousness to keep a gun in his bed.
It made for unexpected action, but come on!
I fear that's the last we'll see of Granger, except for the inevitable clip show, after he takes a turn for the worse or has to retire.
But at least producers have found a perfect replacement in A.J. Chegwidden.
It seems like a natural progression, as things have gone full circle. In Biblical terms, JAG begat NCIS, which begat NCIS: LA, which may soon take on a JAG alumna.
It was hilarious watching Eric trying to cover Chegwidden while looking him up on his tablet.
Chegwidden shares similar characteristics with Granger, including a dry sense of humor and a general disbelief at how the unit operates.
Chegwidden: You people are nuts.
Nell: Welcome to NCIS: Los Angeles. We be crazy.
It was a hoot to see him clock Joelle with an oar, then wake her up with a cup of liquid in her face.
This may be just a trial, but here's one vote for keeping on Chegwidden.
To catch up on how the mole hunt crawled along, watch NCIS: Los Angeles online.
Is the mole hunt done? Were you satisfied with the conclusion? Do you want Chegwidden to stay? Comment below.
Dale McGarrigle is a staff writer for TV Fanatic. Follow him on Twitter.