NCIS: New Orleans Season 3 Episode 14 Review: Pandora's Box, Part II
Dale McGarrigle at .
There;s nothing more fun than a well-executed crossover.
Using the parent show and a spinoff makes that task easier as was readily apparent on NCIS: New Orleans Season 3 Episode 14.
On NCIS Season 14 Episode 15, the original team solves the murder of Abby's friend while leaving the theft of a hypothetical terror playbook unresolved.
That leaves the door open for Gibbs to send McGee and Torres to New Orleans to help out. Very organic,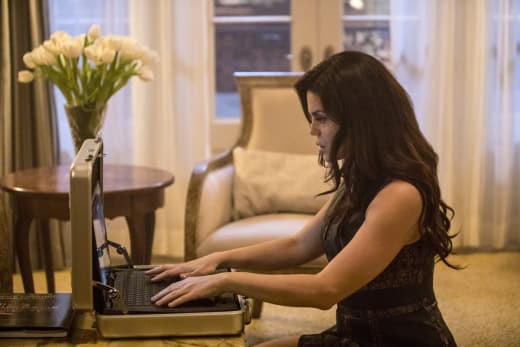 You think of Pride and the gang as kinda fast and loose when it comes to protocol.
But they haven't met someone such as Nick Torres, who is still trying to come to terms with the phrase "team player."
Shortly after landing in N'Awlins, he got arrested for murder. Even though Pride vouched for Torres, he wasn't happy.
Pride: You make quite a first impression, Nick Torres. Less than two hours in my city and you get arrested as a suspected murderer.
Torres: That's gotta be some kind of record.
The crossover neatly pairs characters which have common bonds.
Take, for example, the newbies, Torres and Gregorio.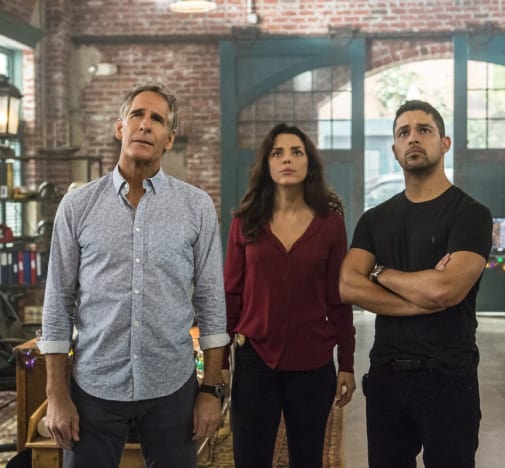 While Torres' freelancing obviously offended the more straight-laced Gregorio, they found common ground.
Gregorio: I may not be fluent in Arabic, but I am fluent in body language. And it's killing you to ride the bench.
Torres: It's killing me to ride the bench. I'm not a bench guy. I'm an out-in-the-field kind of guy.
Gregorio: Not much of a team player, huh?
Torres: This team thing has been recent. It's been an adjustment.
Gregorio: I get it. It's not easy being the new guy in a group that has worked so long together.
Then there's the nerds, with Sebastian in awe of McGee, who's had the career path that Sebastian aspires to.
LaSalle: You really like McGee, don't you?
Percy: Yeah, a bit of a man crash.
Sebastian: A total man crush. Also it's like looking to a crystal ball, to see what I could become. McGee is basically future Sebastian.
The downside was no Patten again this episode, since he and McGee would be doing the same thing. I'm wondering if he might be getting phased out, or it's just a coincidence that he's been written out of the last couple of episodes.
It was good to see McGee take Sebastian under his wing and offer him some much-needed perspective. Sebastian definitely needs confidence and to get out of his own head.
He also needs some fighting skills. It would help if he stops announcing he is an NCIS agent when he's within arm's reach of the perp.
Maybe he should get a refresher course from Gregorio.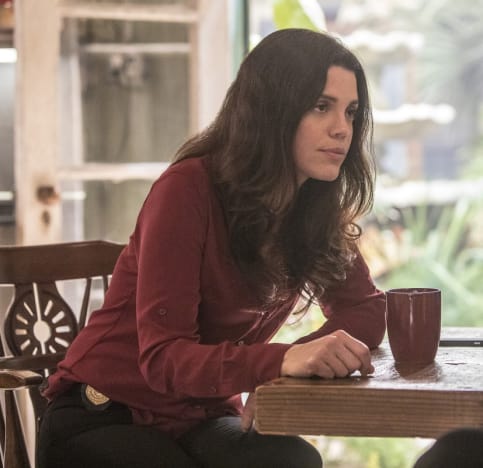 It's amusing how the diminutive Gregorio has become the team's muscle. And there's nothing like a good cat fight.
Gregorio even made a new friend. I'd bet on she and Eva getting together again.
I didn't even remember Eva from NCIS: New Orleans Season 2 Episode 12.
But she could prove to be a worthwhile addition to the show's recurring characters. If they could have a way around that pesky life sentence for killing her mentor, Victor.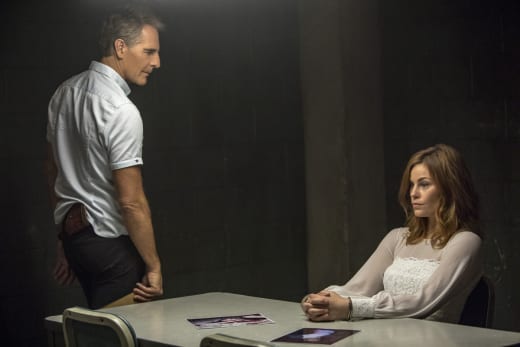 It was a nice bit of accidental corporate synergy to have Maren Morris singing her hit single "My Church" only a couple days after she won a Grammy for that song, also on CBS.
Then there's the bromance between Pride and Gibbs. They have their own secret history that comes out in dribs and drabs.
Gibbs; I'll run interference.
Pride: I appreciate that, Jethro. You always had a gentler way with the suits.
McGee [laughing]: Sorry. That wasn't a joke?
Also, finally, a healthy dose of New Orleans color. 
It's was funny to see a dazed McGee bedazzled with beads, drink in hand.
And it's hard to believe that that was just the warmup for Mardi Gras. How do those people get anything done?
Pride explained it best.
Gibbs: The next time there's a party, I might just pop down and surprise you.
Pride: This is New Orleans, brother. There's always another party going on.
This was a good transition episode, to take the team from the whole cartel storyline to ,.., what?
There's been precious little back story for most of the team, except maybe LaSalle and Loretta. 
How about we meet Gregorio's long-lost embezzler husband?
Or how about some of Percy's family, which we keep hearing about?
Pride has an ex-wife, largely written out before the series started, and a daughter, but we rarely see either.
That's lots of fodder for some self-contained episodes over the last third of the season.
And maybe they could even launch the next extended storyline, to carry over into next fall.
To catch up, watch NCIS: New Orleans online.
How did the crossover work for you? Did the narrative hold up over the two episodes? Which was your favorite pairing? Comment below.
Dale McGarrigle is a staff writer for TV Fanatic. Follow him on Twitter.