Someone started hurtful rumors about Veronica at Riverdale High, Archie got his big chance to write music for Josie and the Pussycats, and Cheryl came clean about what really happened on July 4 on Riverdale Season 1 Episode 3.
Below, TV Fanatics Mandy Treccia, Paul Dailly, and Justin Carreiro debate Chuck Clayton's playbook, the uncomfortable attraction between Mr. Andrews and Ms. Grundy, and the team shares their favorite moments of the episode.
Was Chuck's playbook a little too easy to find?
Mandy: I don't think so. He's an arrogant teenager used to getting away with whatever he wants. It probably wouldn't occur to him to hide it better.
Paul: I agree with Mandy. Like, it's good he at least hid it, but he was not exactly the smartest kid.
Justin: I had expected them to hide it better, but I was wrong. Why hide it at the school? His ego must've been so huge that he didn't think anyone would look for it.
Ethel (played by Stranger Things' Shannon Purser) made her debut. Do you think Ethel is hiding something?
Mandy: YES. I kept waiting for her to reveal that she made the whole thing up. Maybe it was just the way the actress played it, but Ethel seemed shady when she was watching everything go down. Not like someone getting justice, but like someone who set a plan into motion.
Paul: Yeah, there's something not adding up with the character. I hope she's featured more as the series progresses.
Justin: There is something about Ethel that makes every warning alarm go off. She seemed too happy to see Chuck and the team suffer. I think she's lying about something or secretly knows more that she's not telling.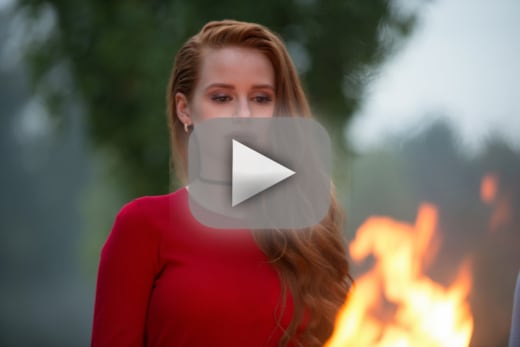 Mr. Andrews seems interested in Ms. Grundy. How would you feel if this became a romance?
Mandy: I cringed so much during their scenes. It was like watching a train wreck. Every time he flirted or praised her, I wanted to hide behind my hands. If it became a real romance, I don't think I could stomach it.
Paul: I would not like this to become a romance. Both characters are the weakest on the show. Let's flesh them out before entertaining the idea of having them in a relationship.
Justin: This CANNOT happen! Archie sleeping with Ms. Grundy is already gross, but throwing in this second part to a love triangle would be tragic. It's just too much.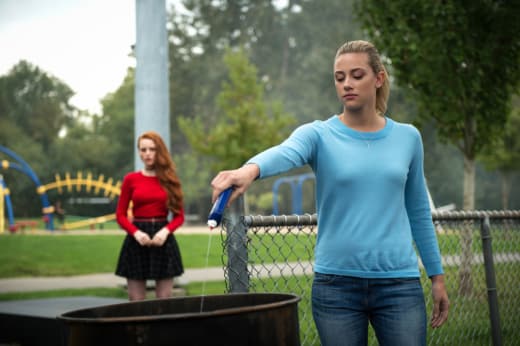 Should we be worried about Betty after her Chuck interrogation?
Mandy: Yes. Team Betty all the way over here, but she's obviously not dealing well with what happened to her sister. I think she could benefit from therapy.
Paul: Betty was on fire. She owned Chuck and he deserved it. We probably should be worried.
Justin: Betty trying on a different persona was one thing, but her assuming a new identity and then forgetting it is a warning sign. She needs to talk with someone about the past. The Polly issue is a serious concern.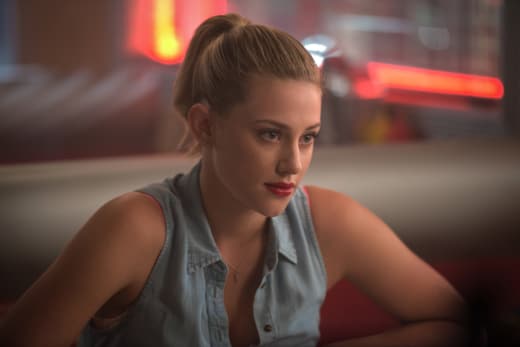 What was your favorite moment of the episode?
Mandy: Veronica and Betty charging into the locker room. Actually, every scene that involved the girls banding together to fight back against slut-shaming. It sent a great message about female empowerment.
Paul: My favorite moment was the interrogation. It proved there was no way Betty was going to stand for the ladies being treated in that way.
Justin: I liked seeing Archie work with Josie and the Pussycats. He was having a dream come true by working on his music with an actual band. Besides, like I said in the review of Riverdale Season 1 Episode 3, there were some serious sparks between Archie and Josie.
Jughead teased that the hookup book/football players play a bigger role later on. Share your theories!
Mandy: I loved that bit of intrigue. It seemed like the kind of storyline that would just last for one episode. I have no idea how it comes back, but I'm excited to find out.
Paul: Considering this was the strongest episode yet, that little nugget was music to my ears. It will probably come back near the end of the season.
Justin: I have a feeling it has something to do with Ethel or Jason. Maybe she lied and did hookup with Chuck? Maybe Jason was with the players during his last week? I'm not sure, but I can't wait for the reveal.
Missed the latest episode of Riverdale? You can watch Riverdale online via TV Fanatic. Come back here and join the discussion.
Justin Carreiro is a staff writer for TV Fanatic. Follow him on Twitter.