Santa Clarita Diet Review: Un-Death Becomes Her

Carissa Pavlica at . Updated at .
It seems impossible that a new television show about the undead could possibly offer anything fresh.
The mere thought of the undead bring up visions of a pleathora of zombie shows already on the air. Whether it's violent horror or light-hearted attempt at comedy, we're already doing it.
But before Netflix's Santa Clarita Diet, Victor Fresco (Better Off Ted), hadn't yet joined the fray. Suddenly the smell of death is sweet again.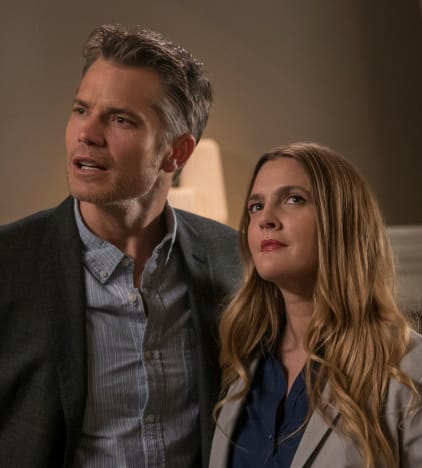 There are many ways to look at what Fresco is offering with his look at the sudden eruption of undead in suburbia. It's a reminder that life is short – and ironic, too – since it's often under the worst circumstances that we come to realize the beauty that already surrounds us.
It's also an effective tale of a marriage that needed a boost, a look at commitment and what it's like to stand by your partner through the good times and the really, really bad times.
Drew Barrymore and Timothy Olyphant star as Sheila and Joel, the married couple in question, leading a rather mundane life, getting by and always wishing for a little bit more out of it.
For reasons unknown, Sheila becomes un-dead. Not the biggest pop culture fans in the world, it's the geeky teen next door (Skyler Gisondo) who enlightens them about Sheila's condition and comforts their daughter, Abby (Liv Hewson) as the couple begins this new journey together.
Fresco has a way of making the most banal scenes spring to life and chemistry between Barrymore and Olyphant sparkles as a result.
Barrymore is at her best in an R-Rated setting, partly because (the high school girl in me is hanging her head) of the raunchy dialog being served. It's such a far cry from the more familiar rom-com material she usually delivers that it is shockingly effective.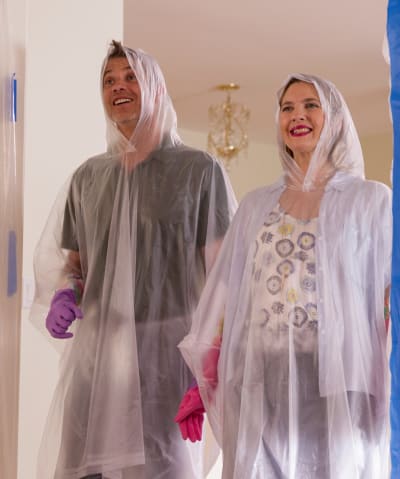 Olphant is better known for his dramatic roles, even though he gave quite a comedic turn in the now-canceled The Grinder and is worthy of a chuckle in movies like Rock Star. Tightly wound Joel is deliberately played on Olyphant's part, and it works well for laughs.
It wasn't until the seventh episode that I began to see in Olyphant similarities to some of the best of Chevy Chase. There's one scene in particular that brought to mind that moment in Christmas Vacation when Chase's character decided they're all going to have the best &$!!**# Christmas any family's ever had.
Once that surfaced, it was easier to look back at his entire performance and see other Chase-like nuances from performances in the Vacation movies and Funny Farm. Breathe in, hold it, let it all out as Joel loses his momentary control over any given situation.
There have been a lot of comparisons between Santa Clarita Diet and iZombie, and while it's easy to jump to that conclusion because zombie = zombie, in Barrymore's performance and the story in general, I see more of Meryl Streep and Goldie Hawn from Death Becomes her.
Because the one thing that becomes immediately apparent is death does become Sheila. Not only does she have more confidence once she becomes one of the undead, but her libido increases, she's willing to take more risks and she gets a lot more enjoyment out of...living.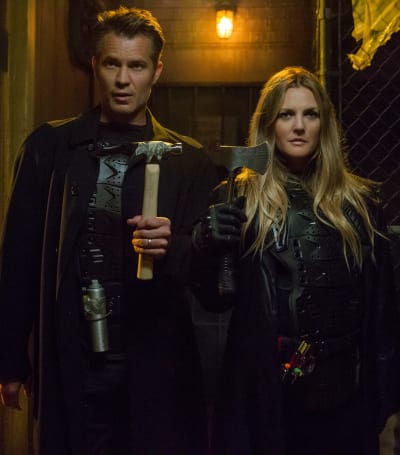 Santa Clarita Diet doesn't shy away from blood and guts. In fact, it's one of the more brutal looking series to come along in a while. The ease in which Sheila and Joel take to their new life might be unsettling to some, but it's not supposed to be thought about that deeply.
Sure, Sheila has to eat dead people to survive, and that might mean killing a few here and there, but she's also constrained by the family living arrangement, which includes their neighbors on both sides being in law enforcement.
Sheila is going to to have to work hard for her next meal, and Joel's going to have to support her. With their whip-smart daughter, Abby, closing in on all of their best kept secrets, she will have to grow up a lot sooner than mom and dad intended, too.
Santa Clarita Diet isn't the diet that will change your life, but it will brighten your day. There are very few dull spots and the laughs are consistent throughout.
It may not have worked for Sheila, but Santa Clarita Diet will get your blood pumping. Stop what you're doing right now and go binge watch the funniest comedy of the year.
Carissa Pavlica is the managing editor and a staff writer and critic for TV Fanatic. She's a member of the Critic's Choice Association, enjoys mentoring writers, cats, and passionately discussing the nuances of television and film. Follow her on Twitter and email her here at TV Fanatic.