While Walter has done a lot of stupid things, I think jumping into a shark-infested ocean is probably the stupidest.
On Scorpion Season 3 Episode 15, Team Scorpion searches for treasure, and after the job is done, they decide to go swimming with the sharks.
Now, I don't know about you, but I think being in a cage and being lowered into shark-infested waters is dangerous enough. Actually swimming with sharks? No thank you.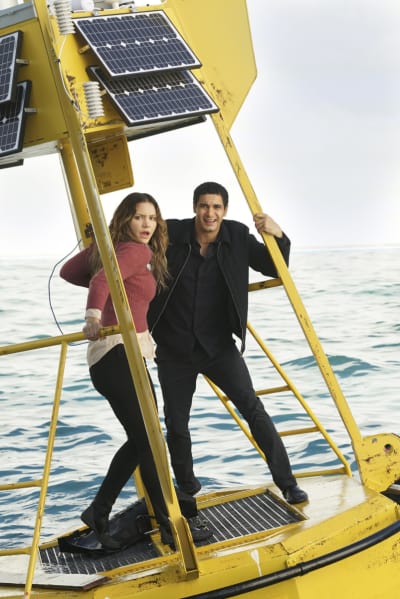 The sharks were really just okay. There was not any fear that Walter would get eaten by a shark, and it's not exciting to watch Walter and Paige try not to fall into the water.
The case could have gone a lot better if Team Scorpion had run into pirates, not sharks.
Hear me out. Can you imagine Walter and Paige (or any Team Scorpion member) getting taken hostage by real life pirates? There would certainly be a lot more suspense.
Okay, so I mainly wish the case involved real pirates just so they would see Toby in his pirate hat. You caught me. It would have been absolutely hilarious. Toby taunting pirates could have been fun too, but most likely it would have gotten him killed.
Toby's pirate hat and the Waige chat are the highlights of the case. Everything else just fell flat. Toby's pirate act was only entertaining for so long.
Cabe: We're in the North Pacific Gyre Current. It's large and swirling and occupies the northern basin of the Pacific.
Toby: How do you know that?
Cabe: I was a Marine as in mariner, maritime, related to the sea?!
Toby: I don't like condescending Cabe.
At first, I thought it would be entertaining to watch Walter not be in charge of the mission, but all the rest of Team Scorpion did was stay in one spot. Yes, Cabe and Toby were on a boat, which did move, but that's not what I meant.
There wasn't much for Team Scorpion to do except for some super complicated math. Aside from Toby's swashbuckling, there wasn't any big save like Walter normally pulls out in just about every case. 
Oh, another fun moment was realizing that the client is played by the actress who played Frannie on Greek. I just can't get over the hair. What did you think of the case?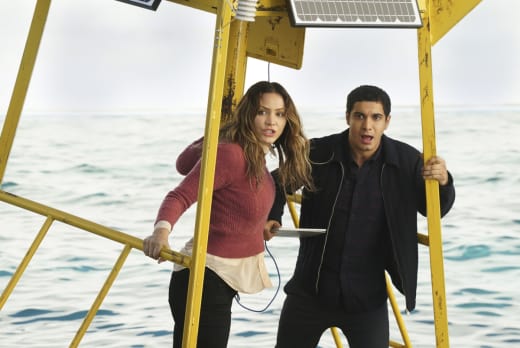 It's interesting that Walter's first read of what Paige was doing was an emotional one. He did not think that Paige was trying out a new method of doing her job; he thought she was pulling away from him.
I'm glad that we saw Walter voice how hurt he was by Paige's actions because, like he said, he is used to having people come into his life, and then when things get too strange, leave. Walter expressed not only how hurt he was by Paige's actions, but how close he thought the two of them were.
It wasn't until after Paige explained herself that Walter realized that Paige only distancing herself to help him. Thinking logically is sometimes difficult for Walter when Paige is involved.
Anytime Walter and Paige are alone, it's always a great scene for their relationship. This one was no exception. I'm curious if Paige will continue the sink or swim approach, or if she will go back to holding Walter's hand when it comes to talking with clients. What do you think?
It's your job to hold my hand. That's why you are on Scorpion. I should dock your pay!

Walter
The best thing to come out of the campaign has got to be that the public has pictures of Sly in full wizard garb. I'm sorry but when the scientists said Sylvester Dodd was a wizard, I actually laughed out loud.
It's such a great, unexpected source of comedy.
Seriously though, this race for Alderman has allowed more and more people to see how absolutely amazing Sylvester is. Sly is winning over the world one person at a time, and it's always heartwarming to see a doubtful and unimpressed person become a Sylvester Dodd supporter within a day.
Admittedly, I was waiting for the reporter to make a comment that Sly's too busy for an interview let alone to hold public office. While I don't know how time consuming being an Alderman is, when is Sly going to find the time?
When he wins, I'm expecting storylines similar to when Jackson became Town Selectman on Gilmore Girls.
I want to see people coming up to Sly with all their problems at the worst possible time. There's going to be so much humor there.
What did you think of the episode? Did anyone else love the cute Quintis moment? I can always count on them to brighten my day.
Leave your thoughts in the comments below.
Remember you can watch Scorpion online anytime via TV Fanatic.
Allison Nichols is a staff writer for TV Fanatic. Follow her on Twitter and on Google+.