The team lost one of its brothers on SIX Season 1 Episode 5, and it took an emotional toll not only on them individually, but on their families as well.
And as the team came together with their families at home to both grieve and celebrate Buck's life, Rip came together with his adopted family in Africa and had to make a choice between life and death.
For the first time since the series began, I cared about what was happening outside of Rip's world. Why couldn't we have had this emotional connection earlier on?
Bear was working hard to hold it together. Trying to balance being a leader and a husband while dealing with the death of one of his men was difficult.
Not only that, he had to deal with the question of whether or not he took the correct actions when they went in to try to save Rip. It's not a good feeling having to second-guess your decisions, especially when they might have caused another's death.
Bear wasn't to blame, but he couldn't knock the feeling out of his head that he was and lashed out at Lena when she was trying to comfort him.
She didn't deserve it, but he knew that. I loved the scene later when he came to her school to apologize. His love for Lena is fierce, and he's not afraid to show it even if a roomful of kids are watching through the window (which was adorable by the way.)
There were several moments throughout the hour that were hard to watch. Bear and Caulder having to tell Tammy about Buck's death was difficult. It's a horrible thing to have to bring anybody that kind of news.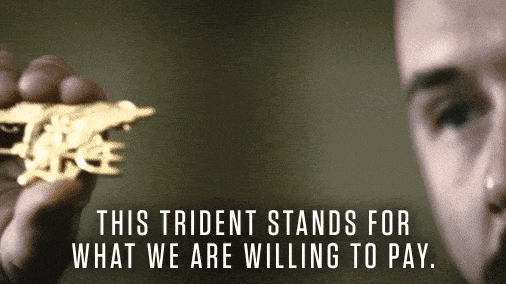 The worst part though was watching Bear break down at the funeral. The whole scene was heart-wrenching from Bear's eulogy to the SEALs adding the Tridents to Buck's coffin.
I have to wonder what compels these men to want to put their lives at risk for people they don't even know like you and me. For our country. For the world.
How do they make that decision to do what they do? To make this their career choice?
Buck wanting to be shot out of a cannon was odd, but Buck was an odd kind of guy. I feel like I learned more about him this hour than I did the last four episodes. The hour wasn't really about Buck, but everyone who was around him. 
Despite the sadness of the day, the guys had a great time doing what Buck wanted to have done with his remains. Not even Tammy questioned it, and I wonder if it's something they had discussed prior. 
Tammy did question whether Bear had done everything he could have done to save Buck. It wasn't something Bear was expecting, but he handled it well. I liked the talk he had with Buck's dad who made it clear Bear needed to stop apologizing for something he had no control over.
It helped that Buck's dad had war experience. He understood what Bear was feeling. Tammy understandably lashed out at Bear because she was angry and grieving and probably still in shock. And, she could never have been a part of Buck's other world.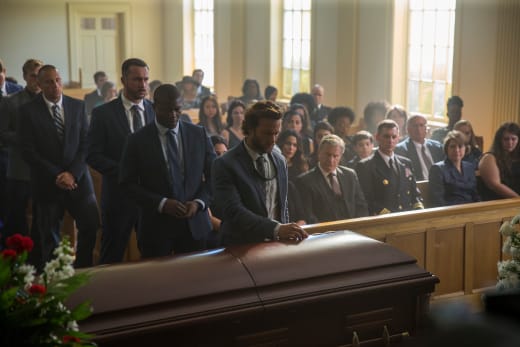 She was an outsider looking in. Like all the wives and their families.
Buddha was having a hard time as well, not even able to enjoy an intimate moment with his wife. Caulder dealt with his grief by ignoring his feelings.
Even though Dharma has only been with her dad for a short time, I liked that she tried to connect with him and comfort him with her own war story.  That's why it was heartbreaking when she found the video of him with Tammy.  
Dharma: What was he like? Buckley?
Caulder: He was an asshole who believed in aliens.
Dharma: You don't?
How disappointed she must have been in her father. The fact that Buck knew about their relationship is going to weigh on Caulder and how will he deal with it if the other guys find out? Caulder is now a hero with dark secrets. Just like Rip.
But the worst thing for Caulder is that even though he was trying to keep an emotional distance between him and Dharma, he became attached to her and was visibly upset that she was gone, especially after knowing why she had left.
While ice might be flowing through Rip's veins, he showed his human side when he was reunited with Na'omi and the girls. As mean as Rip was in the beginning to them, he's grown to love them. They are his family right now.
That's why it was particularly challenging for him to read Michael's statement on camera after refusing to do so earler.
Rip may come across as selfish, but being with Na'omi and the girls has brought out his long-hidden humanity.  He's starting to feel again after years of being completely numb.
He's wasn't going to spit in Michael's face with Na'omi and Esther's life on the line. 
Rip: Who are you?
Michael: You don't recognize me?
Rip: Should I? You famous on YouTube for sucking a camel's dick?
But how much of what Rip read was true? After everything that happened, were the words resonating with him? Does he believe what he said, or was he just saying it to keep Na'omi and Esther alive?
How will Rip's words affect Bear and the rest of the team? What will their next steps be?
"Collateral" was the best hour of the series so far. It took us on an emotional roller coaster ride that finally let us see the human side of these men who risk their lives for the safety of us all.
What did you think of "Collateral"? Hit the comments and share your thoughts. If you need to catch up, you can watch SIX online right here via TV Fanatic!
Lisa Babick is a staff writer for TV Fanatic. Follow her on Twitter.