Emotions run high on The Big Bang Theory Season 10 Episode 14. Pun intended.
Raj talking about his girl trouble is the catalyst for Sheldon to realize he needs to continue working on understanding people's emotions.
Coincidentally, Bernadette knows of a prototype for a machine that can help with just that, and Howard thinks he can get it for Sheldon to try.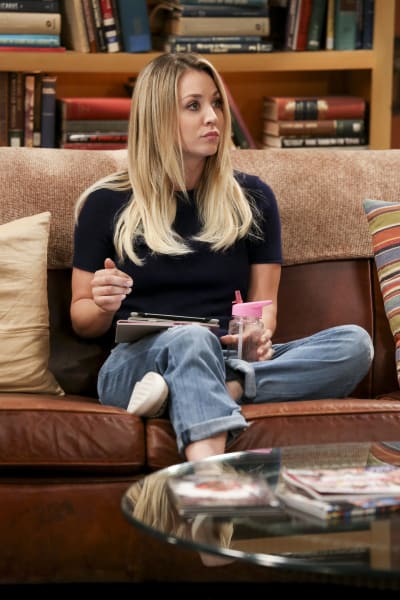 One thing I feel like I keep bringing up again and again is the way the show seems to want to deal more seriously with Sheldon's autistic characteristics.
In fact, it's addressing those characteristics so often that I wish they'd just come out with it already. There's no reason it can't be stated.
Sheldon realizes his inability to detect emotion and the problems that come along with it, and it's character growth for him to even want to try that machine.
If that machine seems farfetched, by the way, consider what Leonard has to say about it.
Penny: Wow, I find that hard to believe.
Leonard: That a bunch of awkward scientists with no social skills would invent a machine to do it for them?
Penny: I take it back. I believe it.
Sheldon gets the prototype and immediately puts it to use. He's excited to show Leonard and Penny, but when he does, he manages to uncover the truth about Leonard's feelings.
He's angry about Penny's brother coming to visit, no matter how much he tries to say that he isn't.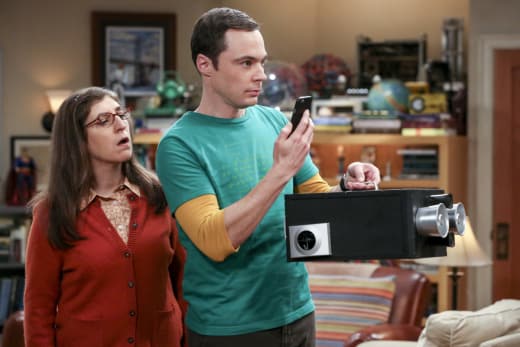 As Leonard and Penny argue, Sheldon gets caught in the middle, and he actually gets his feelings hurt.
More than that, he's upset to realize just how much trouble he really has understanding emotional cues.
For him to care about such a thing, and to be so devastated by it, it pretty powerful. So is Amy's response when she tells him she loves him just the way he is. 
You know, as badly as things were going with Sheldon and Amy a while back, and as awful as they were to watch, things have certainly taken a turn. I really enjoy watching them together now.
Leonard and Penny, on the other hand...
What is going on with these two? The negativity is a bit much, and their married couple bickering isn't funny. It's uncomfortable.
As for what they're fighting about, I'm sorry, but I'm on Penny's side with this one.
Sure, she should have talked with Leonard before agreeing to have her brother visit, but this is her BROTHER. Penny also makes a valid point about their previous living situation.
Penny: How is this any different than you making me live with Sheldon?!
Sheldon: Hey, I shared my Honey Nut Cheerios with you!
Penny's brother Kenneth Randall is a drug dealer who spent time in prison, so Leonard would have the right to be concerned. Still, I'm shocked by the fact that Penny would fold on such an issue and tell him he can't come after all.
So then, there's Raj.
I've been hoping we'd get something with more substance for Raj soon, and this episode sort of manages that. But I'm also sick and tired of Raj's relationship drama.
Raj: I broke up with her.
Leonard: Why?
Raj: She said she didn't want to see me anymore, and I found that insulting.

It's a different spin for him to bring his past girlfriends together to have them explain why they broke up with him, presumably so he can learn from past mistakes.
However, the humor just comes from things like Raj's neediness, and it makes me groan.
What I do appreciate about it is Howard and his willingness to help. 
I don't know how to feel about the interaction between Howard and Raj near the end, though. The two have a long hypothetical conversation about what it would be like to be together as a couple, and it gets awkward pretty quickly.
In some ways, it's delightful, because let's be honest -- their relationship has always carried homo-erotic undertones. But on the other hand, it almost feels like a pretty cheap way to get laughs.
What did you think of this episode of The Big Bang Theory? Share your thoughts with us in the comments below!
Need to catch up on past episodes? You can always watch The Big Bang Theory online right here via TV Fanatic! Watch online now!
Ashley Bissette Sumerel was a staff writer for TV Fanatic. She retired in September 2017. Follow her on Twitter and on Google+.