The Good Fight Season 1 Episode 2 Review: First Week

Tiffany Staton at . Updated at .
Well, that was a delightful episode with a frustrating ending.
Luckily it more of the former than the latter.
On The Good Fight Season 1 Episode 2, we were treated to more familiar faces. Julius Cane, Andrea Stevens, Judge Abernathy and last, but certainly, not least Marissa Gold.
The Good Wife was so great at introducing unique, reoccurring side characters. It's so fun to see them again.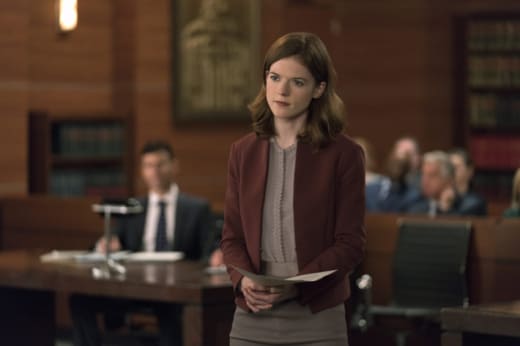 I have been eagerly anticipating Marissa's return and I'm still holding out hope for an Eli Gold appearance.
Marissa is spunky, sarcastic and calls it like she sees it. She's an asset and luckily it doesn't take Diane too long to see that. In The Good Wife, the two of them didn't have much time together so it makes sense that Diane would be hesitant.
Here, Diane needs members for a class action lawsuit and Marissa takes it upon herself to find them.
The class action involves retail employees who have been accused of stealing from their employers and as a result, had their wages garnished.
Marissa heads to her old job – a smoothie counter at the mall – and starts asking around. Who's been complaining about their pay checks? Has anyone heard about employers accusing people of stealing?
Before long she has 23 names and a new job as Diane's assistant.
Marissa: Ok, I don't want to sound self-serving here but I think it's a smart move for you to hire me.
Diane: Oh. Good to know. Thank you.
Marissa: No seriously, you need an assistant. I can do whatever you want around here and I'm not that expensive. What are you paying?
Diane: Why don't you just leave your resume, Marissa.
Marissa: I don't have one. I'm much better in person anyway. Look, just hire me for one day, just until you get someone better and I promise, you won't get someone better.
The case almost didn't happen. It started out as a conversation between Maia and a union labor worker. Maia and the other first year associates were supposed to be giving out pro bono legal advice. Legal advice but not legal work. Helping, but not really.
Hilariously, they were told to be the "close doors button" in an elevator. Comforting but not necessary effective. Julius Cane delivered that line as beautifully as David Lee would have.
So when Maia comes back with this case, the partners are not happy.
Diane: Maia's good and she's motivated.
Adrian: That Rindell kid? Sure, everybody hates her, great way to mold a fighter.
Fortunately, Lucca goes to bat for Maia. She's really been there for the young attorney. It reminds me of her relationship with Alicia.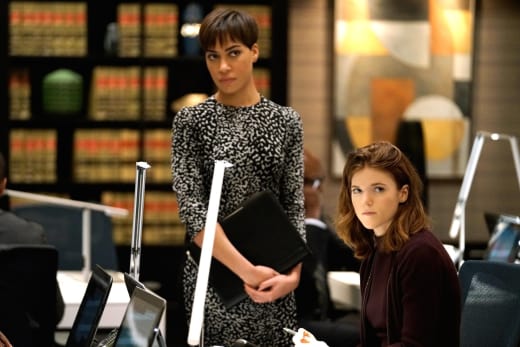 There are actually a lot of similarities between Alicia and Maia who were both publicly humiliated because of someone else's actions.
Like Alicia, Maia's also resilient. She's smart and reserved; hesitant to assert herself, but effective when she does.
It was interesting to see the partners interact with the financiers. Apparently, the financiers pay for so many billable hours up front then they take a portion of the proceeds if the case settles or wins.
Here, the case couldn't move forward unless the firm's financiers agreed that it was worth taking. To do this, they use a scientific algorithm to determine the firm's chances of winning.
It seemed to me like the financiers were of a "millennial" age. At one point, one of them flinched when Adrian cussed and the other asked that he refrain from swearing because it upset his partner.
As a technical millennial, it made me chuckle.
Once the case got to the courtroom, we were treated to the delightfully eccentric Judge Abernathy. I loved his prescription sunglasses, comments about California and questions about buying new sneakers.
I will work hard toward neither supinating nor pronating toward one side or the other.

Judge Abernathy
Lucca and Maia argued viciously to avoid having their case dismissed and it really seemed like Judge Abernathy was on their side.
Unfortunately, Mrs. Stevens, whose back and forth with Lucca was also hilarious to watch, held a smoking gun. The plaintiff was accused of stealing from a previous job. That makes his current claim – that he was wrongfully accused of stealing 417 pairs of sneakers – way less credible.
While this was hard for Maia handle, it was nothing compared to what she was dealing with on the home front.
First, her dad lets slip that her mom's breast cancer is back. Turns out this was just a ruse to get Maia to see her.
Next, Maia shows up at her parents house only to find her mom and uncle Jax in rather casual attire at a very late hour. They're clearly up to something.
Maia: It's like we're paying for all those years of happiness.
Amy: That's your parents, it doesn't have to be you. You can be as happy as you want.
But while Lenore seems incredibly suspicious, Henry seems genuine.
Diane visits him in prison where he maintains his innocence. Although Diane refuses to represent him she does agree to refer someone to him. Please oh please let it be Elsbeth!
What do you guys think? Are Lenore and Jax behind the ponzi scheme or are they a red herring?
Has Henry been set up? Who will Diane get to represent him?
Side notes:
I love all the music. It reminds me so much of The Good Wife.
Maia and Amy are still together and stronger than ever.
What in the world was David Lee thinking packing those masks with Diane's things?!
I could not stop rolling my eyes during the presentation of The Friedman Method.
If you missed either of the first two episode you can watch The Good Fight online via TV Fanatic.
Tiffany Staton is a staff writer for TV Fanatic. Follow her on Twitter.