The Vampire Diaries Round Table: The Siphon Twins
Paul Dailly at .
The twins are going to play an integral role in the end of The Vampire Diaries. 
That much was confirmed on The Vampire Diaries Season 8 Episode 13 when the pair returned but was their return linked to Kai's?
TV Fanatics Justin Carreiro, Mandy Treccia and Paul Dailly, discuss the big return, Bonnie's choice, and Dorian's betrayal. 
What did you think of Kai's return?
Justin: This episode reminded me why I liked Kai; he was one of the more entertaining villains. He and Damon are great frenemies together and enjoy teasing each other. I've missed Kai's cheeky quips.
Mandy: I loved it. Chris Wood always seems like he's having so much fun playing Kai. Then, he switches to villain mode and reminds us (and Damon) why Kai is so dangerous. 
Paul: I loved it. Kai is such an amazing character that I would not mind him getting his own spin-off.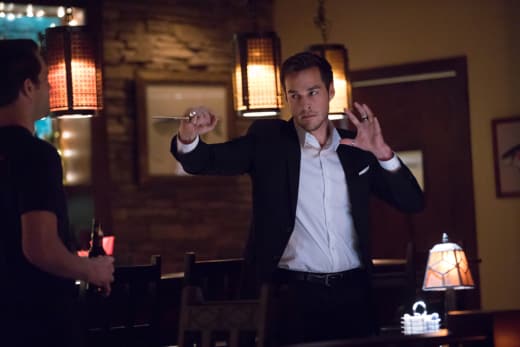 Will Bonnie stay with Enzo over saving her friends?
Justin: No. At the end of the day, Bonnie will make a sacrifice from her happiness to save her friends. It's the right thing to do.
Mandy: I'm confused by this story. I don't understand where Enzo is. Is it a prison world like Kai's? Since she put him there, can she take him out? At this point, I want Bonnie to be happy no matter what. She's earned a selfish turn. 
Paul: This is a tough one. Bonnie has put so much on hold for her friends over the years. She always seems to get dealt the worst hand, while all of her friends somehow find a way to happiness. She should choose her happiness, but she won't.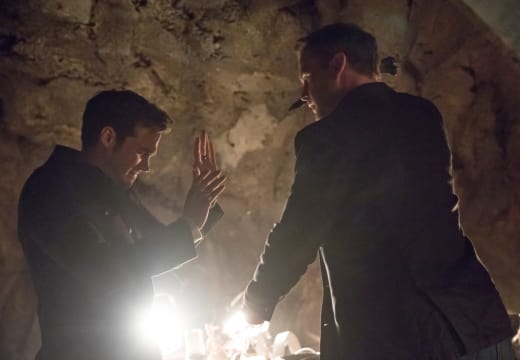 What did you think of the twins' magic getting stronger?
Justin: This twist must play a bigger role later on down the season. For some reason, I think Kai returning has heightened their magic. Someone could be in danger.
Mandy: I agree with Justin. I think Kai being back somehow strengthened them. It'll be interesting to see how this story plays out. Maybe they'll somehow drain Cade of his power. 
Paul: It was an intriguing twist, but it was pretty obvious Kai returning had something to do with it. 
Dorian kidnapped Stefan. React.
Justin: This is the moment where Stefan got a dose of reality. He needed to hear that his mission of redemption doesn't simply remove everything he's done in the past. I loved that Dorian was a twist caused by Stefan's memory wipes.
Mandy: What does it say about me that my favorite part of this was the reminder of Stefan and Klaus' Season 3 Ripper Tour? I'm so impressed with all the little nostalgia touches the writers manage to weave in. I felt bad for Dorian. But Team Stefan forever so I'm glad Dorian saw the error of his ways. 
Paul: I did not care for this storyline, but I did like the ripple effect Stefan caused all those years ago. 
What will Cade do next?
Justin: I think Cade will go searching for Kai since he is the most pressing threat in Mystic Falls. However, I have a feeling he and Kai will make a deal to secure Kai from hell. Maybe something along the lines of killing certain people?
Mandy: Again, I agree with Justin. I see a Cade/Kai team-up coming. Cade seems willing to make a deal with anyone if it benefits him. And that's Kai's MO too. But I'm not sure what the endgame is for Cade. I don't think he's as powerful as he's projecting. 
Paul: He's going to find a way to use Bonnie's increasing powers to his advantage. Maybe, he'll even try to kill her with the hope of getting some of her power. 
Remember you can watch The Vampire Diaries online right here on TV Fanatic. Get caught up now!
Over to you, The Vampire Diaries fanatics.
What did you think of all the drama?
Sound off below!
Be with us on Friday for the full review of The Vampire Diaries Season 8 Episode 14. 
Paul Dailly is the Associate Editor for TV Fanatic. Follow him on X.