Although an excellent and well-crafted hour, I had mixed feelings concerning Bones Season 12 Episode 11. 
Obviously, they wanted the penultimate installment of the series to be intense, emotionally fraught, and drama filled, and with that in mind, the episode should be considered a success.
But there's a large part of me that wished that Cam and Arastoo's wedding could have simply been a happy affair, where we got to see all of the characters we love coming together and enjoying one another one last time. 
Instead, I spent the entire wedding reception with this horrible sense of dread because it was so obvious that something horrible was about to happen. 
And even though I was delighted to see Avalon back one last time, I was a bit disappointed that her visit was shrouded in such doom and gloom. 
I know Bones is a crime procedural at its core, but would it be too much to ask for fans to be allowed to revel in the fun of a joyful wedding without impending disaster? 
Granted, they drew the drama out while flashing back to various points in the reception where clues were dropped about what was to come…and in part, I feel bad for complaining at all.
Cam looked gorgeous in her wedding gown. She and Arastoo were happy as they planned a six-month honeymoon, and Cam took the time to decide if the next phase of her life included the Jeffersonian.
I was thrilled that we got to see Christina and little Hank, as they were a perfect addition to the festivities. 
But there was little doubt that Cam leaving her purse behind at the wedding was going to be their downfall.
Cam: Seriously guys, tell me what has gone wrong here?
Brennan: Everything.
Well, almost everything. 
Everyone was far too cocky heading into Zach's hearing. 
I expected it from Hodgins, but Brennan's over confidence surprised me, as did Zack choosing to be his own counsel. 
When the case looked as though it was going to fall apart, it didn't come as much of a surprise.
Brennan, you've got to get back in there. Someone who cares about Zack needs to be there when his life sentence is upheld.


Hodgins
Thankfully, it didn't come to that, but Zack will have finish out the last 13 months of his sentence for assisting a murderer, which seemed fair. 
But will this be the last time we see Zack Addy? Although his story has seemingly wrapped up, I was hoping there would be a little more. 
Elsewhere, Aubrey was planning to take the promotion to the FBI office in Los Angeles, but he still hadn't asked Jessica to go with him.
I'm wondering if his hesitation stemmed from knowing deep down that her answer might not be positive.
My whole life is here, and I'm not ready to take that next step with you, and it made me realize, I think, maybe, we should actually take a step back.

Jessica
Although I've never been a huge fan of this couple, I felt for Aubrey. When she told him no, he looked like he'd taken a punch to the gut.
As I've mentioned before, Aubrey has unexpectedly grown on me. With the Bones series finale looming, I wouldn't mind seeing a spinoff with the adventures of Special Agent James Aubrey in LA.  
As Angela said in this Bones quote…
Whatever happens, it's going to work out. I used to spend so much time looking back and thinking, "What if I had made other choices?" And then I realized, I love my life the way it is. Live for right now, that's the only thing you can do.


Angela
It turns out I was right in my review of Bones Season 12 Episode 10 about Angela being pregnant. The twist I didn't see coming was that the baby could have a genetic disorder which could cause it to be born blind.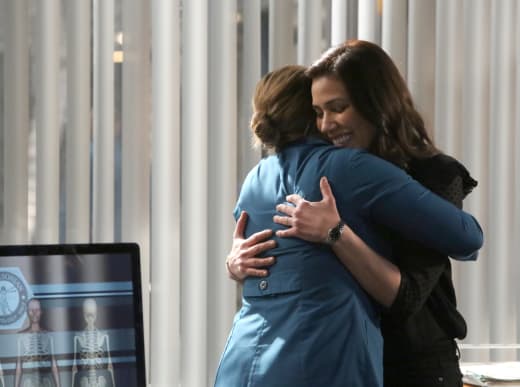 Despite that worry, it was wonderful to see how open Angela was to accepting whatever may come. She and Hodgins are finally at a place where they are truly happy and confident that they can handle what comes as long as they're together. 
Unfortunately, it's the "together" that's in question. 
Cam's purse felt like a hot potato. so much so that I was relieved when Booth finally made the connection. 
In the most recent Bones round table, our team debated if there would be one more major character death before the series conclusion. 
Given that the people trapped when the bomb went off were Booth, Brennan, Hodgins, and Angela, I really hope the grim reaper gives fans a break.
After 12 seasons of bones, blood, and gore, I think we deserve a happy ending.
So tell me Bones fans, were you left holding your breath at the end? 
Are you okay if this is the last we see of Zack? 
Were your surprised that Jessica ditched Aubrey?
And will everyone survive until the end?
Check back in later this week with our Bones round table team and then grab your box of tissues next Tuesday as we review Bones Season 12 Episode 12, and say goodbye to our good friends at the Jeffersonian one last time. 
If you're already missing out, you can watch Bones online here at TV Fanatic.
C. Orlando is a TV Fanatic Staff Writer. Follow her on Twitter.