Chicago Fire Season 5 Episode 16 Review: Telling Her Goodbye

Elizabeth Harlow at .
Even if they're not fighting fires, Firehouse 51 stays cool under pressure. 
When a local gang​ loosely affiliated young men with a long list of grievances took shelter at the house on Chicago Fire Season 5 Episode 16, Kelly got to practice his ninja skills, Stella was a badass, and Boden saw a kid that needed saving.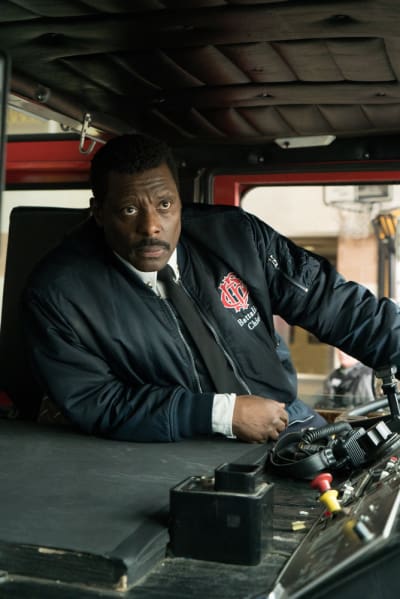 This may not have been the most important episode to the overall mythology of the #OneChicago world, but damn if it wasn't exciting. It's always nice to see the writing team try something different.
It did feel weird that there were no fires being battled, or people getting cut out of cars, or hanging off of buildings. But it was a good example of how the firefighters are heroes in every aspect of their lives. 
And the hour didn't lack for drama despite missing it's usual pyrotechnics. Have the regular cast of characters be the ones in danger instead of strangers for than made up for that.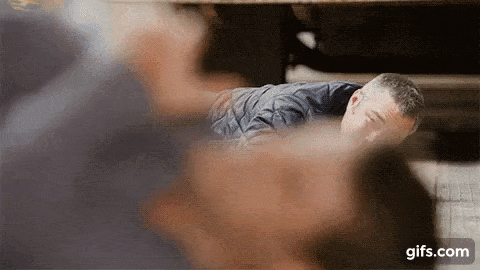 It wouldn't be a #OneChicago show if there wasn't some redeeming quality in at least one of the supposed bad guys. Young JB was vaguely sympathetic from the get-go, and that only intensified after we found out his entire back story.
It was hard not to like him after learning about his little sister. And the idea that this wasn't some regular gang, but basically a group of unassociated kids frustrated with the war zone they live in really struck me. 
Even if he hadn't helped Boden in the end, I would have felt for him. 
Stories like this are the ones that really make me wish that there was more continuity between the various shows of the franchise. I'm not saying that we needed to see the hostage situation from PD's POV, or that we should see the trial on Justice.
But a background shot of BJ and Turk getting booked, or even a throw away line about the case on another show would be a nice touch. 
Dispatch [in response to Kelly reporting a hostage situation]: Can you get out?
Kelly: I can, but I'm not leaving anyone here.
The weakness of "Telling Her Goodbye" is that is it could basically exist anywhere in the timeline of the show. Okay, there were a few small things that tied it into place (the Shay ambo, the mention of Anna), but it's not really anchored in the overall arcs of Season 5. 
That being said, if I was picking an episode for an uninitiated friend to watch, this would be a good option -- for the very reason that it's not tied to anything else.
It's strongest point was giving excellent examples of each character and their role on the team.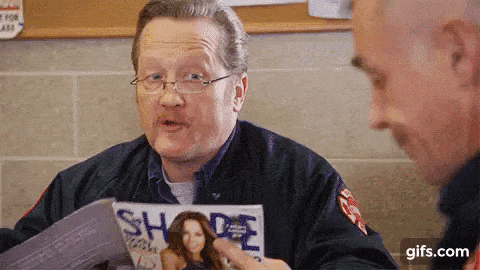 Those were the pieces I loved. Mouch eating a donut while reading Shape. Otis and his eccentric love of drill rap. Hermann as the heart (and man with an angle). Casey and Gabby's devotion to one another.
Kelly's attempts at ninja stealth were an excellent example of how he's always willing to throw himself into helping others out, without always thinking things all the way through.
The only thing missing was some representation of his man whore ways, though I suppose those are a thing of the past now. 
Dispatch [in response to Kelly reporting a hostage situation]: Can you get out?
Kelly: I can, but I'm not leaving anyone here.
And Boden was at his Boden-iest when the first thing he asks the guy pointing a gun in his face is how old the other kid is. Is there anybody he won't try to save from themselves?
What's crazy is how often he succeeds. Honestly, he might be wasted at the firehouse. He should probably be running a boys and girls club or some kind of program rehabilitating gang kids. 
Boden: Look, you got caught up, but there is still time to be a leader for your crew. They are young. They need to see you step up. [Turk laughs]. What? I say something funny?
Turk: Man, what you think this is? The Marines? I ain't trying to be a leader, I'm trying to survive.
The really crazy part of the whole story was how the team worked together without really communicating with one another. Obviously talking was mostly out, but there wasn't really a lot of meaningful eye contact or surreptitious head nods either.
Just the kind of intuition that comes from regular team work, I guess.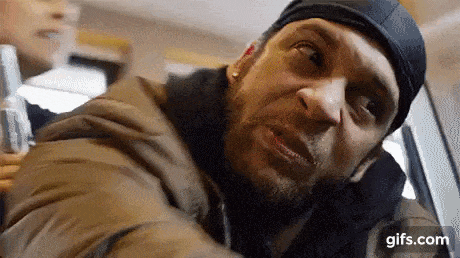 Things will get back to normal (such as it is) on Chicago Fire Season 5 Episode 17 ("Babies and Fools") although with plenty of side stories.
 Kelly will be helping Anna to settle in to life in the big city -- I'm just curious where she (and he) will be living. And if we'll be seeing her on Chicago Med.
There'll be some Molly's drama to sort out, which makes sense -- there hasn't been any bar related drama since the Murder Bar incident. This time, Otis is the odd man out. But why?
Casey's going to be doing Aldermanny things, and I'm probably the only person even a little excited about that. I'll never stop hoping for Chicago City Hall to happen.
Turk: You don't want to take another step, old man.
Hermann: You think I'm afraid of a punk like you? You know what we do for a living? We walk into hell every day!
The big catastrophe 51 will have to deal with apparently involves someone throwing rocks off of overpasses, a personal nightmare of mine. Gabby thinks she can solve this one on her own somehow.
This inevitably means she's going to do something reckless, and then she and Matt will have a Talk about their relationship and love.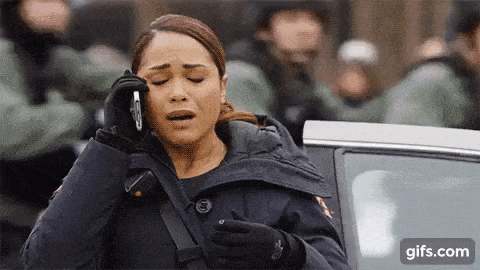 If you need to catch up after the hiatus, you can watch Chicago Fire online with us. You'll need to be up to date if you want to join the conversation in the comments section!
Who had the best line about what Firehouse 51 does? Should JB catch a break at sentencing? Will Kelly ever stop to think before he acts? Did this bottle type episode work, or do you want need more flames?
Elizabeth Harlow was a staff writer for TV Fanatic. She left the organization in October 2018.