Chicago PD Season 4 Episode 17 Review: Remember the Devil

Stacy Glanzman at .
Halstead is married?!?
I did not see that coming. 
Sadly, now there is trouble in paradise for Linstead. Will they pull through?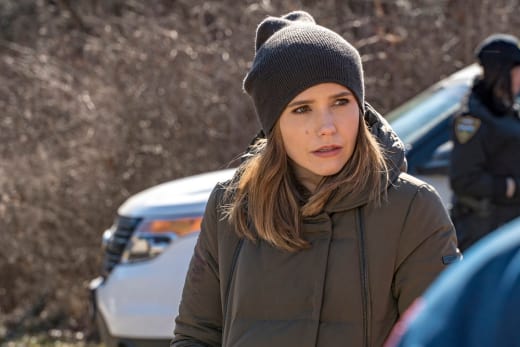 Jay's military background has come back to haunt him more than once, and on Chicago PD Season 4 Episode 17, it brought along a not-so-ex wife. 
Abby arrives to tell him that she's getting married again (except not really), and oh by the way, we're actually not divorced like you thought for the last eight years. Um...
If any of you out there watched Castle, this might all be sounding a little familiar to you. 
Like Beckett, Jay's a cop, and it's a little hard to believe that something like being married didn't pop up on a background check. Plus, I'm pretty sure Voight knows literally everything about his crew. How'd he miss this?
Honestly it's surprising he didn't run an extra vigilant background check the second he started dating his pseudo-daughter. 
Ruzek: Are they cool?
Atwater: I don't know, ask her.
Ruzek: No sir, you ask her.
Atwater: No thanks.
Anyway, now things are definitely not all right with Lindsay and Halstead, but it's not really because Abby's still in love with him (though, apparently she is).
Her sudden arrival back into his life has stirred up memories and emotions from his military days that he's never really dealt with or processed properly. 
My heart broke for Lindsay when he told her he loved her and that he needed some time, but as devastating as it is, in the long run it might be for the best. 
Hopefully he will go deal with his pain and confusion, and their relationship will be stronger when he returns whole. 
Lindsay will wait for him.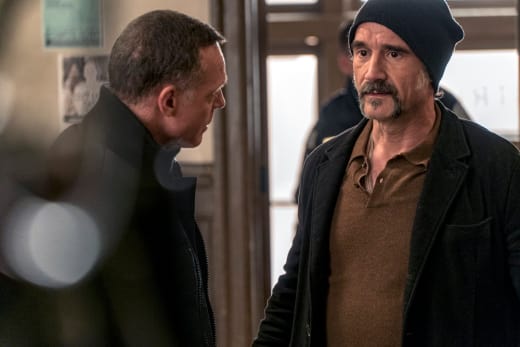 Olinsky is back at work, still grieving his daughter of course, but he needs the distraction.
Whether or not he really should have been back is debatable, as his head was clearly not fully in the game. 
He is seeing his daughter everywhere, and this case hit a little too close to home. 
No one really knows how to act around him, other than Voight who's been there recently. He just gives him his space. 
I'm not sure whose offer of support was better, Ruzek's adorable hug or Platt offering to "not" talk about it. 
Platt: Hey Alvin?
Olinsky: Yeah.
Platt: If you ever want to not talk about it, I'm your gal, okay?
The case was a weird one. You don't see a lot of little old lady murderers, but hey, everything else has been done already. 
Voight versus the widow was a great fade to black moment. Her scream of pain and her bandaged hand was all I needed to see, thank you very much.
Seriously, people need to stop calling Voight's bluff. 
Sure most cops would have called in a locksmith, but please, Voight doesn't have the time or patience for such things. 
Even little old ladies don't get any sympathy from Voight. Especially if they are holding his people captive. 
Ruzek: Well, I'm confused. Was the husband the mastermind or was it her the whole time?
Olinsky: Kid, what are you looking for? They can tell you all day long why they killed someone, you're still not going to sleep any easier.
Like Ruzek, I'm still a little unsure what the whole story was, but at least it had a satisfying conclusion. If Lindsay and Halstead were going to rip out our hearts, at least the missing girls got a happy ending. 
Sad for the kid who shot himself in the head though, but it did give us a chance to see Erin driving like a maniac. Jay looked like he was about to pee his pants. Fun times.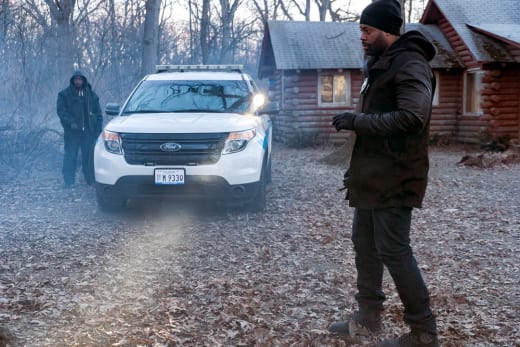 So where do Burgess and Ruzek stand? 
We need some confirmation on that, pronto!
Are they getting back together? It has to be heading that direction, right? 
It makes sense that Burgess wouldn't want to jump head first into a full on relationship right now. Things ended badly between them, and as far as we know, Ruzek's commitment phobia hasn't been cured. 
At the very least, they need to sit down and have a nice long talk. 
If Lindsay and Halstead are going to be cooling the jets for awhile, we need to see some forward progress on the Burgess/Ruzek front, am I right? 
I'll take Burgess being worried about Ruzek when he was missing. It's not much, but it's a step in the right direction. 
So what did you guys think of the new developments? Were you shocked to find out that Jay is married? How long until he moves back in with Erin? 
Hit the comments with your guesses!
If you missed anything, be sure to watch Chicago PD online and catch up!
Stacy Glanzman was a staff writer for TV Fanatic. She retired in March, 2019.