Criminal Minds Season 12 Episode 16 Review: Assistance is Futile
Dale McGarrigle at . Updated at .
The BAU headed to New York City to solve another freaky case.
But the ghost of Spencer Reid hung over Criminal Minds Season 12 Episode 16.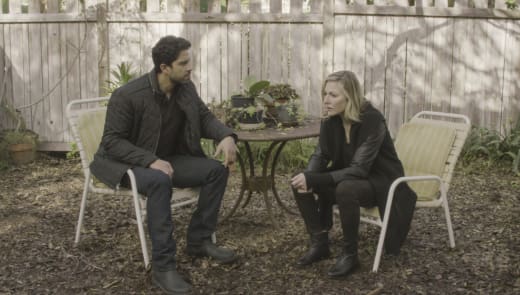 The case of the week was yet another misogynistic sadist taking out his issues on the women he abducted.
Yeah, I know. Women are more than half the population, but they end up being 90% of the victims on Criminal Minds, especially when torture is involved. It's getting more than a little old.
And torture was definitely involved in this episode, as the unsub nicknamed the Bone Crusher kept breaking as many bones as he could while keeping his victim alive.
In a nice change of pace, the BAU got the unsub, Danny White, handed to them before the first commercial break. They just had to believe.
I figure that wall of broken-bone artwork in the unsub's apartment was enough to make believers of anyone.
Then it was simply a matter of tracking him down.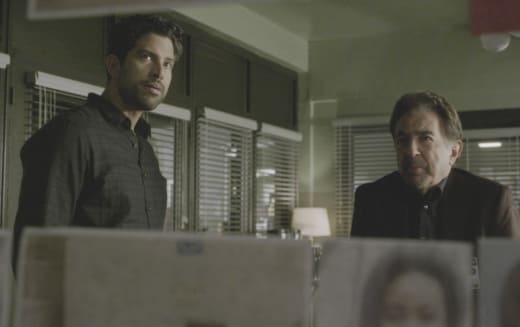 That's where his mother, Miranda, came in. She got to sketch out his long, sordid history for Alvez, who did well in drawing out each tiny nugget that brought them one step closer to Danny.
Tatum O'Neal was convincing as Miranda, blaming herself for all her son's sins. It was good to see her back on the small screen for the first time since Rescue Me went off the air in 2011 (unless you count her handful of straight-to-video movies).
I blame the father that ran off with the neighbor lady for some of Danny's problems. However, Danny had enough crossed circuits in his own right.
Miranda does have to shoulder some of the blame since giving him ecstasy did make him a more functional human being but also enabled him to put his dark thoughts into action.
And hey, why was it so difficult to track Danny? Let's take a page from the NCIS playbook and use some of those hundreds of surveillance cameras. Just plug in his image and voila! 
But that's not how we do things on Criminal Minds. We analyze the hell out of the unsub, then catch a lucky break and find the places that are special to him, then catch him. Unless, like Danny, he jumps.
Well, that works too. Just with a lot less action.
I just felt bad for Miranda, who never did get her son back, kinks and all.
Now let's turn to the part of the show we actually care about: Reid.
It was JJ's turn to visit Reid and get ogled by the inmates. A smart woman such as JJ should know when to dress down.
This episode continued with the ongoing question of whether Reid is going to make it out alive. I'm thinking yes, but he's certainly not helping himself out.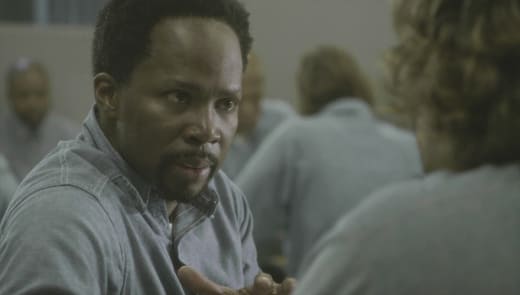 First, the FBI agent-turned-con has been offering up some profound Shaw-shank wisdom, and Reid just isn't absorbing it. To put it simply, lay low and don't draw attention to yourself.
His finely honed sense of justice, such as caring what happening to Luis, was bound to get him beat. And, what do you know, it did. It's a small prison, and word gets around.
I still don't understand why Reid is in Gen Pop. Some have speculated that he's there undercover, to somehow smoke out Mr. Scratch. But I can't think of anyone less qualified for such an assignment. Even Garcia would be a better choice.
At least Rossi came up with a great analogy of the Cubs finally winning the World Series. Bottom line: Hope springs eternal. The BAU has to believe they'll find a way to get Reid out.
Not if they keep getting pulled away on other cases.
It appears to be more of the same next week, a little Reid behind bars and a case of some sort. 
How about we wrap up the junior-jailbird storyline? it's more distracting than involving.
Hey, there were about two solid minutes of lightness. It was enjoyable having Alvez banter with Garcia and even get the better of her. But she turned the tables when she cooed to Walker later.
To follow the trials of Reid, watch Criminal Minds online.
Is Reid going to make it out alive? While Danny was a scumbag, did you have any sympathy for Miranda? Was Prentiss even in this episode (I truly don't recall.)? Comment below.
Dale McGarrigle is a staff writer for TV Fanatic. Follow him on Twitter.