Designated Survivor Season 1 Episode 11 Review: Warriors

Lisa Babick at . Updated at .
Well done, Designated Survivor, well done.
They mystery of who got shot was finally revealed on Designated Survivor Season 1 Episode 11, but who actually took the bullet was quite a surprise. At least it was for me.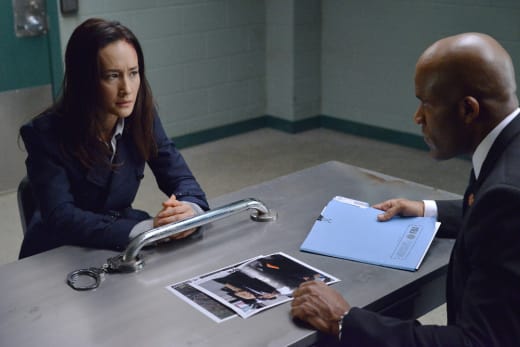 No, I did not expect Tom Kirkman to be the one who took the bullet. 
When he and Alex went down, I wasn't surprised that Alex had blood on her because that's who I really thought was the one who was going to be shot. But not in a million years did I think it would be Kirkman.
How could it possibly be the star of the show?
But I liked the shock and actually yelled at the screen when Tom realized all that blood belonged to him.
TV that gets you emotionally involved is good TV. And I was definitely invested in this hour of television.
It's not that I really believed that President Kirkman wouldn't survive the surgery.
I knew he would, but c'mon people, don't tell me you didn't shed a tear and cheer when he showed up at the hospital window and waved to the crowd.
That's a President who was able to show he could get the job done, and was able to bring the country together in a time of crisis.
Sure, he wasn't experienced, but he was a noble person beforehand. A thinker. Logical and calm. And every move he's made has been for the betterment of the country.
He deserves all the accolades because he's proven he's someone we can stand behind. It's just too bad he's fictional.
I'm glad he's going to be okay. And I'm especially glad he's taken back power from Peter MacLeish...that rotten bastard.
We knew from the very beginning that MacLeish was dirty, but this hour it was verified. 
MacLeish may have thought that he saved himself and his wife by killing the shooting suspect, but he's got another thing coming. 
Hookstraten: Just know I'll be watching you. Others may be distracted by what's happening today, but not me. If I see anything out of step, I'll take my suspicions straight to the White House Press Corps.
MacLeish: Are you threatening me?
Hookstraten: Absolutely. Sir.
Not only does he have Hookstraten on his back, he's got Hannah to worry about even though the doesn't know it yet.
What's even better is that Kirkman is aware of EVERYTHING and I cannot wait until he and Hannah start working together to slam MacLeish and his wife into a tree.
I'm starting to believe that Hookstraten might actually be on the right side of the street.
She's ambitious and she wants to be President one day, but I don't think she's part of the conspiracy. At least it seems that way for now.
Kirkman trusts her despite their differences, and I trust Kirkman. I would be very surprised if Hookstraten was somehow involved with the bombing. I just don't see it anymore.
Would she really have made that threat to MacLeish if she was? That was badass.
I can't believe I'm saying this, but maybe she should be the Vice President?!
I also don't believe Aaron is involved with the conspiracy either. I'm getting the feeling that he's been set up.
The mystery lady he met up with and the files he got are still suspicious, but there might be another reason.
What it could possibly be, I have no idea, but wouldn't it be nice if was a good guy?
But then again...what's his connection to General Cochrane? There's no way the General is out of the picture yet. Maybe there are two conspiracies happening here?
I like the idea of Aaron and Emily together. She's really bothered by the idea he might not be on the up and up. She doesn't like having to investigate him, but she's got a job to do and she's going to do it. 
We'll know soon enough what side Aaron is on. If Emily starts getting threats, well, that'll say plenty, won't it?
Hookstraten: Mr. President, how are you feeling?
Kirkman: Like I've been shot.
Designated Survivor left us with a bang and it didn't disappoint with its return. There was plenty of intrigue laid out for us, and I can't wait to see how it all turns out.
What did you think of "Warriors"? Were you surprised Kirkman was the one who took the bullet? What do you think will happen next? Hit the comments and share your thoughts!
If you missed anything, you can watch Designated Survivor online, right here via TV Fanatic.
Lisa Babick is a staff writer for TV Fanatic. Follow her on Twitter.