Empire Season 3 Episode 11 Review: Play On

Lee Jutton at . Updated at .
"Play On" felt like a bit of a letdown after the adrenaline shot to the heart that was Empire Season 3 Episode 10. Then again, anything was going to feel like a letdown after Cookie's big bust-up with Lucious. 
On Empire Season 3 Episode 11, it was back to business as usual – literally. The usual people butted heads, fought for power, argued over music, and so on and so forth.  
While these kinds of things happened in the spring premiere as well, that episode had the benefit of being the show's welcome return after a few months away. Two episodes in a row of similar storylines makes one realize how little the show has actually moved forward.
That isn't to say "Play On" wasn't an entertaining hour of television. There were plenty of great moments, starting with the return of the fabulous Vivica A. Fox as Cookie's high-society sister, Candace.
Just because he was your first doesn't mean he has to be your last.

Candace [to Cookie]
It's always a fun time when Cookie's sisters show up for a good gabfest, and this time was no different. Candace did what a good sister should, albeit with a hearty dose of tough love, when she urged Cookie to forget about her past with Lucious and move on.
Cookie's family always wanted more for her than life with Lucious; they had dreams of her marrying a nice boy from the right side of the tracks and going to school to become a doctor or a lawyer.
Angelo, with his powerful family and blossoming political career, symbolizes the kind of future Cookie could have had back then, and that she could still have now. 
Naturally, Candace didn't waste any time telling Angelo that he should marry her sister, using the excuse that if he became mayor, Cookie couldn't sleep over in Gracie Mansion unless they were married. Clever, Candace, clever!
Your future will not be ruined again by the likes of that damn Lucifer Lyon.

Candace [to Cookie]
All of this talk of the future led Cookie to reminisce about three key moments from her past with Lucious: the moment she lost her virginity to him, the moment she realized she was pregnant, and the day of their shotgun wedding. 
Lucious might be the man who barely looked up from his lyrics when she announced she was having his child, but he was also the only person who was there for her when her father kicked her out of the house.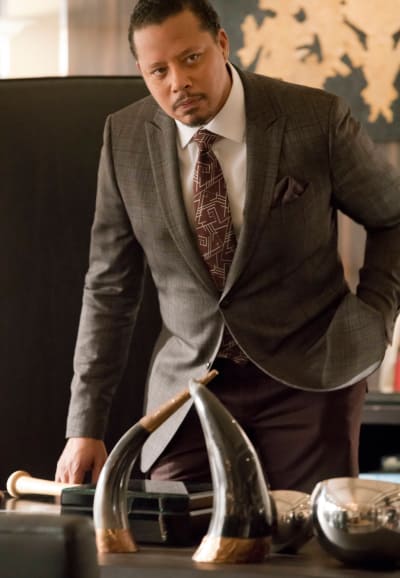 These flashbacks further fleshed out the incredibly complicated history of Cookie and Lucious and reminded the audience why someone as awesome as Cookie fell for someone as devious and selfish as Lucious in the first place. 
While giving a villainous character a few more shades of gray is generally a good thing, I honestly don't mind Lucious as a pantomime villain whose only reason for existing is to give everyone around him someone they can unite against and hate together. 
Cookie: We were fighting. Bad.
Candace: Not bad enough. You didn't kill him.
For me, one of the most enjoyable things about Empire is just unabashedly rooting against Lucious. Or, as Candace aptly referred to him, Lucifer. 
It helps that he's a snake with a silver tongue. I can generally abide horrible pop culture villains when they're clever and snarky, and Terrence Howard always seems to play up the humor in Lucious' lines. 
Clever as he may be, Cookie should move on from Lucious, and while it may be too soon to think of marriage, she should definitely stick with Angelo for the time being.
Also, can we talk about the way Angelo stormed into Lucious' lair and threatened to use all of his power to tear the music mogul apart unless he left Cookie alone? That was pretty hot.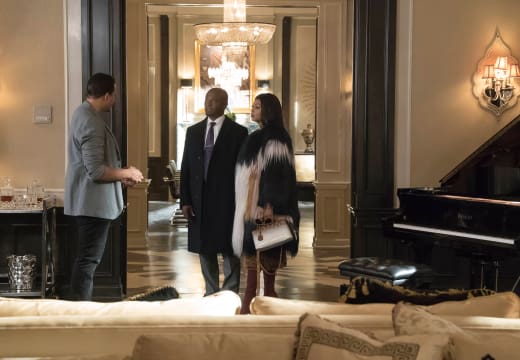 Not that Taye Diggs isn't always incredibly hot, but watching the normally crisp and cool politician match Lucious blow for blow was a pleasant surprise.
Angelo might not be from the streets like Lucious, but that doesn't mean he isn't willing to fight for what he wants. And while Cookie is a strong, brave woman who in no way needs a man to stand up for her and defend her honor, it was nice to see Angelo do it. 
You had to scratch your way to power. I was born with mine.

Angelo [to Lucious]
Cookie deserves a man who will treat her right. Just because she and Lucious have a long, passionate history full of dysfunctional children and hit albums doesn't mean she needs to put up with him for the rest of her life. 
In other Lucious-related news, the Lyon patriarch poached Tory for his own song after sneaking into the studio to listen to her recordings with Jamal.
I'm hoping Jamal will forgive Tory for this small bit of betrayal, as the music they were recording together was way too powerful to be thrown away so easily.
Jussie Smollett and Rumer Willis have great chemistry, while Tory's blue-influenced rock sound adds some spark to Jamal's usual R&B crooning, which after two and a half season was starting to grow a bit tired. 
The song's dope, Dad. But a king don't have to prove who he is.

Jamal [to Lucious]
In his anger, Jamal threw himself into the arms of Philip. This is much better than throwing himself into the arms of D-Major, which is what he would have done pre-rehab.
I wholeheartedly approve of Jamal's actions in this instance, which is not something I can say about many characters on Empire!
Meanwhile, Hakeem struggled at first to get Tiana to care about baby Bella, but in the end, she came around, because apparently it is that easy to convert a haughty pop starlet into a baby aficionado. 
I laughed my butt off when Tiana first laid eyes on that baby. She looked simultaneously terrified and bored, which is generally how I also feel about babies. 
Mom, don't act like you is fresh out of the plastic. Behave.

Lucious [to Leah]
Now, Hakeem got saddled with Bella after Anika ran off to tattle on Lucious to Tariq after the latter threatened her at Leah's request. Got all that? 
The storyline with Tariq and the fed feels played out at this point. If we're going to devote screen time to people trying to take down Lucious, I'd rather we devote it to Andre and Shyne's shenanigans.
In a scene so absurd it felt straight of out Empire's silly little sister show Star, Andre and Shyne went to meet a business contact of Shyne's with connections in Las Vegas.
After said contact bullied his wife, the wife shot him in front of everyone. And just as one of his henchmen was about to shoot her in retaliation, Shyne killed him. And then the wife, cool as they come, offered to do business with them anyway,
So you still like drugs, crackhead? Well, there's the door.

Cookie [to Tory]
The whole set-up felt very suspicious and the way it played out was utterly ridiculous. But, I'm intrigued by this woman, who feels like much more of a match for Andre than Nessa.
Even though she came off like a meek little victim at first, she seems to be tougher than first impressions would lead one to believe. I'm already wondering if she and Shyne planned the entire set-up and are now plotting to screw over Andre and take Empire themselves.
It seems like every time a new character is introduced my mind immediately assumes they're plotting with someone to betray someone else. But, that's business as usual at Empire. 
It's simple. You loved me, you'll always love me, but you're not ready to deal with that kind of truth.

Lucious [to Cookie]
What did you think of "Play On"? Should Cookie marry Angelo, or is any marriage to a man who isn't Lucious doomed to failure? Will Jamal forgive Tory for her musical dalliance with Lucious? How will Andre and Shyne's Vegas deal go down?
Remember, you can watch Empire online via TV Fanatic. 
Lee Jutton was a staff writer for TV Fanatic. She went into retirement in July of 2017. Follow her on Twitter.