Grey's Anatomy Round Table: Did Amelia Go Too Far?

Jasmine Blu at . Updated at .
On Grey's Anatomy Season 13 Episode 17, Diane returned to Seattle for breast surgery, and Maggie finally found out the truth about her mother's health.
Nathan came clean about how he really feels about Meredith and she agreed to go out on a date with him. They appeared to be taking a step forward in their relationship.
Amelia and Owen had to work an emotional case together, and Amelia unleashed all of her pent up rage about Owen, his compulsive need for a family, and his "suffocating" her in their marriage.
Below, TV Fanatics Stacy Glanzman, Ashley Bissette Sumerel,  and Amanda Steinmetz discuss "Till I Hear It From You."
Diane Pierce returned and Maggie finally knows the truth about her mother's health. Discuss.
Stacy: I'm glad Maggie finally knows. Jackson did the right thing by refusing to do the surgery until she told her. She needs her support system and she really couldn't let Maggie keep thinking she was getting a boob job. Grey's Anatomy Season 13 Episode 18 looks like it will be a doozy.
Ashley: I'm also really glad, and I'm heartbroken for Maggie. I agree Jackson did the right thing as Diane's doctor, and it's a relief everything is out in the open now.
Amanda: I'm relieved she knows. Jackson was totally in the right to hold off on the surgery if Diane wasn't going to tell Maggie. Yes, he's her doctor, but it's not good for the overall well-being of the patient to keep something like this to themselves.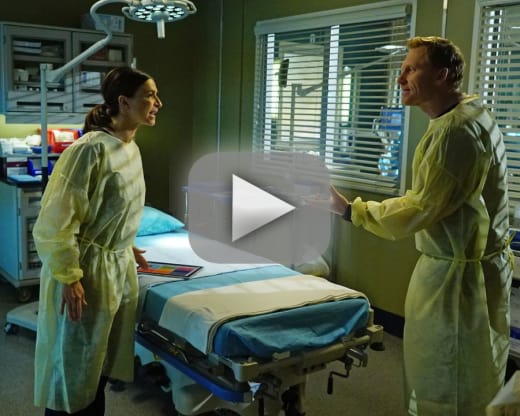 Richard forgave Arizona but admitted he still needs time. Will he finally accept Eliza? Do you think he and Bailey will make amends soon?
Stacy: I hope so. I'm ready to move on from all of that. Maybe Arizona will be the bridge that brings the two sides together and some sort of compromise will be worked out. Something needs to happen to resolve this conflict.
Ashley: I think it's going to be hard for him to accept Eliza considering everything that's happened, but in general, I'm ready for all this drama to be over.
Amanda: Regardless of whether or not Richard forgives Eliza or Bailey, I'm just ready to be done with this story and this drama. Obviously, I want everyone to get along, but I don't know if it's that simple.
Do you like the direction they're going with Riggs and Mer? Did you like his proclamation of "love?"
Stacy: It was a cute scene, but I'm still not invested in them as a couple. I don't know, they just don't have the chemistry that Meredith and Derek had in the beginning. I'm not against them being together, I just don't really care either way.
Ashley: I do like it, and I like the idea of these two together. Riggs is so different from Derek, in my opinion, and I think he could be good for Meredith.
Amanda: I wasn't particularly moved by the moment, but I am thrilled these two can stop their dancing around each other and just go out like adults. All the nonsense that came before this has put a damper on a romance between Riggs and Meredith, so I would like to see them get their stuff together.
What did you think about Amelia blowing up on Owen and bringing up Cristina? Were you livid, or do you think Amelia was in the right? Should they end it?
Stacy: Amelia annoys the crap out of me. I didn't watch Private Practice, but I know what happened to her. It's tragic, but it doesn't excuse the way she's treating him.
The comment about Cristina was uncalled for, but at least Cristina was honest about not wanting kids from the beginning. Owen knew what he was getting himself into with her.
With Amelia, he thought he found someone who wanted the same things he did, and then she goes and questions him on why he wants it? He shouldn't have to explain why he wants kids. He just does. Either she does too, or she doesn't, and they should end it.
Ashley: Well, I actually love Amelia, and I did watch Private Practice. But I can't imagine what it would be like watching this if you didn't actually see those episodes of Private Practice.
I do agree with Stacy that the way she's treating Owen is officially ridiculous and there's no excuse for it. And bringing up Cristina was totally uncalled for.
Amanda: I'm with Ashley on this. Watching Amelia's journey on Private Practice was so emotional and heartbreaking. However, Amelia has been acting so childish. There's no excuse for Amelia to put blame on Owen. He got married to her thinking they were both on the same page about children.
The situation with Cristina was totally different. Owen and Cristina got married knowing they shouldn't because they wanted different things out of life. Bringing Cristina up in their fight was a low blow.
Amelia needs to decide yesterday if she wants to make things work and have a family with Owen. If not, set him free so he can find someone who does.
On a scale of 1-10, how emotional was the Clatch case?
Stacy: 10. First of all, I love June Squibb, and she was great in this. I figured she was probably going to die, but that didn't make it any easier to watch. It was all very devastating, especially watching her husband filling out the paperwork and refusing Owen's help with the cab.
Ashley: 8. It's not the most emotional thing we've seen, but man, it was up there.
Amanda: I would say a 7. They were so cute, and I felt so sad when Hal Holbrook walked out of the hospital alone, but I didn't cry. There are many patients of Grey' Anatomy's past that I cried buckets for.
Andrew shared with Steph that he's in love with Jo. Thoughts?
Stacy: I mean, that was pretty obvious. Of course, he's in love with Jo. This show has enough love triangles, though, I'm not in the mood for another one, especially involving Jo. I already can't stand her.
Ashley: Yep, I think we all saw that coming, but his timing? Really?
Amanda: Duh! We all saw this coming, but the moment Andrew announced it was really weird.
What was your favorite scene and/or quote from "Till I Hear It From You?"
Stacy: I loved Bailey and Ben discussing what they were going to be like in 60 years. That was so adorable. There's a reason they are my favorite Grey's couple.
Ashley: My favorite was the opening with Alex and Meredith in the car talking about Riggs. I always love the carpool scenes and generally anything light between them.
Amanda: Any of the scenes between the Clatches. Hal Holbrook and June Squibb were just wonderful together.
Do agree with our round table? Join the discussion below! Missed that Cristina reference or Nathan confessing his feelings? No worries, you can watch Grey's Anatomy online right here via TV Fanatic.
Check out the promo for the next episode below.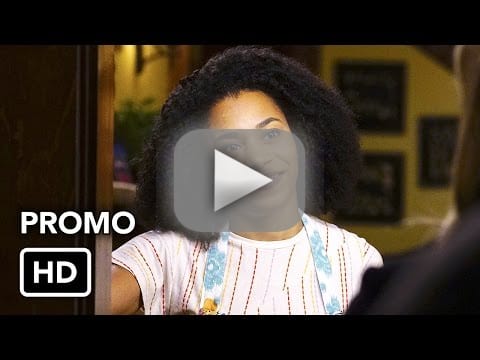 Jasmine Blu is a senior staff writer for TV Fanatic. Follow her on Twitter.