Paul Greene on the Joy of Working with Hallmark, Love, Happiness and This Is Us

Carissa Pavlica at . Updated at .
If you're not immediately familiar with the name Paul Greene, don't be alarmed. You soon will be, and his face is unforgettable.
We've already shared the preview for Campfire Kiss, airing tonight at 9/8c on Hallmark Channel, Paul stars along with Danica McKellar, and it's sure to be fantastic. Follow the link to revisit the details and rewatch the adorable trailer.
Paul stars as Steve, a devoted single father who loves the outdoors. Would you believe Paul, too, is a devoted single father who loves the outdoors? Find out in our interview why he's a perfect candidate for this role and many other romantic leads.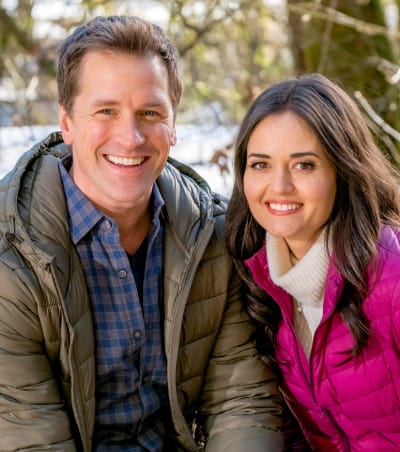 When I received the pitch for an interview, it arrived with a couple of sexy photos that weren't face-focused, and I had to look up Paul on IMDB. Embarrassing, right?
Then I thought to myself, "He's one of my Hallmark boyfriends! Of course, I want to interview him." And I didn't shy away from sharing his "title" with him by asking first, "How does it feel to be one of North America's best boyfriends?"
Paul laughed and was a little shocked, and so I shared all of the above. As we began our chat, I realized this would be no ordinary interview, so this is not going to be an ordinary transcript. Here's hoping you approve.
As to how Paul (yes, the standard interview fare would be to call him Greene, but it feels too buttoned up for a man who...well, you'll see) came to be one of the standard go-to television boyfriends, he admitted "I certainly get around. I've had my fair share of wonderful leading ladies in the last few years. It's great. It comes with a nice title. Thank you."
We both laughed at that before Paul continued, "It's great. It's a great experience working with this network and these people and these amazing, powerful women. There's no shortage of adventure with these films. They're bullets. They happen fast, and we shoot them fast."
At this point in the conversation, Paul asked to be excused while he said goodbye to a friend he had been entertaining. The two had been on an outdoors walk – barefoot – and had just circled back to the house before the call.
And if that wasn't enough to add to the outdoorsy, manly image that already swirls in the mind courtesy of his many Hallmark movies and his role as Peter in the Syfy series Bitten, Paul was about to spend a bit of our conversation in his upside machine. No kidding.
"I might be your first interview upside down, let's try that one," he said. And I figured he'd at least be the first ever to admit it. "I'll get extra blood to my brain and might be 10% smarter," he continued. I laughed, admitting I wouldn't be any smarter, so he'd have to hold up both ends of the conversation.
Paul replied, "Happily. Happily. With my feet up to the sky."
We were a short six minutes into the conversation, and already I was craving a barefoot walk (albeit in the snow) and wondering where I could stash a "hang upside down thing" in my house. The technical name is inversion therapy, but a web search does come back with the result, "Shop for hang upside down thing on Google."
I had to admit to Paul that while I love watching Hallmark movies, I consider it my cheesy downtime passion. It's just for me. They take me to my happy place.
He understood completely, and Paul talked about his upcoming roles on the Hallmark original series When Calls the Heart and in the theatrical release Sweet Home Carolina with Heather McComb (Ray Donovan, Party of Five). "She's a tremendous actress, very powerful."
"It's a really great film, and a family film as well. They go really deep into the issues of being a single mom," Paul said.  But it's a busy time for me. Saturday is [Campfire Kiss] with Danica [McKellar], who I worked with two years ago on a movie called Perfect Match."
"It was both of our first Hallmark [films], and when we wrapped, we both enjoyed working with each other so much that we said, 'Let's do it again within 18 months,' and to the month, exactly to the month, we were in talks to do Campfire Kiss. And we had so much fun."
It's the same producers who do When Calls the Heart and did Perfect Match and did the film I did with Lacey [Chabert] and the film I did with Candice [Cameron Bure], so I work with Brad Krevoy, who is the producer behind all of these, quite a bit.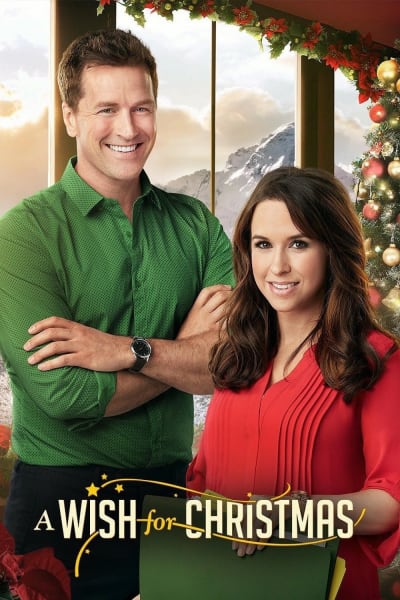 In addition to Krevoy believing in Paul, there is an executive by the name of Bart Fisher at Hallmark who saw Bitten and liked Paul's work as Peter on the show, offering him the role in Perfect Match.
Since then, every couple months he's been called up for another exciting role. "I'd say I'm pretty thankful and very happy to be a part of that family. Lots of work, and as an actor, having consistent work is like a dream come true, you know?"
If he was given a chance to work on any project, Paul would love to create a movie similar in style to Garden State, the Zach Braff movie, which Paul feels suits his tastes musically, stylistically, emotionally and through the story.
"When I tell my life story, it's going to be in exactly that way, very musically driven, very soundtrack driven. Comedy, but very deep issues. My life story is incredibly complicated, which we won't get into, but eventually, I hope to tell is, and Garden State is my ideal film."
"But series? Honestly, This Is Us has me taking deep breaths in the way they're telling that story. Of course, the music that I love, that late '70s rock, and they keep going back and playing what I listen to all the time, anyway. Simon and Garfunkel and all that stuff. So I would probably say Garden State and This Is Us would be my dream kind of vibe."
He continued, "I'm in the romantic comedy arena, but even though it's drama, This Is Us, I find it really funny, and I laugh out loud all the time, so..." And we launched into a side discussion when I agreed whole-heartedly with his thoughts on This Is Us and supported his laughter because, hey, life is a combination of drama and laughter.
But before you jump onto Paul's Twitter page to start discussing This Is Us, he revealed, "I'm only on the eighth episode, or seventh, and Toby has flat-lined, so I don't even know if Toby makes it. Don't tell me," he said, "because nothing bad happens on Christmas, or you have to go through all that."
"I do love watching that show, but I don't have a lot of time to watch television because I'm a father, and I love being a father. And I'm an athlete, so I love doing things and moving my body, in case you can't tell. I'm upside down right now," he laughed.
When he's not hanging upside down, being a good father, taking barefoot walks or acting, other options are strumming his guitar, calling his mom or spending time with his girlfriend, with whom he shares a business. "[We] have a real estate company together where we design spaces and rent them out to travelers, sort of like an Air B&B. We love doing that."
Given his affinity for music, you'd think Paul would have had an instantaneous answer when asked what song he'd consider the theme for his life. Not exactly.
"Well, I listen to a lot of '70s rock, and I listen to a lot of gospel, and no one's going to know this song, but Famous Blue Raincoat by Leonard Cohen, it's very dark and...means a lot to me. Leonard Cohen's one of my favorites."
"He's one of my mentors as an older person when I think of how I want to age with class and grace and dignity. It's how I want to be. And while I love that song and felt like the lyrics spoke to me, I'd say my theme song is "Hallelujah," also by Cohen. It's a little more upbeat, and I'm a very upbeat person."
As it turns out, Paul has a YouTube channel where he shares his music and some sketch comedies he did a while back. The song above can be found there, on the channel titled MilletLine, as can the comedy below about Male Modeling.
"Some of the sketch comedy things, they look real. They look like I'm actually teaching people how to be a male model, but I'm joking the whole time."
"Half the people think it's a joke, and the other half are thanking me for beauty tips. Spattered throughout there are a bunch of videos of me playing my guitar and singing. Original songs and covers."
Paul can play guitar and piano and loves performing. He hopes to get some more videos up and better organized in the near future. As we continued chatting about where you can find him online (the channels are rounded up below), I suddenly heard the strumming of his guitar in the background.
It was like a day in the life of Paul Greene, and I couldn't help but note he just seemed like an all-around happy guy. And if you didn't want to know him before now, the rest of the interview will help sway your mind even more.
"I think you can only be as happy as you can allow yourself to go to the depths of being sad. One's not necessarily better than the other, and they're not mutually exclusive. You need them both in order to feel the other."
Without experiencing sadness, you wouldn't know what it means to be happy. Paul agreed, "That's true. There'd be no point of reference or nothing to be grateful for."
As for other sage advice, Paul laughed when I asked if he had any more, but he lives by this: "Love is not a relationship. Love is just a commitment to love. If the relationship ends, whether that be with a lover or a boyfriend or a spouse, just because the relationship is over, it doesn't mean that the love has to be taken away."
"It's a Henry Miller quote that says, 'love is not a relationship, it's just a commitment to love,' and I'm divorced, and we had written and promised in our vows to love each other to death do us part. We didn't promise to stay in the same house or cook each other the same meals every day, but we promised to love each other."
"So our vows in our perspective, and the way we decided to live our life no longer being together, and co-parenting a beautiful son together, is that we would keep our vows, which are to love each other no matter what until death do us part. That doesn't necessarily mean we'll be in the same house or the same car, but we felt our vows were to love each other. And we had a beautiful divorce, and we have a beautiful existence together, just not romantically together."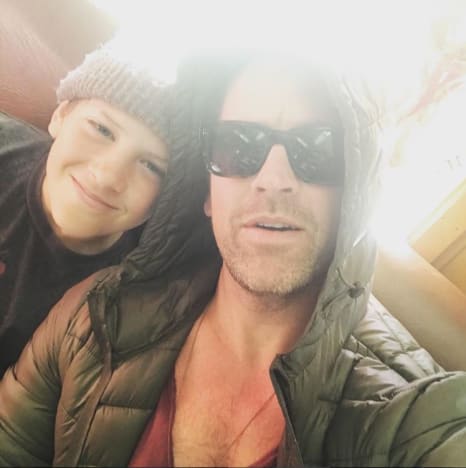 So they worked together to avoid an acrimonious divorce, sparing heartbreak not only for each other but their child and their family. "You know, I'm very committed to having a peaceful, happy, productive life, so part of that means forgiving and being kind and generous. It doesn't allow for me to be right all the time."
"I'm happy to swallow it and just go for what allows for there to still be love in the relationship, not just be right. I'd much rather have a loving, kind, peaceful relationship with my son's mom than be right about some stupid thing that I think I'm entitled to or whatever."
And while our conversation may have taken a direction a little bit different than an average interview, remember that what brought us together was the beauty of Hallmark romance. Even the biggest argument in a Hallmark romance is sweet and because one or the other of the parties involved thinks they're doing a kindness to the person with whom they've fallen in love.
Paul said he is grateful to be given the opportunity to use his celebrity to share his positive outlook on life. "When the bigger picture is about 'us and we' and how do we live our lives better? How do we make the world a better place? That's the conversation I'm interested in," he said.
"Helping others and making the planet a better place for my son to grow up on. Whether that be with a beautiful life that he gets to enjoy, not violence or shame or guilt or making somebody wrong because of something they did, all the way down to making our planet healthy. Those are the bigger things that I'm committed to, and if I had a "failed marriage," then I'm going to make the best of it and help others."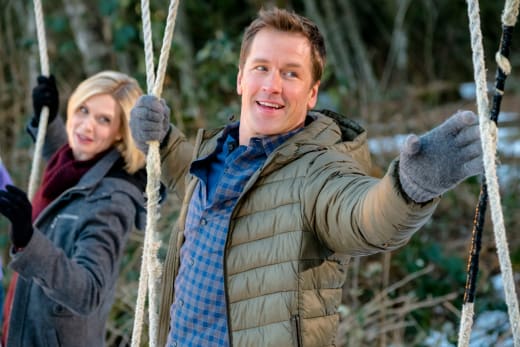 "If someone else is going through a divorce and is co-parenting, then it's great that whatever lessons I've learned that I can share them, and I wouldn't have this platform to share them if it wasn't for these beautiful little movies that get out there and questions get asked like that. It makes it all worthwhile."
"Otherwise, we're just selling commercials and ratings and making people money, or myself money. That stuff's empty. It's the healing of families and forgiveness and seeing the love and happiness in my son's eyes because his parents are kind to one another. That's the good stuff."
"You know, my relationship with God growing up was such a big part of life that I learned from my parents and my grandparents that life is much bigger than just living it for yourself. It's not happy that way. It's very depressing when you're just living for yourself. We're all connected in such a beautiful, mysterious big way that that is what really makes me happy and makes it all worthwhile."
By this point in the conversation, I was a little bit gobsmacked and could only say, "Gosh, you're just a very nice person!" To which he replied, "Well, thank you. I had very incredible parents; I'll tell you that." Something tells me there will come a day very soon when his son says the same thing about him as a father.
Interestingly, Paul shared that co-parenting is as luxurious as it is challenging. The week he has his son is full-on and he's very present. "There's no taking each other for granted because it's over in a week. It's like spring break all the time. It's one of the things I really love about sharing time with him."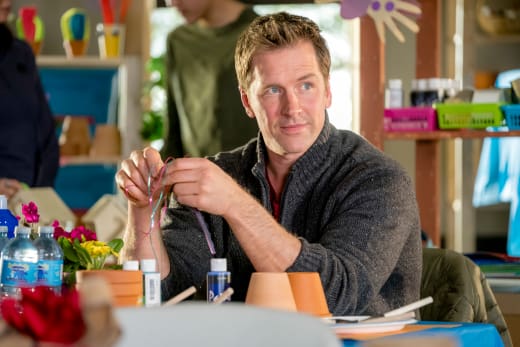 "And then I get a week to just be Paul without the role of being dad, so it's easier for me to have a great relationship with my son, than say, somebody who has their child 24/7/365 because you get familiar, you take each other for granted, and I don't have that luxury."
I hope this incredible discussion with Paul Greene has given you a bit of insight into an incredibly hard-working and kind actor. For a little while, a few times a year, he lends himself out to be a romantic interest for all of us, and it turns out he's just a sweet behind the camera as he is in front of it.
Be sure to watch his movie on Hallmark Channel tonight, Campfire Kiss, at 9/8c. Watch him on When Calls the Heart, be on the lookout for Sweet Home Carolina and visit his social media channels as listed below.
Paul Greene Youtube Channel: MilletLine
Paul Greene Instagram: PGTipper
Paul Greene Twitter: PaulGreeneMedia
Carissa Pavlica is the managing editor and a staff writer and critic for TV Fanatic. She's a member of the Critic's Choice Association, enjoys mentoring writers, conversing with cats, and passionately discussing the nuances of television and film with anyone who will listen. Follow her on Twitter and email her here at TV Fanatic.