Scandal Season 6 Episode 7 Review: A Traitor Among Us
Paul Dailly at .
What the HUCK just happened?
On Scandal Season 6 Episode 7, Huck was on a mission to find out the truth, but did it really get him murdered in the process?
Let's start with Meg. There was something out of the ordinary with her. That's for sure. Her whole act as this poor defenseless victim was clearly a ruse. I called it at the top of the hour, and my suspicions only grew stronger as the hour went on. 
Huck really battled with whether to kill her, but she managed to sway him around and continue her act. It was brilliant, but it showed just how evil and calculating she could be. Given that Huck spared her life, I'd like to think she did something to help spare him. 
That said, three bullet wounds and that amount of blood seeping from his body makes me think he could be a goner. If only he stuck to his guns and took Meg out of the equation. 
The ironic thing about all of this was that Becky was right. Who would have thought Becky would be right about anything? She was so damn manipulative during her first stint on the show. 
I cannot deny that she fooled me with her story about her sister. I actually felt bad that her sister could already be dead and she did not find out because of her being inside. 
Regardless of how evil Becky was, that would suck. I did like when she immediately told Huck that his flaw was falling for the type of women who act defenseless. She did have a point, and there's a good chance it wound up killing him. 
If that was the last we've seen of Huck, I would not be impressed, but it did shock me. It's not even a finale, and they're apparently killing people off. 
The reveal that Abby was part of it made my jaw hit the floor. She seemed so genuinely shocked that Jenny was alive. Had Huck not turned to her, he would not have been shot. 
I'm struggling to get to grips with why Abby is working with the villains. It can't have always been the case because of the way Abby was acting towards Mellie on Scandal Season 5. She did not want her anywhere near the White House. 
There's definitely the possibility that Susan was originally the person this new band of villains wanted in power, before switching gears over to Mellie. 
Either way, I'm intrigued to find out what's next. When I first heard Scandal Season 6 Episode 8 was going to be a flashback episode from Abby's perspective; I rolled my eyes. The constant switching through time is confusing, but we must know what her angle is here.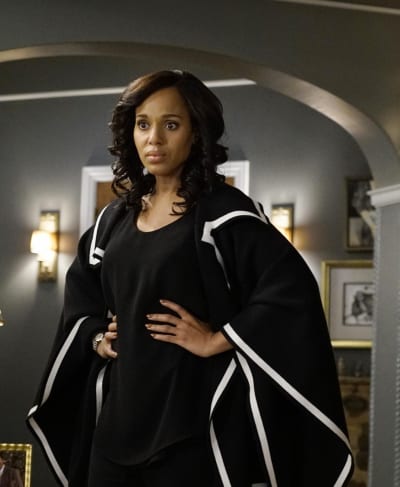 Olivia wanting her father dead was hardly surprising. In her mind, he was the same man he's always been, and she was tired of it. Killing the President-Elect was the final straw for her, so she was perfectly ready to wipe him out and not think twice about it. 
If you can't do this. If you can't make it happen by morning, I'm going to need to find someone who can.

Olivia
I liked that Huck battled with her on it because he witnessed Sandra and her goon following Rowan. Olivia seemed to think her gladiator was going crazy and being paranoid and dismissed all of his thoughts. 
At that moment, Huck did not seem like part of the team. Olivia was not treating him fairly. Maybe we can chalk it up to her knowing how conniving her father can be, but surely she would have taken her friend's thoughts on board. 
I cheered when Olivia got to watch the video because it proved Huck right. Throughout his run on the show, he's been such a complex, tortured soul. To have him apparently killed in this manner was just plain shocking and I don't think the show would be the same without him.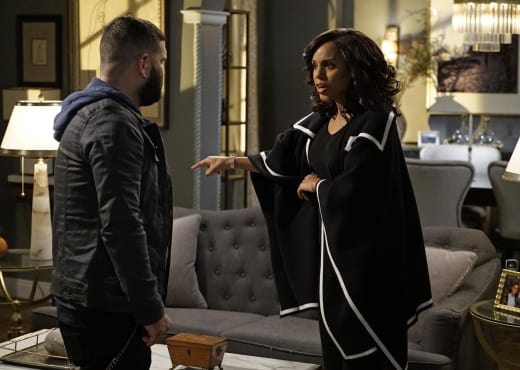 I hope Olivia feels terrible for not listening to him and finds a way to wipe that smirk off Abby's face. I'm intrigued to find out what Sandra and her team will do next. Now that they know Jenny was definitely alive, they're going to look at Rowan as a liability. 
Whether that means going after him, or going after his daughter, that's going to be one of the more intriguing questions as we move into the second half of Scandal Season 6. 
It seemed like the assassination plot was over a few weeks ago when Cyrus was arrested, but it grew arms and legs since and has turned into a solid plot to keep us all glued to our screens. 
"A Traitor Among Us" was an electrifying episode of this hit ABC drama. It was very reminiscent of the good old days of Scandal, and it would be awesome if this was the shape of things to come. As long as this has nothing to do with B613, I'll watch Sandra and her killers for as long as the show wants me to. 
Stray thoughts:
Huck investigating everyone closest to Olivia was brutal. He built strong friendships with them so it must have been tough. The scene with him pulling the gun on Quinn showed just high the stakes were, but I kept thinking neither of them was going to die, so it was pretty pointless. Then the final scene arrived. 
Is everyone in the White House going to wind up in jail by the end of the series? Will Scandal's final scene be everyone with orange jumpsuits on? 
Did anyone else find Meg asking for the meeting alone with Olivia to be a dead giveaway? Was she gearing up to kill her? 
Huck bugging Quinn and hearing her trash Meg to Charlie was hilarious. 
Why did Quinn open up about Olivia being missing in front of Meg? I know it was serious, but you would think she would have told Meg to, like, sit in the corner. 
Huck was absolutely right to pick out the flaws with Jake to Olivia. Olivia seemed to think Jake was the be all and end all when it came to redemption. 
Remember you can watch Scandal online right here via TV Fanatic. Get caught up now!
Over to you, Scandal Fanatics! What did you think of all the drama? Is Huck really dead? Sound off below!
Note: Scandal continues March 31 on ABC!
Paul Dailly is the Associate Editor for TV Fanatic. Follow him on Twitter.