Another episode of The Americans, another hour my imagination runs wild.
While there are gripping circumstances on The Americans Season 5 Episode 2, it's what my mind conjures up at bizarre times that surprises me the most. 
Somehow, I manage to read more into every action. Will it really be only a conversation with Paige? Is Renee interested in Stan or does she want something more? The mind is a terrible thing.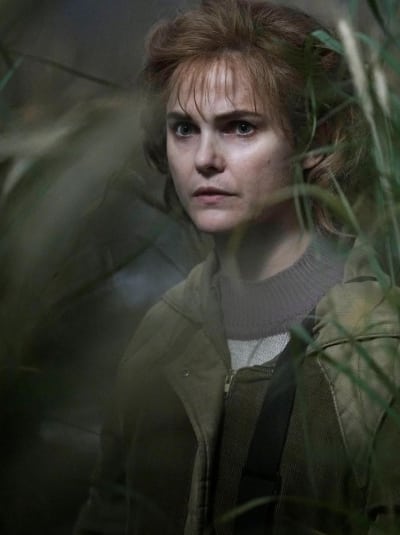 In an interview I had with James Purefoy that goes live March 15, he talked about good writing utilizing the past and future as a lens into the present.
The Americans is certainly a good example of that at the moment, as not even the best writers could have imagined a scenario that their series would be shot and in the can with material so reflective of the current mood between the US and Russia.
And yet, here we are, often recalling The Cold War in the news and now just as disgusted as all of the players that two countries could possibly toss out all the rules and play the game so carelessly.
Philip was shocked to hear America might be fiddling with the food supply. Wasn't that one thing they swore never to touch?
I just don't think you're listening. Burov will sacrifice himself before betraying his country. He can't be turned.


Stan
Stan, too, was looking at the US government under a bright, unflattering glare after the CIA asked for his help luring Oleg back to the team, and when he refused, announced they'd be moving forward anyway.
Where's the courtesy for a man who did the right thing by sharing information about bioweapons because he so passionately believed using them was wrong, no matter what side he was on? 
Philip and Elizabeth, too, are haunted by being in America and the notion they're so comfortable with it. Being involved with Tuon and Pasha continues to remind them how things were and are in their homeland and how easy they have it in America.
I'd rather die back home than live here.

Pashenka
Their assignments may be difficult, but their way of life is practically royal in comparison to the way they grew up. Tuon, too, thinks it's ludicrous for Pasha to say that when he's living in such extravagance, especially because Pasha is weak and as such Tuon could make him do anything.
Stan has a little bit of happiness in his life, though, as he finally asked Renee at the club out.
But was I wrong to feel uncomfortable for him, waiting for something to arise with her and the KGB? Between the conversation he had with Philip in the street and the introduction at the club, I was looking for a sparkle in Philip's eyes indicating he's toying with the man.
Now wouldn't be the right time to toy with Stan, though, would it? Not when Paige is so very close to the Beeman family, and Stan feels something is not quite right with her.
It's so nice that Stan has remained such a good father and friend to Henry and Paige. He didn't have to bring that up with Philip, but that he did was meaningful. Philip may not know it, but it wouldn't be easy for him to turn on Stan.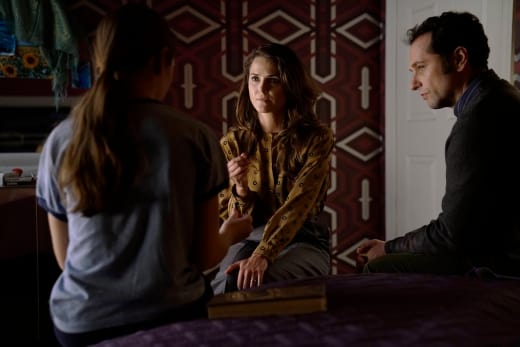 It wouldn't be easy for Paige to turn on Stan or his hunky son, Matthew. Paige may not be having sex yet, but she's getting into heavy petting, and she's likely figured out what that does to the ol' noggin considering how quickly she accepted her parents' offer of a technique that would allow her to continue seeing him.
Paige has more faith in her parents than I do because when Elizabeth pulled up that chair, I was fearful for Paige's safety. 
Geez, after the way she exclaimed to Philip that they needed to stop treating Paige like a child, what was I to expect from this mystical technique?
Even once they started with the harmless rubbing of the finger and thumb, my next thought was Elizabeth was going to say to think of me and your father and your brother dead and splattered on the ground because that's where we'll be if you spill the beans to Matthew.
Like I said, the mind is a terrible thing, and mine sometimes gets away from me. Elizabeth and Philip have never given any indication they'd treat Paige with anything but respect, so that was on me. Their technique was sweet and simple.
It's a grounding mechanism that should always take her back to that very moment and give Paige the opportunity to breathe and change direction. Everyone always says to pause to think before you act, and that's along the same lines.
I've often wondered if Stan will be the one who turns on America and becomes an asset for the KGB.
Philip: Is, uh, everything alright?
Stan: Yeah. Just this thing going on at work.
Philip: Something you can talk about?
Stan: No, not really. Just sometimes, you know, I wish I was in charge of the whole goddamned FBI.
Running the FBI would be a good option for the Jennings, but remaining where he is, and turning would be pretty nifty, too. We don't know exactly what the USSR is doing on their end, either. Our KGB agents are heroes, after all. The information they receive keeps them that way.
Even with their constant updates from home, they still have a difficult time not fully acclimating to the American way of life and losing their tether to the motherland. 
Continuing this wild ride will be worth the price of admission.
Let me know your thoughts on the hour and watch The Americans online for more. 
Carissa Pavlica is the managing editor and a staff writer for TV Fanatic. She's a member of the Broadcast Television Journalists Association (BTJA), enjoys mentoring writers, wine, and passionately discussing the nuances of television. Follow her on Twitter and email her here at TV Fanatic.