The Blacklist: Redemption Season 1 Episode 5 Review: Borealis 301

Lisa Babick at .
So Howard isn't crazy after all.
Tom almost let the cat out of the bag on The Blacklist: Redemption Season 1 Episode 5, but seeing the comic book peeking out of Scottie's magazine rack stopped him cold.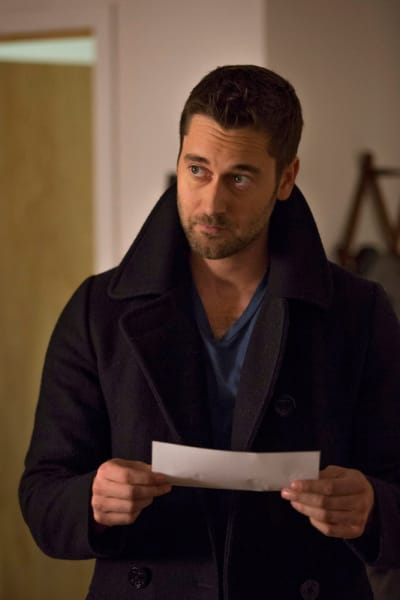 Howard even admitted early in the hour that he must sound crazy, handing Tom a piece of paper and talking about secret messages.
Then later when he talked about the comic book, that was all Tom needed to hear to realize that Howard really was a nutcase.
So he thought.
He finally had Scottie alone without any chance of interruption and he was going to tell her who he was when he caught the comic book out of the corner of his eye.
Imagine his surprise when he saw that the comic book actually existed. Lucky for him he was able to backtrack and say he wanted to talk about Liz and Agnes. (It's been forever since we heard their names!)
Scottie didn't suspect a thing. At least that's what she pretended.
She's definitely still suspicious of Tom. If she wasn't she wouldn't have Solomon following him everywhere.
The question now is whether she thinks Tom is working with Howard, and what will she do when and if she finds out that juicy piece of information.
How Scottie and her cohorts figured out where Howard was staying is still a mystery. Someone has to be providing the information.
Could it be Nez? Or is it that detective guy?
It doesn't really matter at this point now that Howard is in Solomon's custody. 
If the previews are any indication, it might not take long for Scottie to find out the truth. And we've all been waiting for it anyway, but it doesn't seem like it's going to be good if she finds out Howard knew about Tom before she did.
If she even gives Tom a chance to explain himself. But I'm getting ahead of myself here. This is all speculation. All we know for sure is that Scottie now knows that Howard is alive, and Tom is in deeper trouble than he's ever been.
I wonder if he wishes he would have just stayed home with Liz and Agnes and not gotten himself involved in all this mess. He lived his entire life without this knowledge, why let it interfere with his life now?
But hindsight is...well, you know what they say.
This weeks' job was a rather exciting one. Solomon and Tom teamed up and became flight attendants.
Wasn't Tom an awesome flight attendant? I'd love to be on a flight with him. Solomon too, but Tom just has a certain charisma about him that makes him irresistible. Just ask Liz. She knows.
I loved when Tom solved the problem of reuniting the little girl with her mom. Stupid hijacker guy should have thought of that earlier. How hard was it to switch one seat so the girl could be with her mom?
But Tom showed his fatherly side and fixed the problem pronto. Like he does every job he's on. He's a man of many talents. And he does it all with ease.
Dare I say he's almost like a James Bond lite?
Had Solomon not had to exit the plane the way he did maybe he would've been tasked with landing the plane, but Tom was the lucky one, and he did it like he'd done it a million times before.
While Tom was saving the day in the skies, Solomon was telling one of the hijackers the story of his life. It's not a cool thing that Solomon had his first kill at 13, but it's Solomon. 
What else would you expect?
And the story was chilling. It might not have been the right thing to do, but he saved his family, and sometimes you do what you gotta do. 
He's never said he's got a clean background. That's why he's doing what he's doing now. He's looking for redemption.
Nez took a backseat role this hour. And I'm glad we didn't see her trying to get a fix this hour. Who knows how Scottie would react if she found out.
Speaking of Scottie, I'm finding her fascination with Trevor more and more curious. Is he really just some random guy or is he something more?
And what exactly is up Cat's sleeve?
The mysteries abound!
What did you think of "Borealis 301"? Were you surprised to learn that Howard wasn't looney after all? Hit the comments and share your thoughts.
If you missed anything, you can watch The Blacklist: Redemption online right here via TV Fanatic.