The Good Fight Season 1 Episode 5 Review: Stoppable: Requiem for an Airdate

Tiffany Staton at . Updated at .
Well, that didn't take long.
Diane is almost right back to where she was before the scandal.
On The Good Fight Season 1 Episode 5, Diane deals with her feelings and financial struggles, while Lucca confides in Collin and the firm gets a new client while trying to branch out into a new field of law.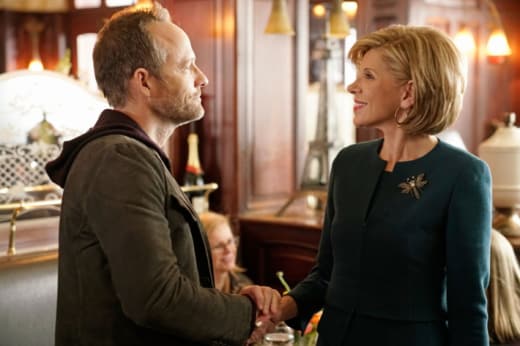 At the start, Julius is concerned they will become the anti-Trump firm. We already know they take on most of the police brutality cases. Now Adrian wants to take a case against a large television network.
The network didn't want to air an episode that accused a politician (who seemed a lot like Trump) of raping a 13-year-old girl.
So the writer released it online himself.
Adrian wants the firm to branch out into entertainment law. So his strategy is to go against the network to get its attention and eventually, its business. At least, that's initially what he wants to do.
But he, like Diane, can only be swayed so far from his core beliefs.
The show hasn't come right out and said it, and neither has Adrian, but it's clear he's not pro-Trump. Plus, he's a fighter.
So when it came down to taking a step back in hopes of getting the network's business or fighting against a government trying to stifle dissenting opinions (in his view), there was little doubt in my mind he would choose the latter.
Judge: You're arguing that he posted online for career rather than political reasons?
Opposing counsel: I am not arguing anything, your honor, that's what the evidence proved.
Judge: The evidence proves a lot of things.
Besides, the firm still got new business. It just wasn't the new business is was expecting.
Neil Gross, another The Good Wife alum, returned tonight. For those who don't remember or never knew, he's the creator/CEO/master behind Chumhum, the internet provider used by all of fictional Chicago.
He wants to bring his $58 million to Reddick, Boseman, and Kolstad because they're fighters. He knows this because Diane is a fighter.
His money, brought in primarily by Diane, gives her enough leverage to become name partner again. Well that, and she apparently won't have to downgrade to a $1000/month studio.
Watching her go through the properties, along with her reaction in chugging the nearest glass of wine, was too funny.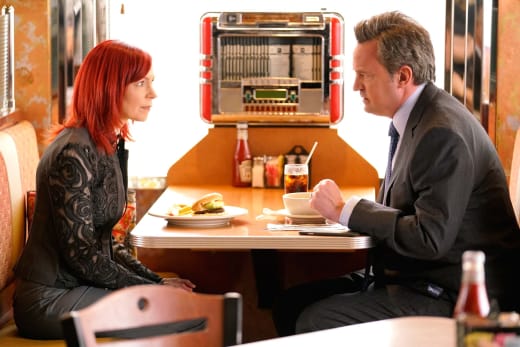 I'm shocked I've gotten this far in my review without mentioning Elsbeth.
Lucca: Alicia once gave me a piece of advice: when in trouble, hire Elsbeth.
I have been waiting for her to appear on my television screen again, and she did not disappoint.
The woman ended up in Kresteva's kitchen, with her shoes off, drinking wine and eating ice cream, for crying out loud! She is simply the best.
Kresteva does not shock or scare easily.
We saw Alicia Florrick go toe-to-toe with him on The Good Wife. We saw Peter Florrick punch him in the face. But nothing compares to his face when he walked in on Elsbeth and his wife chatting like old friends.
The fact that you already know what you know means there's something more that you don't know so how do we find out what you don't know?

Elsbeth
When he tried to deny his earlier statement/threat, I knew Elsbeth would pull out some kind of recording device. She's done it before, and like she said, they pay her to be suspicious.
Speaking of suspicious, Henry is out on bail almost immediately after he gets a visit from Kresteva. I understand agreeing to give names, but I can't imagine he would give up the person who supplied the names. Even if he did, wouldn't he just say it was Jax?
I just can't believe a father would turn on his daughter like that, especially not when they appear to have a very loving relationship.
Still, the way he was acting like nothing had even happened and how he subtly shut down Maia's concerns was strange. Maia seems to think so, as well.
Elsbeth: We're there any names connected to this firm?
Maia: No, I looked them all up. There were no clients, no lawyers...
Elsbeth: Are you sure because he found someone. I like that lipstick. That's a good color.
Maia: Thank you?
What wasn't strange was the ease of which Kurt and Diane fit back into each other's lives.
He has a speech and wants her help with it. She has to move for financial reasons, and he opens up his home to her.
Those two are so great together why do they keep fighting it?
I know Kurt screwed up. Royally. You don't cheat on your wife, period. You don't cheat on someone as fabulous as Diane. But one bad decision does not make a bad person.
Kurt is a good person who made a mistake.
I hope the two of them can work it out, and along the way, can we get more scenes with Marisa and Kurt, please?
She's...chatty. We need to see a full out conversation between them because their approaches to conversation couldn't be more different, and I think it would be delightful to watch.
I talked briefly about the case of the week above, but I will just quickly mention my irritation with the network attorney.
I couldn't tell if I liked her or not, but her use of the term "bully" pushed me over the edge.
People are so quick to throw around that word even if you just express an opinion that is different than theirs. This is so offensive or insulting to them to the point where they somehow feel personally attacked.
But not every comment against you constitutes bullying. Even if it's harshly stated, it's still not bullying. It especially wasn't bullying when Adrian and Lucca rejected the network attorney's damages proposal.
Bullying is a serious issue but when people cry "bully" under ridiculous circumstances they just diminish the meaning and effect of the word.
So, network attorney whose name I don't remember, I do not like you, and I'm glad you lost.
To end this on a positive note, I'll quickly talk about Lucca and Collin's date.
Collin: We've talked everything about me. My overbearing family, my sister's parachuting record, my struggle with addiction...
Lucca: Diet Coke doesn't really count.
I've been a fan of theirs since the beginning. The two have obvious chemistry.
I liked that Collin wanted to get to know Lucca and not just get in her pants. Although he obviously wanted that, too, since they were naked immediately after they finished their milkshakes.
I also liked how Lucca confided in him about Alicia and her lack of friends. It was always kind of obvious on The Good Wife but never talked about.
Lucca: Please don't say you're gonna save me.
Collin: No. I'm gonna kiss you.
Another thing that was never talked about was her family life. I'm interested to hear more about that.
Side notes:
**Elsbeth's office is in an empty exam room in a children's hospital. Seriously??
**Dierdre seems so sweet and normal. Why the hell did she marry Kresteva? Was he normal at one point?
**I look to The Good Fight for fashion, but I was not loving Lucca's choices.
**Barbara was NOT happy Diane is going to become a name partner. Will this cause problems in the firm?
If you missed this episode or any of the first five, you can always watch The Good Fight online via TV Fanatic.
Tiffany Staton is a staff writer for TV Fanatic. Follow her on Twitter.