The Magicians Season 2 Episode 8 Review: Word As Bond

Mandy Treccia at .
Julia's lost her shade.
As far as twists go, the reveal on The Magicians Season 2 Episode 8, "Word as Bond," may be one of the least shocking.
After all, we knew the baby/parasite was attached to Julia's soul. We knew Julia contemplated letting go of her shade to heal from her trauma.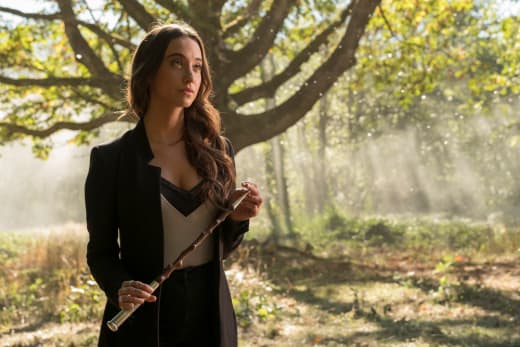 But knowing what would happen didn't damper the story in the slightest.
For one thing, we got to watch the talented Stella Maeve show off a new side of Julia. Without her shade, she's not bogged down by the weight of her trauma.
She's also not worrying about the consequences of her actions. Julia's mission has always been to bring down Reynard. Now, she can do it without fear.
My loyalty will always be with me.

Julia
On the other hand, there are risks to a soulless existence. 
Julia burning down the forest as a way to "help" Margo and Fillory was not the best course of action. It may have removed the obstacle of the One Way Forest, but it also created new enemies the High Queen did not need.
I also wonder if this version of Julia is interested in stopping Reynard to protect other women or if revenge will be her sole motivation going forward.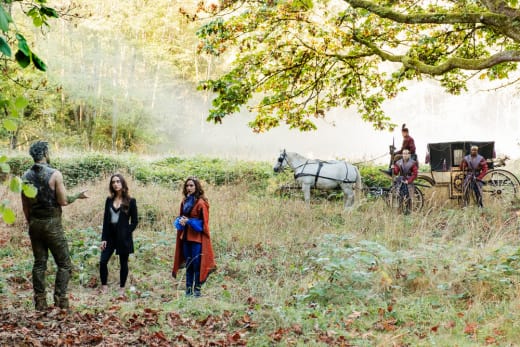 Not that I would begrudge her. The woman's been through hell. If she wants to take down the evil god that destroyed her life, I will cheer her on every step of the way.
But what happens after Reynard is vanquished? 
The old Julia would have slept better at night, and hopefully, eventually found the strength to start living her life again. 
Where does a shade-free Julia go from here? I don't think she'll be satisfied with a normal life. It would bore her.
Maybe there's a spell to return a person's shade. Then again, from what we've seen in the past, there are no easy fixes for anything in the magical world.
While it's a nice message that magic is not the answer, at some point, Julia deserves an easy fix.
No hurting anyone. No casting magic. No sex. Trust me. You locked down any possible fun.

Alice
I don't want her to fall down the same destructive path as Alice.
Obviously, the Niffin was tricking Quentin when she agreed to his deal. Lovable as he may be, Quentin's proven time and time again that he's not the sharpest, especially when it comes to Alice. 
He's too blinded by love and guilt to see her clearly. And that's why she's able to do whatever she wants.
Quentin: Are you looking for a way to reverse it?
Alice: No. No, Q. I'm not.
Quentin: Then why are you reading about all these holy men trying to fix Niffins?
Alice: What does it matter, Q? They always fail.
I assumed she wanted to find a way to take over his body permanently. Instead, Alice wants freedom. Freedom from the trap and freedom from ever being stuffed into the Niffin box.
But Alice's would-be mentor rejected her. That was a nice twist. We're used to seeing Alice being the smartest person in the room.
While that's awesome, evil Alice can stand to be taken down a peg or two.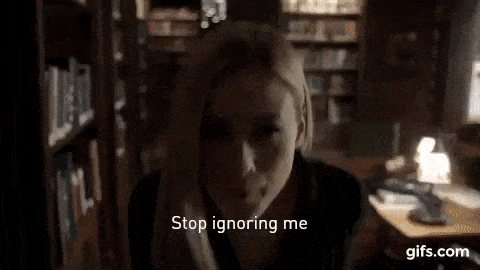 It seems less and less likely that we're going to get the real Alice back. And if they can't free her from the Niffin, I'm not sure how Quentin and the others will resolve her existence.
Considering her presence in his body is literally killing Quentin, odds are she won't be in there much longer. Especially now that Penny and Kady know she's there.
I'm going to keep holding out hope that they find some way to bring her back. Maybe not as the old Alice, but perhaps a merged Alice/Niffin combination; one who doesn't want to kill her friends, but maybe keeps some of her newfound attitude.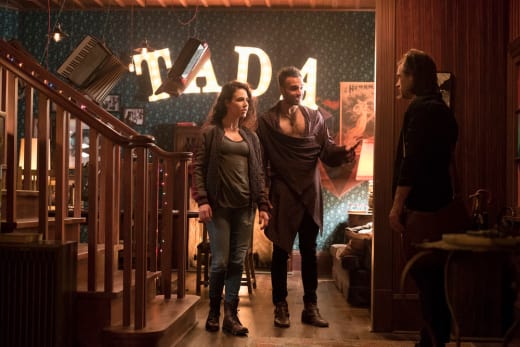 While we're on the subject of Penny and Kady, how awesome was Kady's plan to go into Q's mind? Smart thinking on her part.
Unfortunately, she's still far too emotionally broken to deal with Penny and his feelings for her. He made a deal that basically forces him to be a librarians' slave for a million years.
Because he wanted to protect her and get revenge on the insane god that tried to kill her.
We should all be so lucky as to find that kind of love.
Okay, here's the deal. I can't exactly study magic unless I sign an insane contract or Mayakovsky stops dicking around. What I can do is help stop the evil freak that tried to rip your heart out of your chest. I'll sleep better with him dead.

Penny
Even though I want them to be happy, I am proud of Kady for knowing she's not ready.
She needs to work through her own stuff before she can think about committing to Penny and the relationship he wants.
Kady's matured a lot since we first met her. She's hurt and broken, but she's strong. She'll get past this pain eventually.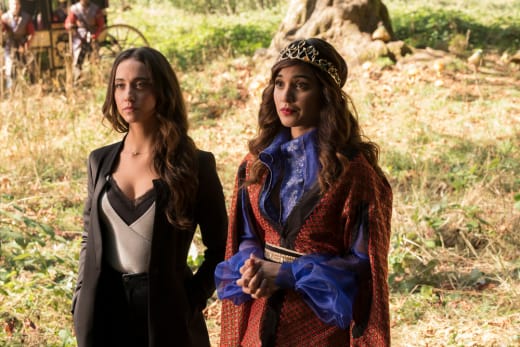 Finally, in the continuing saga of strong women, we need to talk about High Queen Margo.
She's come a long way from being the party girl/comic relief. With Eliot indisposed, Margo stepped up for Fillory. No matter how many people tried to push her down, she persisted.
The High Queen also admitted she was faking her confidence, but that didn't make her look weak. It made her human and vulnerable in the most endearing way.
Eliot, you need to come back. I know that you have a constant, low key death wish, but you can't leave. They don't want me. They want the High King [begins to cry]. I'm failing, El. So if you could just please, please wake up.

Margo
Like everyone else, she's trying to find her place in this insane world of magic. But she never lets her fears hold her back.
Her speech to Fen proved that she's not the selfish girl people accuse her of being. She doesn't have to protect Fen or her baby or even Fillory.
But she will because it's the right thing to do. She's not going to let a crazy god or a council of men or angry trees tell her that she can't be a ruler without a king.
How can we not love her for that?
Tell us what you thought of "Word as Bond." Will Alice ever return to human form? Can Julia's soul be saved? Did Margo make the right call?
Remember, you can watch The Magicians online anytime!
Mandy Treccia was a staff writer for TV Fanatic. She retired in September 2017. Follow her on Twitter.