Agents of S.H.I.E.L.D. Season 4 Episode 16 Review: What If...

Lee Jutton at . Updated at .
Hail Hydra?
On Agents of S.H.I.E.L.D. Season 4 Episode 16, Daisy and Simmons entered the Framework to find and save their friends. This marked the end of the LMD story arc and the beginning of a new one – Agents of Hydra. 
Just as I thought there was no way LMD could top Ghost Rider, only to almost immediately be proven wrong, it already looks like Agents of Hydra is going to be a wonderfully wild way to end what has been Agents of S.H.I.E.L.D.'s best season. (Let's just hope it isn't the last.)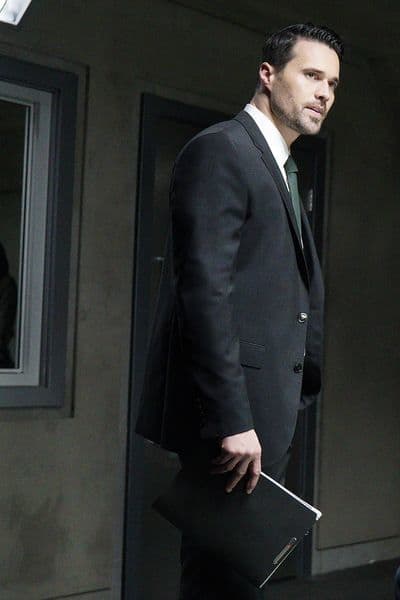 "What If..." was chock full of emotionally draining moments, plenty of disturbing irony, and some surprisingly prescient references to topics currently of heated political debate in the United States
First thing's first: while my confident prediction of LMD Ward may not have come true, I wasn't entirely wrong either! Does that mean I get half a prize? 
That's right, Grant Ward is back – and back with Daisy, who he knows only as Skye. In the Framework, the two of them are Hydra colleagues and lovers, much to Daisy's chagrin.
Meanwhile, May occupies a lofty rung on the Hydra ladder, Fitz is a Mengele-esque mad scientist known as the Doctor (sans TARDIS), Coulson is a mild-mannered high school teacher preaching lies about the heroism of Hydra, and Simmons? She's dead. 
But the biggest twist of all? In the Framework, Ward has been working as a mole within Hydra – just as he worked as a mole within S.H.I.E.L.D. in the real world. 
Not only that, but his reason for joining the good fight? To protect his beloved Skye after discovering she had Inhuman DNA.
Ward: Skye, there are things about me you wouldn't like if you knew.
Daisy: Trust me, I know.
Resurrecting Ward as an undercover hero for the resistance, fighting Hydra from within, was a highly unexpected way for the show to finally attempt to redeem him in the eyes of Daisy, Simmons, and the audience.
One of the most interesting things about Ward and his various, villainous incarnations was how he was never redeemed once his true, duplicitous nature was revealed. 
The show could have gotten cold feet and backtracked, making their handsome leading man a tortured hero after all, but instead, they just left him tortured. He never won Daisy back; he never regained the trust of his friends. He didn't deserve it. 
Radcliffe created the Framework for a world without pain; one imagines that having Ward remain loyal, alive and in love with Daisy was his way of ridding Daisy of the intense pain of their relationship. But will getting to know the good Ward just pour salt on old wounds?
You know, we've spent more nights out tracking Inhumans than we have at home?

Ward [to Daisy]
It's not like Daisy can take the good Ward with her once she leaves the Framework. Unlike her friends, Ward isn't a living human plugged into a virtual reality; he's part of that virtual reality. He's nothing more than a few lines of programming. 
Poor Daisy. Just when she had finally managed to move past her various tragic romantic entanglements, one returns to haunt her. I can't wait to see where this storyline goes next. (Hopefully, wherever it goes, Ward will be shirtless again.)
Exploring the Framework was an eerie and emotionally draining experience for both Daisy and Simmons. But while Daisy was at least lucky enough to wake up in a nice apartment with an attractive man in her bed, poor Simmons woke up in a grave.
Daisy: Wait, are you still dead?
Simmons: No, I'm feeling much better.
Suspecting Hydra of her murder, she spent the episode staggering around with blue lips and a strangled voice. She confronted Coulson, begging him to remember the brave leader he once was, only to be thrown out of his classroom and reported as a subversive.
Elizabeth Henstridge has always been charming and likable as Simmons while bringing a quiet strength to so many of her scenes. When she tearfully raged at Coulson, her already hoarse voice cracking from the strain, I just wanted to hug her. 
Do you have moments where reality isn't quite right? Like your memories don't fit?

Simmons [to Coulson]
It was a phenomenal scene with the emotional heft of three and a half years of S.H.I.E.L.D. behind it, which made it all the more heartbreaking and frustrating  to witness Coulson's angry denial of his actual life. 
There were so many untruths about Inhumans out there that some people saw them as these magical, heroic creatures, like unicorns. It was terrifying.

Coulson
Fortunately, Daisy managed to jog Coulson's memory of life outside the Framework by the end of the episode, as only his surrogate daughter could. But tearing the rest of the S.H.I.E.L.D. team away from their virtual lives won't be easy. 
Student: Are Hydra all Nazis?
Simmons: Every last one of them. And don't you let anyone forget it.
Fitz is not only a powerful and evil scientist; he's in a relationship with his boss, Madame Hydra. And who is this mysterious Madame Hydra? None other than another incarnation of Aida. Three cheers for more Mallory Jansen!
Considering how obsessed Fitz originally was with the LMD and the technology that made her tick, and the rift this obsession formed in his relationship with Simmons, it seems only fitting that he would fill the Simmons-shaped void in his virtual life with some form of Aida.
Fitz came off as cool and utterly in control in all of his other scenes; he even belittled Melinda May and lived to tell about it! But in his scenes with Madame Hydra, it became clear who the real power behind the tentacled throne is. 
Fitz: Treat this mole like a cancer.
May: I'll cut it out myself
Watching their weird relationship dynamic play out will be almost as fascinating as watching Daisy navigate the emotional minefield posed by Good Ward. (I'm just going to call him Good Ward from now on.)
And Melinda May? As we've previously seen, in the Framework, she was able to save the Inhuman girl in Bahrain. Turning this great failure of her life into a success was a moment of incredibly emotional growth for May.
Too bad it didn't last. As Daisy notes, May is even more damaged in the Framework than she is in reality; there's no pain-free virtual world for her. And why?
You have dreams. This is all so real. So many computational layers.

Simmons
Turns out that when May didn't kill the Inhuman girl in Bahrain, that girl went on to kill many more children in Cambridge – a tragedy that kickstarted the persecution of Inhumans and the rise of Hydra.
Instead of the death of one child weighing her down, May now carries the deaths of many. Sounds like fun, right?
Like Christmas morning but with even more family drama, there was definitely a lot to unpack in "What If..."
Nonetheless, like a greedy child, I can't wait for more on Agents of S.H.I.E.L.D. Season 4 Episode 17. Hail Hydra, indeed.
What did you think of the episode? How did you feel about the redemption of Ward? Will Fitz be able to remember Simmons? And even if he does, will any of them be able to escape the Framework?
Remember, you can watch Agents of S.H.I.E.L.D. online via TV Fanatic. 
Lee Jutton was a staff writer for TV Fanatic. She went into retirement in July of 2017. Follow her on Twitter.