How far do apples fall from their proverbial trees?
It was all about parenthood on Chicago Med Season 2 Episode 20. Halstead Sr. did everything he could to push his sons away, but apparently there were good times at some point because both boys showed up for their dad despite everything.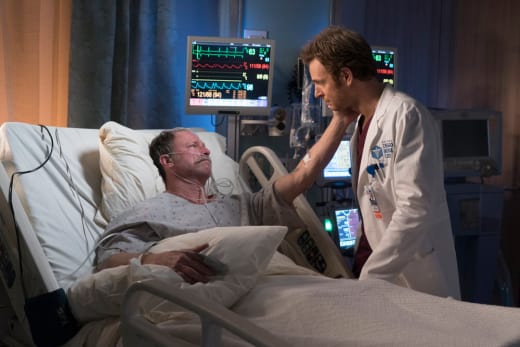 I may not be Will Halstead's biggest fan, but killing his beloved mentor one week and his father the next would have been a bridge too far. I still didn't see enough to completely redeem Will and his frequently douchey behavior, but it did maybe explain a few things about the man.
What really struck me about this story was that both Connor and WIll have a bad case of "the grass is greener." 
Connor certainly had things easier from an objective perspective, was given all the outward advantages. But his reaction to Will's neighborhood made it clear he'd give up Gold Coast for Canaryville in a heartbeat.
Connor [about Will's relationship with his dad]: I got to say, man, what you guys have, it's pretty great.
Will: Are you serious? All we do is fight.
Connor: Yeah, but me and my dad, we barely even talk.
Will: That doesn't sound to bad to me.
As touching as Will and Pop's "I love you"s were, I have to admit I wasn't quite buying. Maybe my heart is shrunk smaller than the Grinch's, but my immediate reaction was that Pop must be on some damn fine painkillers.
Just because he was able to admit to Connor that he was proud of his son doesn't mean that he'd realistically suddenly be telling Will that. I'd have really loved to have seen this drawn out over a few episodes so that it didn't feel so abrupt, or naively "happily ever after."
I'm also dying for Chicago PD to do a episode with Jay and Pop, exploring what their issues are.
Who knows though? The way Nina and Will's relationship has been going, Pop may be getting a new roommate soon.
I almost want to defend Will, because it's not as if he went out of his way to tell Nat. It's just that she works in the ED and was there when he was brought in, not secreted away from all the good hospital gossip in a basement lab.
But then I remind myself that contacting your significant other when something major like a parent being hospitalized happens is Relationship 101. Nina's right to be pissed at him. But maybe she should leave Nat out of it.
Nina [about Pop Halstead's hospitalization]: Will, I'm glad he's doing well, but how come I had to hear it from Natalie and not you?
Will: Yeah, sorry. It's been a little crazy.
Nina: You had time to tell her.
Speaking of doomed couples, I just don't see Sarah and Noah working out. She's too cerebral and neurotic, he's always got a hustle going on. I know the saying goes that opposites attract, but you still have to have some common ground. 
All these two have in common is that they're millennial doctors in training living in Chicago. Not really something to build a relationship on.  Of course, it doesn't rule out them having some hot and heavy, flash in the pan fling.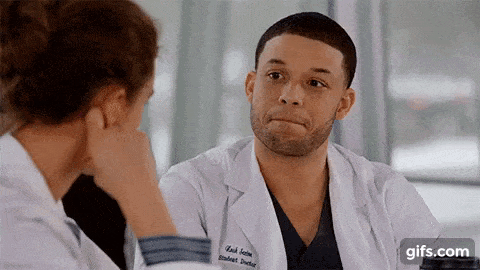 From a professional standpoint, Sarah's assignment was just...dumb. Nonsensical even. Where did those high school students come from? What's the point of only having the doll for a day -- not even overnight?
And why did they need a psych resident to run this? My doll was handed out to me by an "interpersonal relations" teacher who was also the competitive cheerleading coach because apparently being an NFL cheerleader isn't a full time gig. 
Sarah [lecturing high school students about electronic babies]: Any questions?
Student: Are you a real doctor?
Sarah: Sometimes I wonder.
At least Ethan's case qualified as a fleshed out story, but I still wish it had been skipped. Or, well, delayed. With everything going on with the Halsteads and Robin, I would have bumped this story to another episode. 
The idea of a kid being so sexually repressed that he's afraid he's going to rape somebody is twisted enough to be the A plot for sure. I mean, are we sure that this hasn't been an episode of Law & Order: SVU?
Daniel [about a teenage patient, Elliot]: I mean, I think he could definitely benefit from therapy, but I'm not ruling out those meds.
Ethan: Chemical castration, really?
Daniel: It's temporary, Ethan. Raping somebody isn't.
I had so many more questions about the back story on this kid, and also was a little confused why Dr. Charles didn't at least put him on a 72 hour hold or something.
I mean, he admitted he was afraid he was going to hurt somebody, that's grounds right there. It doesn't matter if he's a minor at that point. At the very least, it would have given his parents time to process what they'd been told and come to a less emotionally defensive decision. 
The parent's definitely played into the theme of the evening in the end, wondering where they went wrong and if they were good parents, but it was too little, too late -- both for young Elliot, and for me to want to keep the case in "Generation Gap."
You know, in my experience, there's very little to be gained by looking backwards. The important thing to focus on is "What do you do now?"

Daniel
Natalie's case more directly related to that theme of parenting woes. While we hear her mention the baby every so often, I appreciated that there was a focus on her concerns and worries about being a good mom rather than on her love life.
I'm anti #Manstead for a few reasons, but honestly, her baby is probably reason number one for. Not that single moms should be doomed to chastity.
But the combination of her sudden unexpected widowhood and single motherhood with an infant and completing a duel residency program seems like it would preclude the time or desire to date.
Nat: Am I a horrible mother?
Maggie: Yes, you are. [Natalie gives her a disappointed look] Nat, you're just having working mom's guilt.
Dr. Charles had me worried for a while that he wasn't being a good dad or a good shrink when he was willfully ignoring Connor's concerns. 
One the one hand I'm glad that that wasn't really the case, but on the other hand, Daniel really needs to get over his thing about Connor, who has done absolutely nothing to deserve his ire. 
I'm really interested to see where the Robin thing goes. Having it be a mental illness seems too easy, too obvious to me. I'm rooting for her having picked up some kind of infectious disease that's causing neurological damage or hallucinations. It's a little bit of a curve ball, but it's also something that could conceivably be treated easily once it's diagnosed.
Med will be on a bit of break while The Blacklist comes back on air, but you can always get your fix and watch Chicago Med online with us here. 
Let us know what you thought of "Generation Gap" in the comments section below! Should the writers keep cramming the cases in, or would you like to see more focused episodes? What's going on with Robin? Would you rather be born a Rhodes or a Halstead?
Speak up, fellow Fanatics!
Elizabeth Harlow is a staff writer for TV Fanatic. Follow her on Twitter.