Hawaii Five-0 Season 7 Episode 21 Review: The Water Is Dried Up
Dale McGarrigle at . Updated at .
Another stray end got tied up!
An elusive crime boss committed a gruesome crime, which put Five-0 on her tail on Hawaii Five-0 Season 7 Episode 21.
Not that this was Five-0 at its finest. They tracked Yakuza boss Shioma to her lair, then went in unprepared and undermanned, with just Jerry on comms for backup.
I understand that McGarrett wasn't sure who he could trust at HPD where Shioma likely had a mole.
If that's the case, do what Jerry did: Go to Duke, and let him recruit officers he trusts. It wouldn't be that hard to put together a strike force.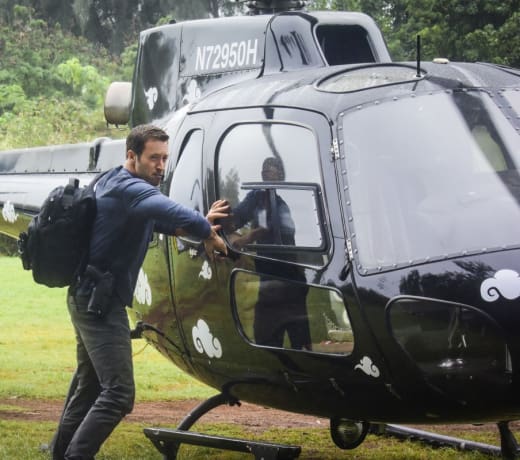 But no. Instead let's ju, t drop off our heroes in the middle of a private island. Surely, the corpses hanging from the trees was an indication that this wasn't a well thought-out plan.
That's followed immediately by smoke bombs and Yakuza thugs with guns. If the plan was to be brought, hands bound, into the heart of the Yakuza camp, well, mission accomplished.
Did anyone believe Shioma had been killed in a mutiny? You don't go through that much work to reintroduce a character after a year, only to kill her off off-screen.
She's enough of a cold-blooded bitch that I expect she'll still be calling the shots from inside prison.
Still, if the mission was to arrest 30 armed Yakuza, that's hard to do from the inside of a cage.
It was funny that Danny thought McGarrett's SEAL training included lock-picking.
But ultimately, that's what happened, but in a very McGarrett way: pick a fight with a dozen Yakuza, steal a bullet, then use that to blow the lock. I'm surprised McGarrett didn't lose any fingers.
Then it was a typical Five-0 fire-fight, with bad guys dropping everywhere and the boss lady fleeing and abandoning her under-siege crew. Oh, oh, they're out of bullets, until a Wagnerian sweep of choppers arrives to save them. HPD even captured Shioma's trawler off camera.
Just imagine if they'd planned for backup from the get-go. 
In interrogation, McGarrett even got through to Shioma by appealing to her maternal side.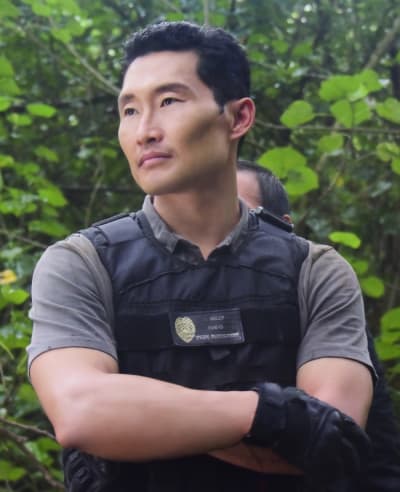 The highlight was Jerry finally getting his Five-0 badge (although I suspect field work is still quite a ways off).
I can see this look soon: his shiny new badge pinned to a flannel shirt worn open over a classic "The Truth is Out There" T-shirt. And Jerry will make that work.
Now for the other, more thought-out storyline: When Grover learned you can't go home again.
What was supposed to be father-son bonding quickly went awry, largely because Will spent the early part of their stay pining for Grace.
But it was mostly because Grover ended up getting shunned for doing the right thing.
Are we supposed to believe that the Chicago police would set up the blue wall in support of Clay, who killed his wife, attempted to kill his ex-partner Grover and his family, and embezzled a ton of money? Really? No wonder the city is under siege.
Still it was heartening to see the big guy, who is usually cracking wise, emote over his treatment by his former friends and co-workers. I guess he picked the right time to move on to Hawaii.
It was nice that Will picked up on this father's struggles and was there to support him, however he could.
Next up is Hawaii Five-0 Season 7 Episode 22, which has a bit of a family theme. McGarrett finds out about his grandfather's role in Pearl Harbor, while Adam, who finally gets a job doing construction, finds some bones and convinces Jerry to look into them. So maybe Jerry does get out in the field sooner than I expected.
To catch up on Shioma and all of that business, watch Hawaii Five-0 online
How bad was McGarrett's plan to flush out the Yakuza? Did you feel bad for Grover? Isn't about time Jerry received some official recognition? Comment below.
.
Dale McGarrigle is a staff writer for TV Fanatic. Follow him on Twitter.