I've said before that Homeland is at its best when it combines action and intrigue with emotional moments between its main characters. That's exactly what Homeland Season 6 Episode 11 delivered. 
Rupert and Claire hit the ball out of the park with the explosive confrontation between Quinn and Carrie.
Part of what I've loved about this season is the Carrie/Quinn role reversal. A calm and rational Carrie dealing with an out-of-control Quinn has exposed new dimensions to explore within each character, as well as in the relationship.
While I admit being skeptical when the show announced two more seasons, I think Homeland just might be able to hold my attention through Homeland Season 8.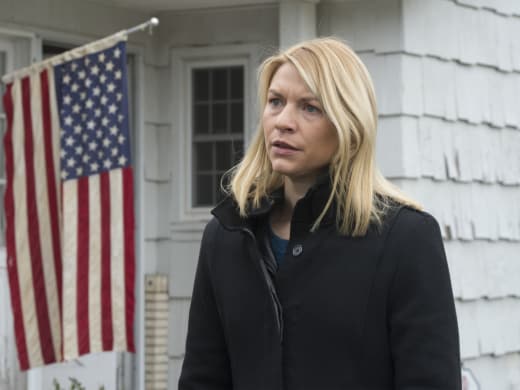 It's gloves off for Carrie and Quinn
Remember back in my review of Homeland Season 6 Episode 2 when I was all heart-eyes about that ultra emotional scene where Quinn asked Carrie why she saved him?
Well, this week we got the corollary to that scene… and it was not pretty.
When Carrie tried to talk Quinn out of killing the guy in the hat, telling him she cares what happens to him even if he doesn't, Quinn scoffed: 
CARRIE: What's that supposed to mean? I don't care? I don't care so much I visited you in the hospital every day? I don't care so much I took you into my home? I lost my daughter? I don't care so much I fucking dropped everything when your hooker girlfriend showed up out of the blue and said you needed me?
QUINN: You had no choice!
CARRIE: Oh believe me I did.
QUINN: You owe me!
CARRIE: Why's that?
QUINN: Because you made me this way! It's always your mission, your mission, your mission! [throws object angrily]
Ouch!
Quinn may have spared Carrie the punch in the gut he granted Astrid, but surely the effect was the same.
Carrie has spent the last three years of her life atoning for her days as Drone Queen when she indeed put people in harm's way – Brody, Aayan, even Saul – on behalf of the mission. And hundreds of civilian casualties weigh on her conscience.
Having Quinn fling this accusation at her must have stung like hell, especially since, with Quinn, it's always been different. He alone has been the object of her extreme protectiveness.
She desperately tried to explain this to him, "It's not just the mission. It never has been," but he refused to hear it.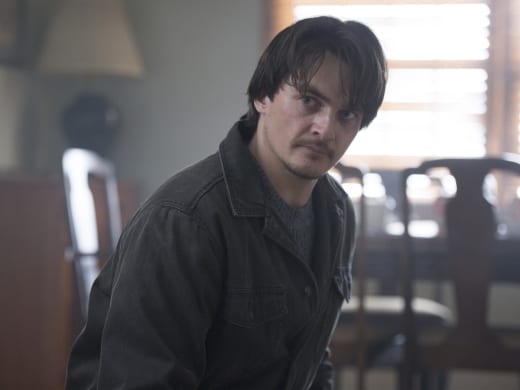 Because, of course, it's not about Carrie, or Berlin, or the stroke at all. It's about Quinn's self-loathing: he can't accept Carrie's love as long as he believes he is unlovable.
Quinn so badly wanted to avoid being disabused of this notion that he went into a loud (and awkward as heck) monkey imitation to drown out Carrie's attempts to reach him.
Apparently, Quinn eagerly internalized Dar's message that Carrie had taken care of him out of guilt. Being loved – by Carrie or anyone else – challenges his negative self-concept in a way that he is not ready to accept.
In Homeland Season 6 Episode 9, Carrie explained to the therapist that she feared Quinn was on a quest to self-destruct. Now we see that Astrid's death has redoubled Quinn's resolve: he has found the perfect mode of self-punishment.
By brutally killing Astrid's killer – with a distraught Carrie as witness – he is willingly submitting himself to murder charges because that's what Quinn believes himself to be: a murderer.
CARRIE: At least I understand now what happened here.
QUINN: You don't. This [pointing to dead body] is what I do.
CARRIE: Don't even say that.
QUINN: It's all I can do.
CARRIE: No.
QUINN: Because there's nothing here [pointing to his heart], there never was.
CARRIE: Shut the fuck up! [more calmly] You changed after the stroke. We both know it and I am so, so sorry what I did to you.
QUINN: You didn't do anything. I've always been this way.
A lifetime of assassinating targets bears heavily on Quinn's soul.
Carrie has sparred with this Quinn before.
In Homeland Season 3 Episode 7, Quinn – weighed down by the guilt of having mistakenly killed a young boy during a mission in Caracas – took the fall for Javadi's brutal murder of his ex-wife and daughter-in-law:
"What do they say?" he asked Carrie, "Confession is good for the soul?"
"Only you didn't do it," Carrie responded.
"But it made me feel better. Wrong crime, right guy, I guess."
Alas, killing the guy in the hat, it seems, was not only about avenging Astrid, but also about confirming Quinn's darkest view of himself.
His mind made up, for the second time this season Quinn asked Carrie to let him go.
This time, Carrie did a very un-Carrie-like thing, she stood aside and let him go. Carrie's need for control runs deep, but she is finally learning she can't hold herself responsible for other people's choices.
If Quinn wants to throw his life away, that's on him. She has done all she could for him.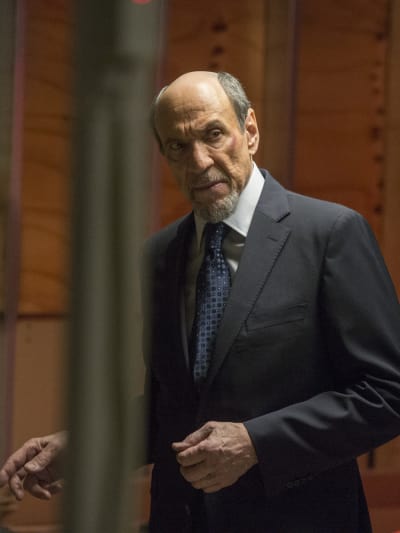 Will Dar come through for Quinn?
Thanks to Dar, we know a lot about why Quinn hates himself so much.
As a rootless foster kid, teenage Quinn must have longed for a family, a place he could belong. In Dar he found a father, in the CIA a home.
But both came at a price. He had to submit sexually to Dar; for the CIA, he had to kill.
As far as Quinn knows, love always comes with strings.
But, as we learned a couple of weeks back, Dar does love Quinn, no matter how destructively that love manifests itself. And this week we saw Dar risking his own mission – the trap he has been setting all season to ensnare PEOTUS – to protect Quinn. 
Behind Dar's back, somebody (my money is on General McClendon) has been conspiring to frame Quinn for something big – the assassination of PEOTUS perhaps? – and Dar is working with Max to get to the bottom of it: 
DAR: "Toxic Soldier," that's Quinn?
MAX: That's his handle, supposedly. He started posting on conspiracy sites about four months ago.
DAR: Is any of it real?
MAX: Quinn was in lockup for a lot of this, so what do you think? World government, deep state, the usual stuff, except that's not his main preoccupation.
DAR: What is?
MAX: Elizabeth Keane.
I still, of course, want Dar to die. I doubt Quinn will ever be free as long as he's under Dar's toxic influence. But my wish, if I'm allowed one, is that, before he dies, Dar does something to help undo this dark view Quinn has of himself.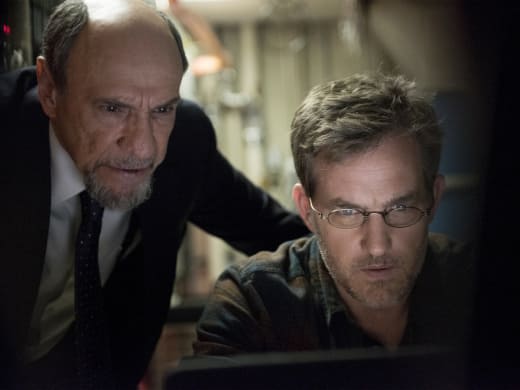 Is Dar capable of sacrificing himself for Quinn? Perhaps then Quinn could see that he has been and can be loved?
Or maybe it would just be another death on his conscience. Sigh. Sorry, Quinn. Like Carrie, I just don't know how to help you.
Earth to PEOTUS, it's called "regime change"
The last thing Carrie heard – before the flag house, and all the evidence in it, conveniently went boom – was Emmons informing her reinforcements were on the way to help secure Keane's safety.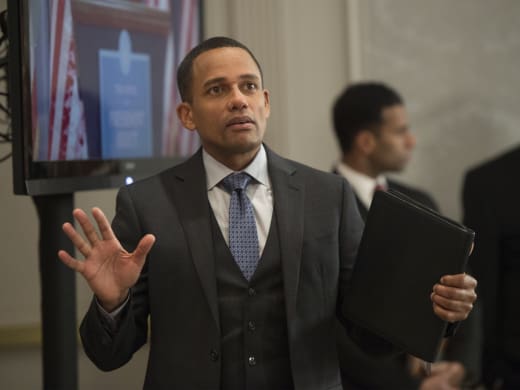 Uh oh. These reinforcements wouldn't happen to be driving a black van and have eaten Chinese takeout the night before, would they?
Yup, the bad guys are coming for PEOTUS. Good thing Saul decided to do the right thing and stayed to advise her because she and her team seem rather clueless:
You're missing it, all of you. It's happening right now in front of your faces. We have O'Keefe. We have a disinformation campaign designed to discredit the president elect. As of today, we have boots on the ground, like the protesters I had to wade through to get here. Does that seem familiar to any of you? Because it does to me. It's what we did in Nicaragua, Chile, Congo, a dozen other places, all the way back to Iran in the 50s. And it does not end well for the elected regime.

Saul
Yes, PEOTUS, you are in the middle of a coup. Time to watch your back!
I have to say, this was the best episode of the season for me and it's got me really excited for the season finale, which promises to be action-packed and emotionally satisfying. 
It may not be wise to have such high expectations, but the season has not disappointed me once, so I feel like it's pretty much in the bag.
Fingers crossed!
Did you like the episode as much as I did? And, if not, WHY? Be sure to watch Homeland online and leave your comments below!
Vivian Figueredo is a staff writer for TV Fanatic. Follow her on Twitter and read her personal blog at Sense Misapplied.