Major Crimes Season 5 Episode 20 Review: Shockwave Part 1

Jack Ori at . Updated at .
I knew it was too good to last.
Rusty and his idiotic boyfriend, Gus, have been off-screen for a while, and I'd hoped it would stay that way.
Sadly, it was not to be. On Major Crimes Season 5 Episode 20, Gus came back and was more annoying than ever.
It's a real shame, as "Shockwave Part 1" was a powerful episode except for that nonsense.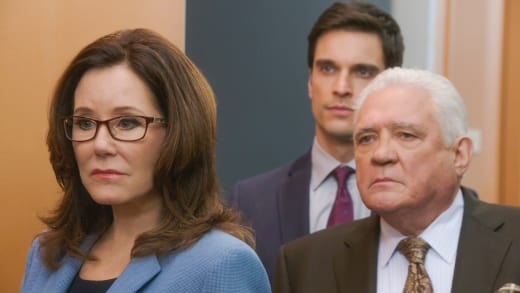 Rusty has been one of my favorite characters from the beginning, but Gus is dragging him down and needs to go ASAP.
Gus: I'll take an Uber. He'll drop me off at the front door, no problem.
Rusty: Gus, please. Can you just wait?
Gus: That's the whole story of our relationship. Me waiting on you.
Gus was even more ridiculous than usual, and that's saying a lot. He not only took a job in Napa Valley without discussing it with Rusty, but decided Rusty was transferring to Berkeley and living with him without ever having discussed it.
Then he had the audacity to be hurt that Rusty wasn't excited enough about these plans for their life together that he hadn't been privy to, and accused him of always making him wait.
Rusty was excited about getting a job right here in L.A. with ADA Hobbs, and Gus' only comment on that was that Rusty worries too much about his job performance. Yet he wanted Rusty to be excited about his job elsewhere and be eager to throw away his own dreams in order to follow him.
Please, please, please, TV gods, let Gus move to Napa Valley by himself so viewers don't have to be subjected to any more of this. Rusty deserves better and so does everyone watching.
Nolan: Besides, if you call the Feds in, you'll miss the chance to swoop in and take all the credit.
Davis: Excuse me?
Nolan: I think you heard me.
Davis: I don't care about credit. Captain, if you treat this like one of your typical homicides and another LA police officer is killed, believe me credit will be assigned for that too. [exits]
Provenza: Boyo... I'm not sure that was your best career-making move, but it sure was fun.

Winnie Davis was also high up on the list of characters that severely annoyed me.
Davis makes it clearer and clearer that she has no idea how policing actually works, and "Shockwave Part 1" was an egregious example of that.
David has no idea what the difference between terrorism and random act of violence was, and worse, she refused to listen to anyone who did actually know. Plus she made things worse with unnecessary press statements and by threatening to call the FBI over a terrorism case that may not have even been terrorism.
Sharon was right that Nolan wasn't behaving the way LAPD officers are expected to behave, but I was with Provenza. Hearing Nolan give Davis a harsh dose of truth was entertaining. In fact, it made my night.
Tao: I thought something was strange about that radio. But I didn't look inside.
Buzz: That bomb could have gone off while you were examining it.
Raydor: Thank God it didn't.
Tao: Because I asked Hailey to process the radio right away. I ordered her to pick up a bomb.
Tao's guilt over having given the bomb to Haley without having checked it for himself was interesting, though short lived. I wonder whether something will come of this in Major Crimes Season 5 Episode 21 or next season.
That guilt just disappeared too fast for my liking, and I doubt it's really gone.
As for the case itself, can we all agree that the bomber is super creepy?
It's not just that he keeps killing cops in cold blood. It's the vibe he's giving off.
The bomber didn't care who he hurt with his two (so far) bombs. He also harassed a kid in the park and punched him, evidently just so a bike with a bomb attached could make its way into the evidence room.
He called a funeral home pretending to be a friend of the deceased so he could find out the funeral location and set his bomb properly.
He took photos of each of the Major Crimes cops as they walked into the graveyard.
All that adds up to one very creepy villain.
The photos were the scariest part. Clearly, the bomber has a personal grudge against some or all of the Major Crimes Unit's members, and I'm eager to find out what his connection to them is.
Provenza: Only once in my career did I jump over a hill while pursuing a suspect. During the riots.
Sykes: Did you catch who you were looking for?
Provenza: No. I lost control of my car and crashed into a Blockbuster. It'll never happen again. There are no more Blockbusters.
It was interesting watching Provenza be his normal cynical self after all the soul searching he did on Major Crimes Season 5 Episode 19. 
Apparently, Provenza is finished with his bout of empathy for a victim and back to being crabby and impatient.
Provenza: Sanchez, you're pointing to a window with no forced entry. Patrol already told us this.
Sanchez: Patrol rushed. I didn't. Now in this neighborhood you don't let in just anybody. His locks were good. But his windows were cheap.
He had very little tolerance for Sanchez's explanation of how someone got in through the window and if a fellow cop hadn't been killed, he might even have been grateful for the bomb going off and disrupting that lecture.
Unfortunately, Sanchez wasn't given a whole lot to do during the rest of the hour, though I'm proud of him for giving Davis the proper definition of "terrorism" even though she didn't listen for more than half a second
The cliffhanger at the end may have been somewhat predictable, but it was effective. The smoke obstructing Rusty and Flynn's views also obstructed our view, and that means viewers don't get to find out who was hurt or killed until they watch "Shockwaves Part 2."
Who do you think was harmed in this latest explosion? Do you think Winnie Davis is right that this is terrorism? Do you hope we've seen the last of Gus?
Weigh in below, and don't forget you can watch Major Crimes online if you missed anything.
Jack Ori is a senior staff writer for TV Fanatic. Follow him on Twitter.