The Good Fight Season 1 Episode 9 Review: Self Condemned

Tiffany Staton at . Updated at .
Things are getting weirder.
On The Good Fight Season 1 Episode 9, Maia met with the FBI about the ponzi scheme, and Diane and Adrian took on another police brutality case.
I'll start with Maia because her storyline carries significant consequences.
But first, how delightful was it to see Jane Lynch? I love everything she does, and this role was no different.
Here, she played FBI agent, Madeline Starkey, who's trying to help Maia recall memories from her teenage years that may or may not shed light on the ponzi scheme. Agent Starkey wanted to know what Maia knew and when.
It's hard to tell whether she's on Maia's side, against her, or just trying to find the truth. I'm leaning toward the latter, though.
But Maia was just a teenager. How much does any teenager know what their parents are doing? Especially if the parents are running a multi-million dollar company.
Maia may have been a smart girl with big dreams and charitable aspirations, but she was still just a teenager.
When she pictures moments in her head, it seems like she remembers them clearly. However, on numerous occasions, the facts don't line up with those memories. So is she intentionally lying to protect her dad or simply not remembering because she was young?
The mind has an odd way of turning wishful thinking into actual memories.

Madeline Starkey
We know family is important to her, but I can't imagine it would be that easy for her to lie to the FBI.
She's an attorney for crying out loud. She took an oath. She went through a vigorous moral character determination. I would think she would at least be hesitant to commit perjury.
By the end of the hour, the only thing we know for sure is Maia is in trouble. She seems to have missed a lot of things that were happening right under her nose.
Her parents formed a charitable foundation to prevent malaria in Africa, but was it really used to hide money from an SEC audit?
Every two weeks she had a doctor's appointment, but were they really necessary or was Lenore just using them as a cover so she could sneak around with Jax?
The one thing Maia did right during the interview was remembered that her 18th birthday party was three days before her actual birthday so that when she signed the foundation papers she wasn't technically an adult, and therefore, couldn't enter into contracts.
Other than that, she screwed herself, and she knows it. She over-analyzed everything to the point of confusion.
Like Lucca mentioned, the question about Amy's parents could have been answered any number of ways:
She could have had woman's intuition and felt that something was off.
She could have wanted to avoid mixing business with pleasure.
She could have said they didn't make enough money.
Even though Lucca fed her the eventual answer, I don't think Maia lied. I think she didn't know, so she guessed.
In my experience, whenever somebody says "the truth is" that usually means it's not.

Madeline Starkey
Attorneys have a hard time admitting they don't know something. They want to have the answers. They want to control the story. That's why attorneys make the worst clients and/or witnesses.
Unfortunately for Maia, whether she meant to or not, she placed herself directly in front of the FBI's war path.
Now, let's discuss the case of the week which was handled by Diane and Adrian.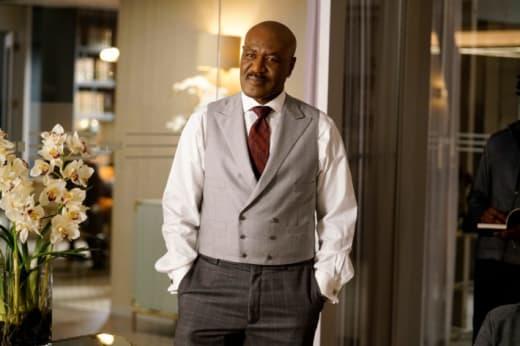 There was another police brutality incident, but this one is a little different because the victim was none other than Colin Sweeney.
Yes, I'm actually calling HIM the victim.
They're out to get me. The same way they did with Rodney King. We have a lot in common, he and I. Can't we all just get along?

Colin Sweeney
Dylan Baker delivered his ridiculous lines like his character truly believes them. It just makes them that much better.
Mr. Sweeney is still the same ol' creeper. This time he was pulled over on his way to a sex party with a dominatrix.
He claimed the police officer beat him up while the officer maintained that Sweeney attacked him. There were bruises on the cop's face but none on Sweeney's knuckles.
Jay (minus Marisa, unfortunately) came through with evidence that the cop was actually in a sparring match at the gym the night before. So he lied to the court. Oh and he also planted evidence on another man that same night. The guy is a peach.
For once, Colin ends up on the right side of the law; although I can't imagine he'll stay there for long.
Colin Sweeney: Can we pay him?
Diane Lockhart: Mr. Sweeney!
Colin Sweeney: Hypothetically.
Sides notes:
Diane's black and white blazer was AMAZING as were Lucca's perfectly pink lips.
Did anyone else get a weird feeling when Agent Starkey mentioned that Jax introduced Amy and Maia? Anything coming from Jax is sketchy at best. I hope that's not the case with Amy and Maia's relationship.
No Elsbeth nor Marisa for comic relief nor Collin for eye candy, and I still really enjoyed the episode.
I liked that Adrian took the time to see how Diane was doing. I loved her friendship with Will, and it would be great to see her and Adrian get to a place like that.
Tiffany Staton is a staff writer for TV Fanatic. Follow her on Twitter.