The Real Housewives of New York City Season 9 Episode 3 Review: A New Low

Sarah Hearon at . Updated at .
There's nothing quite like a New York City housewife when she leaves Manhattan behind for the weekend.
On The Real Housewives of New York City Season 9 Episode 3, it's time to go to Hamptons, and our favorite dynamic duos are all staying together at different houses.
Carole and Bethenny arrive first at Bethenny's house.
Bethenny: Isn't it like Indian Summer?
Carole: Well some call it global warming.
It's three days away from the Presidential Election, and Carole cannot stop talking about it. Bethenny suggests day drinking, but I think Carole would rather tweet "I'm With Her" selfies. 
Sonja opens up to Tinsley about talking to the press about her ex-boyfriend, lover, friends with benefits Tom, and LuAnn getting mad at her for commenting about their relationship.
These ladies comment with the NY Post like they share men Tom.
They're also going to the Hamptons, but not until the next day.
LuAnn and Dorinda are staying together, and it doesn't take long for Dorinda to bring up Sonja and not wanting to see her.
Sidenote: How awkward is it that we see LuAnn give her daughter Victoria rosé on this episode when she was just arrested for a DWI over the weekend? She's of age, but it's kind of shady for the Bravo editors not to cut that moment out after the news.
But then again, this is why we love Bravo.
Dorinda got a picture of Sonja and the stripper at LuAnn's bridal shower (I think these ladies have bachelorette parties and bridal showers confused). 
You know what they say, what happens at the bridal shower doesn't stay at the bridal shower.
Is she interning?

Dorinda
They also briefly discuss Tinsley moving in with Sonja and LuAnn changing her name and losing her Countess title.
Once a Countess, always a Countess.

LuAnn
Husband or not, you know she isn't going to change her Twitter or Instagram handle from @CountlessLuAnn to @TomsWife.
Ramona returns from visiting her daughter Avery at college to go to dinner with Bethenny, Carole, Dorinda and LuAnn. Everyone hasn't been all together since last year's reunion, and you can feel the intention (and smell the martinis) in the air.
It doesn't take long for the conversation to shift to the election and Carole's viewing party. Ramona wants to go, but is worried about fighting with Carole if the results don't go her way.
I can't decide who each woman voted for, but I'm dying to know.
I am inclusive. My election party is bipartisan. Everyone is invited... sort of.

Carole
On a totally different note, Ramona changes the subject to a nude scene from a movie Bethenny filmed 20 years ago that recently came out in the press.
Bethenny isn't happy that Ramona brings up her daughter, Bryn, and the idea that kids could bring it up to her at school. She shuts down the situation by joking about Diane Sawyer showing up to her first-grade class to question her, but Bethenny is clearly irritated. 
Bethenny: I think I played a murderer.
Ramona: I could see that.
LuAnn and Ramona continue to talk about the movie in front of Bethenny, and she (clearly) overhears them. Bethenny brings up LuAnn's etiquette book (for the 100000th time) and points out how rude it is to talk about someone in front of them.
The conversation turns nasty very quickly, and LuAnn and Ramona start to call Bethenny names like "witch" and "wicked" because she is very harsh.
Bethenny storms out and (naturally) Carole follows closely behind.
In her confessional, LuAnn brings up Bethenny calling her every name in the book in the Berkshires and points out that she didn't walk away, and she has a valid point. No one can handle being yelled at quite like LuAnn...unless it's about Tom.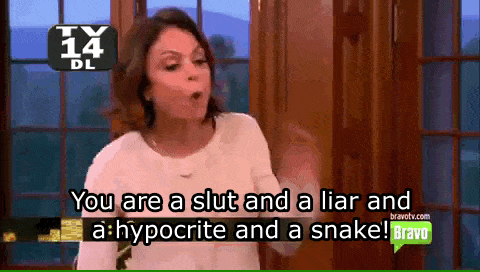 Ugh, every time we see a flashback I miss the Berkshires even more.
I also kind of miss Jules? Is that crazy? I think it would have been interesting to see her as a single housewife (although rumor has it she wasn't allowed to talk about her divorce on the show thanks to Michael) and she added a funny facial expression every once in a while.
The next day, Ramona, LuAnn and Dorinda go to lunch. I can't remember the last time Ramona and LuAnn were on the same team, but I have a feeling LuAnn is so excited that the singer stinger isn't after her right now.
They talk about how Bethenny can dish it out, but can't take it. I see both sides because I know Bethenny doesn't want to talk about her daughter and gets enough hate from her ex-husband, but she also throws out insults like Carole throws out Hillary Clinton facts.
Dorinda gets screenshots of Sonja talking about her and LuAnn's wedding on Facebook, and it adds fuel to the fire. Dorinda cannot wait to confront Sonja at Ramona's dinner party, but Sonja thinks everything is going to be fine. She tells Tinsley that she wants to go back to having fun with Dorinda, but it's clear Dorinda isn't ready to make it nice again just yet.
Well our dinner party track record isn't very good.

Carole
After all of the drama at dinner, Bethenny decides to ditch Ramona's party, but it's clear that there will still be plenty to yell about.
Dorinda tells Carole that she has a "file" on Sonja and all of the things she's done.
Don't fuck with Dorinda, she's like a silent assassin.

Carole
I'm not totally sure what that means, but I think it might mean that Dorinda is Gossip Girl... or A on Pretty Little Liars.
Right after Sonja arrives the episode ends, and next week cannot come soon enough. There's nothing quite like a dinner party from hell to spice up your Wednesday night.
Don't forget you can watch The Real Housewives of New York City online via TV Fanatic.
Sarah Hearon is a staff writer for TV Fanatic. Follow her on Twitter.