Arrow Season 5 Episode 22 Review: Missing
Paul Dailly at .
That was a twist-filled affair that left me dying for more. 
Black Siren made her highly anticipated return on Arrow Season 5 Episode 22 which was a welcome return to form for the series. 
Who would have guessed having Team Arrow kidnapped one-by-one would make for such an exhilarating hour of this CW drama series?
Okay. Let's get to it. We have a lot to discuss starting with Adrian. That dude has to be one of the smuggest characters on TV, like, ever. 
He knew he was in a great spot. All of the villains were floating around Star City doing his bidding. He was pulling all of the strings while resting up for the battle ahead at Lian Yu. 
Adrian has been one of my favorite villains in the history of the show. He's calculating, ruthless and not afraid to take risks. Hanging around in the cell presuming his band of minions was going to carry out all of their tasks was a risk. 
It was a risk that paid off. Will this guy ever be caught in the act? He seems to slip through the cracks of the most impossible situations. 
Maybe that's why it's a good thing we are just one week away from the season finale. That will likely be his last stand before Oliver has had enough and ends his life for good. 
Either that or Slade will be set free, and Adrian will take up residence in the place Slade had been staying for the last three seasons. 
There was something that piqued my interest about the whole final scene. He addressed Thea as "sis" when he was walking away. Like, what the hell was that?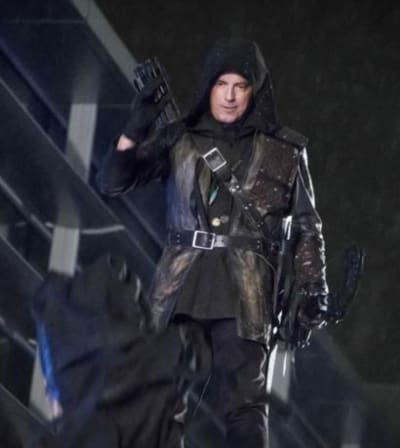 Was it just a figure of speech, or did he confirm that Thea's origins are darker than she could have ever imagined? Malcolm being back in the picture is never a good thing. 
I grew to like him on DC's Legends of Tomorrow Season 2, but he's always been a complete jerk on Arrow. Being Thea's father, I would like to think he would try to save her. 
However, if that whole "sis" comment is anything to go by, Malcolm could be the one revealed to be the real villain on Arrow Season 5 Episode 23. 
It would be very reminiscent of the show's earlier days if Malcolm were the final villain as the series waved goodbye to the central plot. 
I had to laugh at that scene with the league of assassins almost killing Diggle and Felicity. If the orders were to take them alive, then why would the league almost crush the car? 
It was a nonsensical development in an otherwise solid hour. Maybe Talia wanted Diggle and Felicity dead because she knows just how much they mean to Oliver. Heck, that's why all of this is going on just now. 
Oliver's big mouth is getting him nowhere, is it? One thing he said to Adrian paved the way for Adrian creating a sick game to push Oliver to his limit.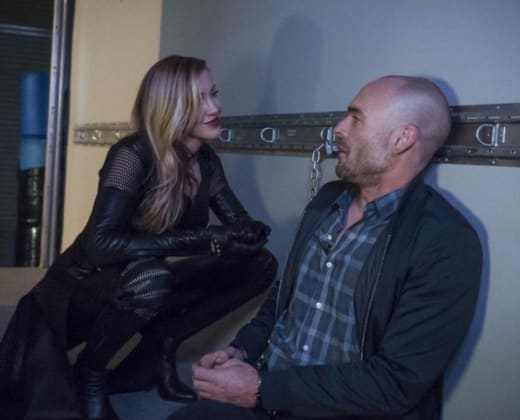 I can't be the only one who shed a tear for Quentin when he laid eyes on Black Siren. Watching him think his daughter was back once again was beyond painful to watch. 
It probably did not help matters that Sara returned from the dead, so he thought lightning had struck twice with Laurel. I felt bad for Thea being the one to bring him back down to earth. 
She must have felt so crappy to dash all of his hopes like that, and in one fell swoop. What I will say is that Black Siren genuinely felt bad about what she had to do. 
Black Siren: Hi, daddy.
Quentin: Oh, my god. It can't be.
Black Siren: It can be. Daddy, it can. Don't worry, I'll explain everything.
When the job was offered to her, she probably thought it was going to be easy to pull off. But she got to witness the pain she was putting the man through, and I think that's part of the reason she may ultimately fight on the side of good. 
I'd be happy to rule her as good if she took Artemis out of the equation. God, that character has been so terribly written that I refuse to believe she is still on the show.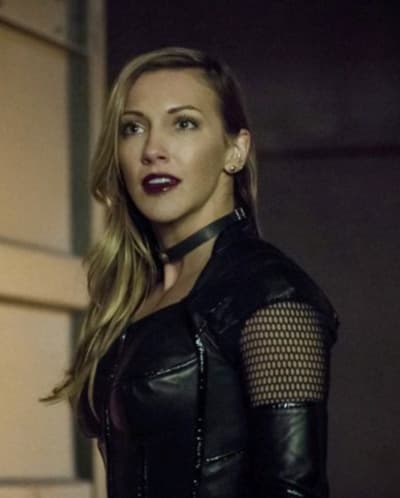 There are some characters who make a mark and then there are the ones who just fail to leave when their story is over. Artemis, of course, falls into the latter category. 
Was anyone else the tiniest bit happy that Oliver was going to dinner with Felicity? Thea knew it was going to be a surprise party, but she could tell there were still a lot of feelings between the two love birds. 
I like when TV shows don't throw the relationships in our faces and keep them on the periphery. Arrow is best when it's an action show. 
"Missing" was awesome. It set the stage for what is sure to be a crazy finale. I'm sitting here wondering who won't make it out alive. Believe me; there will be death. Adrian is not going down without a fight. 
Remember you can watch Arrow online right here on TV Fanatic. Get caught up on the latest drama for the characters. 
Over to you, Arrow Fanatics. What did you think of the episode? Sound off below!
Note: Arrow Season 5 Episode 23 airs May 24 on The CW. 
Paul Dailly is the Associate Editor for TV Fanatic. Follow him on Twitter.