Jason and J.P. stepped on one another's toes as they dance their way through Bull Season 1 Episode 23.
Should these two stick with the dance for next season, or go their separate ways?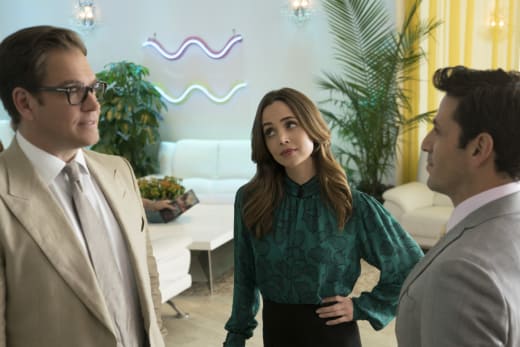 I'm rooting for Eliza Dushku as J.P. Nunnelly to come back as a regular or recurring cast member for Bull season 2. 
J.P. makes Bull step up his game. She's a challenge for him both professionally and personally, and in the personal category, I think we've barely scratched the surface. 
If there's been one downside to her addition in these last few episodes, it's been that the rest of the crew becomes eclipsed by her presence.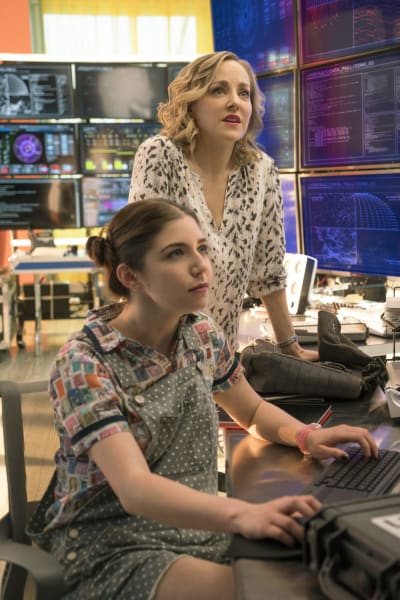 We definitely saw less of the TAC team, especially in this season finale. I'm torn between missing them and still wanting more of Bull and J.P.'s tenuous emotional connection. 
Because J.P. is one of the few people Bull has trouble saying no to, particularly when she gives him that imploring look.
You know this would be a whole lot easier if you didn't carry that face around every time we did business.

Bull
J.P. knew she needed Bull's help on this case and she was even willing to let him out of their deal if he helped her win this one. 
Bull: What are we doing?
J.P.: Defending a young mother accused of something she didn't do.
Bull: Save that stuff for the law review. If you want to defend young mothers I'll drive you to the Bronx and throw a rock and hit 25 of them.
So true. There are plenty of young, single mothers in need of good legal counsel, but Cecilia was the sister of an alleged drug cartel leader, and it was obvious that fact didn't sit well with J.P. any more than it did with Bull. 
That's why she wanted out of her firm, and winning this case would allow her to break free and take her clients with her.  
Also, she wasn't wrong about Cecilia. The woman wasn't guilty, but she was fiercely loyal to her brother.
Bull: I'm trying to save her life, I'm sorry if that doesn't work with your business model.
J.P.: How dare you. You call yourself a psychologist. Wake up, Bull. That women is never taking a deal. The only lifeline she has is us defending her in court.

And that was where things got a bit murky. 
Are we really to believe that a ten-year-old boy made a 911 call about the drugs under the deck? If his mother and uncle were the only family he'd ever known, that felt like a stretch to me. 
Also, why didn't Cecilia or Bull ask Peter if he'd made the call and who he saw plant the drugs? If I were his mother, I'd want to hear the truth straight from him before I moved forward. 
One moment, Cecilia was pledging her undying loyalty to her brother and the next, she was accepting Bull's theory that Leo had planted the drugs with very little evidence. That felt like one heck of a leap from one end of the spectrum to the other. 
With the assumption that Peter saw Leo plant the drugs under their deck, Cecilia secretly gave up her brother. Even with the case being dropped due to the paperwork technicality, I still have trouble believing Leo wouldn't be able to connect the dots and realize his sister had turned on him.
In the real world, not heading into Witness Protection would probably have fatal consequences for Cecilia and Peter, but this is TV, so I'll take the happy ending.
Which leads us back to Jason and J.P. and their final Bull quote:
J.P.: I don't know what to do with you.
Bull: Well I can think of a a few things, but you don't want to hear them.
J.P.: Later, gator.
Bull: In a while, crocodile.

I wasn't happy that Bull kept J.P. in the dark at the end of their case. I know he did it so she could walk away and start her own firm, but I'm not comfortable with that kind of deception. It's not a great way to start off any type of relationship, be it professional, friendship, or romantic. 
These two keep dancing around one another, never quite sure who's leading whom.
There's always this intellectual challenge with just a touch of angst between Jason and J.P., and I'm not sure either one of them knows where they're headed or even in which direction they'd like to be moving. 
But I hope they continue the dance next season because these last three installments have been some of the most intriguing of Bull Season 1. 
You tell me TV Fanatics. Would you like to see J.P. Nunnelly return to Bull next fall?
If you're missing the TAC team already, you can always watch Bull online at TV Fanatic.com.
C. Orlando is a TV Fanatic Staff Writer. Follow her on Twitter.