Days of Our Lives Round Table: Who's the Most Useless Character in Salem?

Christine Orlando at .
The Salem PD put Lani's life in danger, Deimos put his plan to win Nicole back in motion…with Xander as his right hand man, and Rafe tried to arrest Brady as his heart stopped on Days of Our Lives.
Our TV Fanatics Jack Ori and Christine Orlando are joined by Andyroo from MyHourglass a Days of Our Lives fan forum to argue the Salem PD's ineptness, Deimos plan to win back Nicole, who annoys them and which character is the most useless in Salem.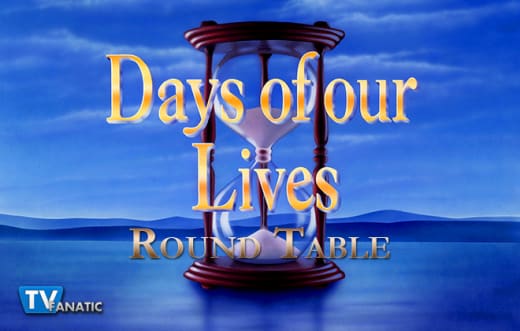 Rate the Salem PD's overall performance during Lani's undercover operation.
Andyroo: Horrible as usual. Lani should have had backup on site at the hotel. And they should have stepped in sooner, before she actually took the drugs.
It reeked of contrived ineptitude on everyone's part just to set up an addiction/withdrawal storyline (again).
Jack: The Salem PD gets a D on this one. Raines and JJ did pretty good work, though JJ shouldn't have run in without backup. 
Lani tried to sneak off and do this mission all by herself and didn't realize that dying of a fatal overdose wasn't much better than getting shot. 
And the two other top cops were busy drinking and eating worms during the whole thing.
Christine: They were definitely living up to their comparison to the Keystone Cops.
If they knew where Lani was, why weren't they much closer? Why didn't they have a team ready to break down the door as soon as Snake said what they needed?
Are there only like five cops in all of Salem? It was ridiculous from beginning to end. 
What do you think of Deimos' master plan to win Nicole back?
Andyroo: Absolutely ridiculous and convoluted, but in line with most of his other schemes. He's delusional to think Nicole would A) get over Brady if he were to die and B) forgive him for everything he's done just for "saving" her.
Even without knowing he was behind Xander, Deimos is still a big part of why she's in this mess in the first place!
Jack: Stupid, stupid, stupid. This plan is juvenile, stalkerish, and reminiscent of when Gabi hired a stalker to get Chad to rescue her.
Christine: I knew Deimos could be ruthless, but I never thought of him as stupid until now. And now he's trusting Nicole and Holly's safety to Xander! Deimos must be losing IQ points by the minute. 
Who was the most useless or annoying character this week in Salem?
Andyroo: Most of the teens. None of them are terribly interesting right now, and their storylines never seem to go anywhere.
Also still not a fan of Dario and how he always seems to get shoehorned in other people's stories.
Jack: Jade is always useless. Lately Abigail is always annoying. Her attempt to mother JJ at the police station was obnoxious.
Christine: Claire's whining and Abigail's nonsense both annoy the heck out of me.
I'll be surprised if Jade has any usefulness at all once she finally tells Tripp the truth about Ava's murder. The anticipation of her spilling the beans seems to be the only reason she has screen time. 
Choose one plot point, character flaw, or inconsistency that made you crazy on this week's Days.
Andyroo: Abigail's insecurities and indecisiveness over Chad. This girl faked her death and abandoned her baby out of love for him and Chad, so I just don't buy her throwing in the towel over a (largely manufactured) "romantic" history between Chad and Gabi.
If the writers are insistent on a love triangle between them, Abigail should be fighting much harder for her husband.
Jack: Just one? I think I'll go with Nicole going to all the trouble to hatch an escape plan (which was a great display of strength), only to waste a lot of time looking for Xander's phone and hanging around the living room until he woke up and caught her.
Christine: I'll go with Rafe trying to arrest Brady in the hospital, as if that couldn't wait until he was being released.
The Brady's heart stopped and he's coding and Rafe just stands there…until Valerie rushes in and... looks in his eyes? The man's heart has stopped! Why wasn't anyone calling for a crash cart?
Was Hope being too overprotective of Ciara?
Andyroo: I don't think so. After everything Ciara's been through, especially with Chase, it's understandable that her mother would want her to be cautious.
Jack: Yes! Even Jennifer, the queen of ridiculously overprotective behavior, told her to back off. That should tell her something.
Ciara needs to make her own mistakes. The fact that she was victimized in the past doesn't mean she wants or needs Hope to baby her.
Christine: Yes, but I understand why. After what they went through with both Aiden and Chase, I wouldn't be overly trusting either.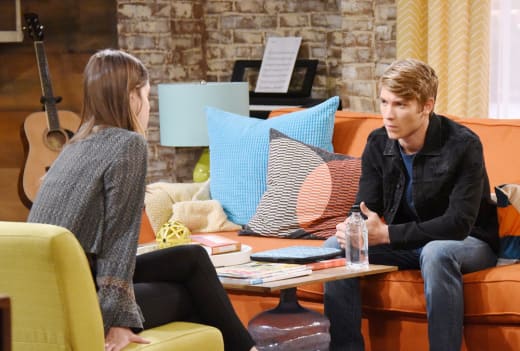 What was your favorite quote, scene or story from this week's Days of Our Lives.
Andyroo: I was honestly rather bored this week. The only thing that really sticks out to me is Tripp now thinking Kayla killed Ava. He convincingly pulled the wool over her eyes, and this could lead to some interesting family drama.
Jack: As much as I hate the story, Xander had some great lines. I liked his comment that people who fall in the river don't seem to stay dead. LOL. But the best moment of the week was Eric standing up to Victor.
Christine: I loved Jennifer and Steve sharing their problems. It's easy to forget that they're family and I loved hearing Jennifer remind Steve how difficult things were when he first found out that Jack was his brother. I love it when the show remembers its history.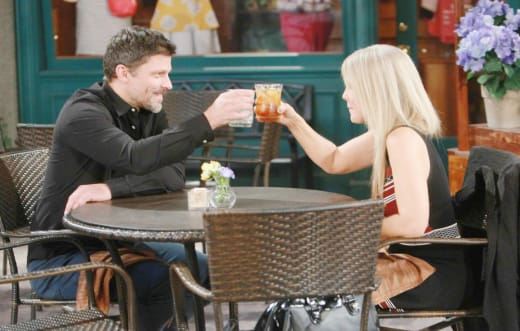 Now it's your turn TV Fanatics. Who do you think is the most useless character in Salem?
Want to chat more about the happenings in Salem? Check out Jack Ori's Days of Our Lives review here at TV Fanatic. 
C. Orlando is a TV Fanatic Staff Writer. Follow her on Twitter.