Sometimes we need to face hard truths, no matter how much they hurt.
Jane was reunited with her best friend, Lina, on Jane the Virgin Season 3 Episode 17, but the reality of their relationship hit Jane like a ton of bricks.
Elsewhere in the episode, Fabian made a shocking sex confession to Jane, Alba took a stand for immigration, and Xo and Rogelio took their relationship to the next level.
There's a lot to unpack in this exceptional installment, so let's get to it!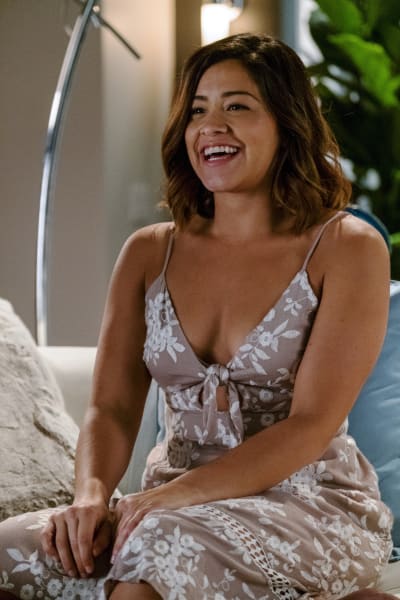 While I have very few criticisms for Jane the Virgin, one aspect of Jane's life I always felt lacked exploration was her friendships. Jane's family life, career, and romances have been well-covered, but friendships have been underdeveloped or nonexistent for long stretches of time.
Jane never hung out a lot with friends, even before the current time jump. I used to wonder who all those people were at her 21st birthday party back on Jane the Virgin Season 1 Episode 6 since Jane never seems to have more than one friend at a time.
Lina has been Jane's friend since childhood. We've gotten to know Lina in random episodes here and there, but never truly as an individual away from Jane.
The three-year time jump has mostly focused on Jane's journey through grief and entering the dating scene once more. It hadn't even occurred to me Lina was nowhere to be found.
It appears Lina moved to New York about a year after Michael's death which caused the two besties to drift apart. Their relationship grew so distant that their entire interactions consisted of liking one another's Facebook statuses. 
I really didn't know how to be upset around you, in a regular way, or happy around you. And I really wanted to be happy. I'd waited so long for my life to click together and finally it was.

Lina
Jane's life got turned upside after her husband died. Lina was there for Jane in the immediate aftermath. However, there had to come a time when Lina could openly enjoy her life around her best friend.
Moving to New York changed Lina's life by giving her a great job, a fiancé, and an overall sense of fulfillment. Via flashback, we learned it was hard for Lina to share anything about her life without Jane turning it around and connecting it to Michael.
Do I think Lina should have just told Jane how she was feeling instead of letting their friendship fall apart? Absolutely! However, it's understandable to not be sure how to act around someone who's struggling from a devastating loss.
Gina Rodriguez and Diane Guerrero did a wonderful job balancing their early awkward encounters with the big emotional confrontation. Jane and Lina ending up on the floor of the bathroom was a nice callback and a reminder these two women genuinely love and care for each other.
I hope we get to see Lina again soon. Family and romance are important, but friendships are just as vital in creating a well-rounded, happy life.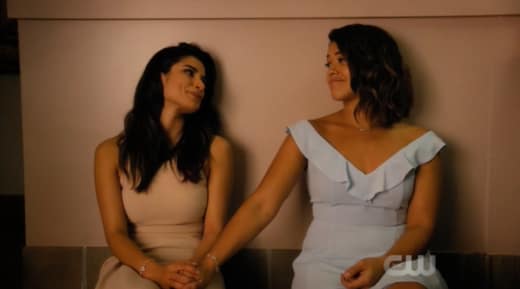 Lina's reappearance also served as a reminder to Jane that opposites can attract. On paper, Lina and Jane have very little in common. And yet they have been friends for years.
If Jane has one major flaw, it would be her judgmental nature. She doesn't do it intentionally, but Jane forms strong opinions about people fast, and takes a lot longer to change her mind about those opinions.
Sex hasn't been on the menu since Michael's passing, but Jane is finally ready and interested in a fling with Fabian. Unfortunately, he revealed he was a born-again virgin. 
I love how the tables have turned and Jane is finally understanding how the men must have felt after finding out she was saving herself. Fabian's reasons for waiting were actually very admirable, but Jane was not looking for something meaningful.
As Lina (and Alba) pointed out to her, maybe she could give Fabian a chance. He might surprise her. To some extent, they are right. 
Sometimes people are worth putting more time and investment in to get to truly know. While Fabian may not be as well-read as Jane, he did pick up the book she recommended. He's also a genuinely sweet and funny man, and they enjoy each other's company. Maybe that's enough for now.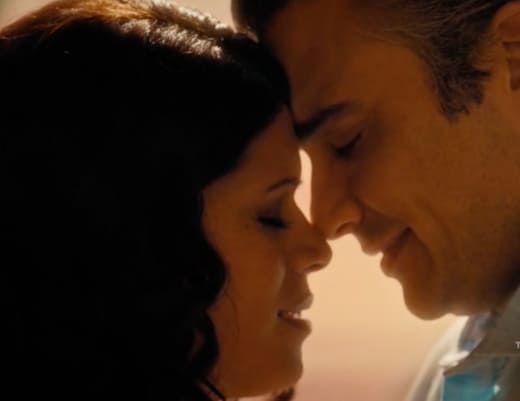 Elsewhere in the episode, Xo and Rogelio are engaged! Again! 
It's undeniable these two are meant to be. There is so much love and history between them. The writers better keep them together this time or I just may have to revolt.
Anyway, Xo was concerned about moving too fast with Rogelio, but his response was perfect. They have been in love with each other since high school. Why wait?
Xo: And we've always moved so fast. We said I love you on beach day in high school after dating for a week.
Rogelio: And it was true. I did love you, and I love you now. And I spent the last three years adjusting to life without you, and it wasn't as good. So we can slow down if that's what you want. But for my part, we're not moving fast enough.
Rogelio's plan to move in with Xo seemed temporarily blocked when Alba talked Xo out of taking the next step with him. I don't think I've ever seen Rogelio get angry with Alba, but I was glad he stuck up for his relationship in that brief moment he believed he was being sabotaged.
Luckily, the stage was set was Xo to surprise Rogelio with a marriage proposal. Having Xo be the one to propose was absolutely perfect. She was able to deliver a grand gesture, and Rogelio got to stand back and let it all sink in. 
Andrea Navedo and Jaime Camil play off each other beautifully. Their chemistry is evident and their scenes together easily convey humor and heart in equal measure.
Xo: Who knew when we first said I love you on beach day that we'd end up here? We've been through so much together and so much without each other. And life is beautiful and hard, and the only thing I know for sure is that I want to go through it all with you.
Rogelio: I had Botox this morning so the tears are struggling to fall, but I feel them.
I hope it's smooth sailing for these two for the time being. After all the time they spent apart, they deserve a bit of happiness.
Completely shifting gears, I want to touch upon the political nature of this installment. The writers has never shied away from commenting on politics, gender, and culture via well-placed hashtags and perfectly timed commentary from the Narrator.
I'm not writing this so I can get into a political debate with someone in the comments section. I just want to express how terrifically I thought the topic of illegal immigration was handled by the writers. 
Alba witnessed a woman yell at another woman who was speaking Spanish to speak English. In that moment, Alba did not stand up and defend the poor woman who was just going about her day. 
We all have those moments where we wish we had done something more. In order for Alba to feel like a good role model to Mateo, she decided to march. 
Many of the characters on this show would be affected by anti-immigration legislation. Jorge could not join Alba in the march because he is illegal. The lawyer he had scammed him and left him with no money. Jorge's story is a perfect example showing the path to citizenship is not always black and white.
I also loved the scene where Mateo asked Jane why the country wouldn't want his great-grandmother here. Children are a lot more perceptive than they are given credit for. Trying to avoid the conversation doesn't help anyone, and I'm thrilled Jane did her best to explain why things are the way they are.
Mateo: Why do some people not want Bisa in this country?
Jane: Well that's actually a really good question and a really hard question because this country was founded by people who came from all over, like your great-grandma. Because they dreamed of a better life with more opportunity. But some people... well they can't see that, and that's just a stinky old fact.
Mateo: That is stinky.
Of course Jane's answer did not go into all the complexities of racism and bigotry, but she didn't lie to her son. She gave him a brief, but honest explanation for why the world won't be as simple and innocent as a child wishes it were.
Leftover Thoughts and Questions
So Petra swears she didn't kill Scott despite the fact she purposively broke up his relationship with Anezka the night he died. Petra is many things but a stone cold killer isn't one of them. I also believe Anezka when she claims she didn't kill Scott either.
Chuck may have just turned out to be villain hiding in plain sight. Anezka claims the "J.P." written in Scott's journal means Jerky Pants, aka the man interested putting a hotel next to the Marbella, aka Chuck.
If Chuck was the one who killed Scott, what was his motivation? And what does he have planned for Petra?
Jane gave Rafael some terrific advice about Petra. I agree that Rafael needed to know for certain that he loved her. Petra chased after him for so long that it would be cruel to string her along once more and than break her heart again.
So over to you! What are your predictions for Jane the Virgin Season 3 Episode 18?
Sound off below, and don't forget you can watch Jane the Virgin online anytime via TV Fanatic!
Amanda Steinmetz was a staff writer for TV Fanatic. She went into retirement in June of 2027. Follow her on Twitter.