NCIS Los Angeles Season 8 Episode 24 Review: Unleashed
Dale McGarrigle at . Updated at .
Sam tried to seek revenge without his team, but they just wouldn't let him.
But Tahir met a sufficiently messy end on NCIS: Los Angeles Season 8 Episode 24.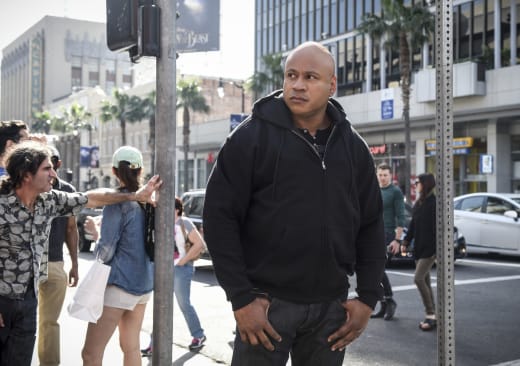 For someone with vengeance on his mind, Sam kept a remarkably cool head in tracking down Tahir while keeping his team at arm's length. He slipped Callen at the mosque then dumped his electronics so that he couldn't be easily traced. 
What an impressive arsenal Sam had in his garage. Granted, it was there for Michelle, as well. Still, it didn't even faze Callen except for the fact that Sam had stripped it.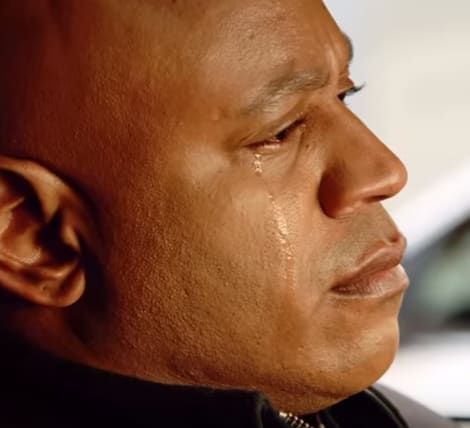 Even while suffering loss, he wasn't overcome enough by emotion that he would tackle Tahir and his thug army by himself.
Sabatino was a good choice by Sam to provide help. He had access to information and was a former co-worker of MIchelle's. Also, using him gave Sam's team deniability for his actions.
They worked together well when they were interrogating Almon Shah. Sam ultimately cuffed him and went after Tahir alone. 
It's good to have Sabatino rehabilitated, somewhat. He wasn't one of the rogue CIA officers/moles plaguing NCIS seemingly forever, yet he got tarred with the same brush as those who were guilty.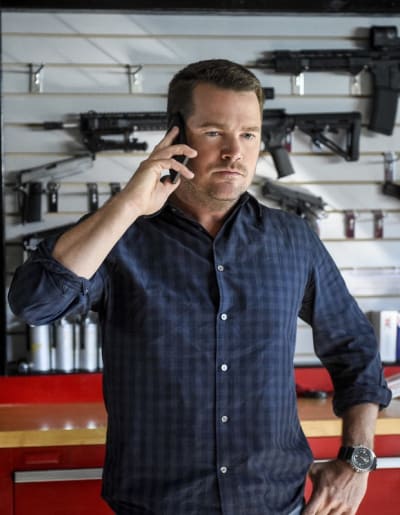 Also Sam's squad helped him out, whether he wanted it or not. Callen, Deeks and Kensi came under fire while checking out a potential hiding place for Tahir.
Deeks kept Tahir on the phone with one of his rambling Deeksian monologs while Eric attempted to trace it. Nell and Eric faked Sam conversation to keep Tahir off balance while they hunted for Sam.
And for having her head agent go rogue, Hetty was awfully calm, right up until she had Eric pour her a drink.
I don't know what Tahir was thinking.
After killing Michelle, he should have been getting out of the country. But instead he stayed to torture Sam by stealing Michelle's body. I'm still fuzzy about his ultimate plan, since a little selective shooting ended his threat once he was found.
I loved how Callen neatly shot off Tahir's hand while Sam grabbed his detonator and blew up the tour van. Whoops!
It was a touching scene when Sam said goodbye to Michelle in the morgue.
It's good to know he's taking some time off (probably the summer, I would guess), but I have to wonder how he will have changed come fall, with Michelle gone and both kids off to military school.
It will be an interesting change of dynamic, with Sam alone and Callen exploring having a new-found family. Let's hope producers resist throwing Sam back in the dating pool anytime soon.
Sam's losing Michelle finally brought back the formal Densi proposal. Remember, as Deeks pointed out, he's tried, unsuccessfully, to propose to Kensi three times previously. 
It just seemed oh so appropriate that it was Kensi who proposed, with the ring off a flashlight amid the debris from an explosion.
That was so much more them than the romantic fantasy proposal. Deeks was slightly offended at first that he wasn't making the proposal, but he smartly relented and accepted. It also showed that she took their relationship as seriously as he did.
You've got to wonder if an official relationship will change their status at NCIS. I've also gotten a "don't ask-don't tell" vibe when it comes to NCIS relationships, but maybe I'm wrong.
I felt Nell was also a key player in this episode. She was the only one overtly empathizing with Sam's loss. Also her talk with Kensi about how short life is led to the proposal.
It was interesting how she charged out into the field to help out, although, frankly, she looked a little waif-ish with a bulletproof vest over her peasant dress.
Hey, here's an offbeat idea. Promote Sam to Hetty's lieutenant, replacing Granger, and make Nell a full-time field agent.
Sam could still go out in the field as needed. If having an engaged couple partnered is a problem, switch up the combinations. This would open up a hole in Ops for a new full-time character.
To binge-watch all of NCIS: Los Angeles Season 7, watch NCIS: Los Angeles online.
Are you glad Sam didn't go totally off the rails? What was Tahir thinking? How did you like the long-awaited proposal? Comment below.
Dale McGarrigle is a staff writer for TV Fanatic. Follow him on Twitter.