Quantico Season 2 Episode 22 Review: RESISTANCE

Allison Nichols at . Updated at .
Well, that sure did feel like a series finale.
On Quantico Season 2 Episode 22, Roarke faced defeat. The task force was victorious, and everyone moved on with their lives. A season full of twists and turns was nicely wrapped up.
There's not this desire for another season. If this were the end, it would have been fitting. Everyone's okay, and Alex and Ryan went flying off into the sunset together. The question is, why not just end it?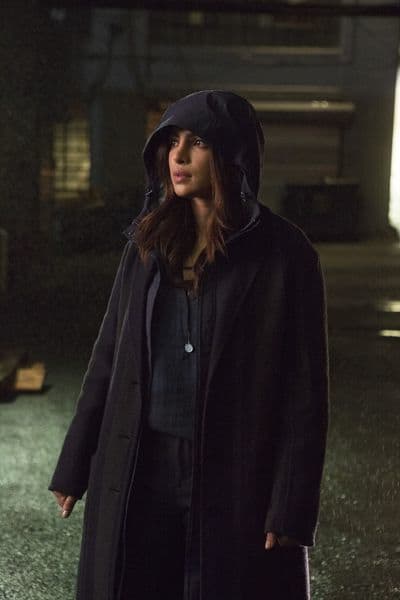 If you don't already know, Quantico was renewed for a 13 episode third season. Surprisingly, it's coming back.
Look, Quantico had a rough sophomore season. The switch to one timeline did help rejuvenate it a bit, but the show just hasn't been as great as it was early in Quantico Season 1.
Nothing about the finale sells you on a continuation of the story.
It's not like season three is just going to feature everyone being happy.
No, there's going to be some new conspiracy that Alex will either find herself in the middle of or will get dragged back to the US to stop, the former being the more likely possibility, and then somehow we're going to have to get around the Alex committing a ton of felonies.
If you are on the fence about whether or not to continue watching Quantico, this finale may have made you feel like now is a good stopping point. Do you like that everyone was wrapped up in a nice bow during the finale? Does it make you want to tune into next season?
The weird flash-forward was jarring and confusing.
I don't know about you, but I was trying to figure out why there were so many people in the bunker. It's not until the makeshift bunker at the bar happens that the light bulb goes off, and at that point, you have been confused for far too long. 
All right, let's talk about the takedown!
Honestly, I have mixed feelings about how Roarke was taken down. The expectation going into the finale was that we would witness this grand plan that the task force hatched over 100 days, and it would be amazing. Instead, we saw the task force fail (again) and quickly come up with a Plan B.
On the one hand, the task force suffering another setback showed how powerful Roarke was, but damn, the task force came up with Plan B rather quickly.
Apparently, all it took was Felix telling Clay to surprise the collaborators instead of trying to outsmart them. Granted, it was nice that Clay was the one who devised the plan that took down Roarke. 
He was the leader of the task force, and we spent most of the second half of the season watching him struggle in this role. He couldn't save his mom's presidency, but at least he managed to win in the end.
Clay also got his act together and got back with Maxine. I knew there was no way she left him! She's way too awesome to abandon the man she loves just because of a little scandal.
I think I've finally come to grips with doing bad for the greater good.

Alex
I'll admit that sometimes while watching this show, you are so focused on figuring one aspect out that you completely miss something. Did I miss what exactly Roarke wanted to add to the constitution?
The big bad was about to win, and yet it wasn't quite clear what his evil plan was. Yeah, he wanted to amend the constitution, and he got the Presidency by doing terrible things, but what comes next?
It never made sense just how evil this constitutional convention was, aside from all the lies and corruption that led up to the convention happen. For a final stand, it felt like the task force was standing up at a part where all the super evil acts had already finished.
Changing the constitution would have massive ramifications, but a discussion wasn't an option. Like I said, maybe I missed this, but this ambiguity was bothersome, and it meant that there wasn't a lot of suspense leading up to Roarke's takedown.
But this country will not fix itself in the shadows anymore. The light is all we have, and the truth is al we can trust. So resist. Fight back. That's what I did and will always do for my country.

Alex
You just sat back and waited for it to happen. There was never a moment of concern that the task force would not pull through or that Alex was going to die (I mean COME ON).
There wasn't any heart pounding action. It just happened, and then everything was nicely wrapped up. It certainly wasn't the best season finale, but it wasn't a half-bad series finale.
What did you think of the finale of Quantico? Leave your thoughts and season three theories in the comments below.
Remember you can watch Quantico online via TV Fanatic.