Scandal Season 6 Episode 14 Review: Head Games
Paul Dailly at . Updated at .
Is it just me, or has the latter half of Scandal Season 6 been excellent?
On Scandal Season 6 Episode 14, the series felt very much like it was approaching the end of its run.
It was setting the wheels in motion for one big confrontation between our favorite characters and the real person in charge of the villains.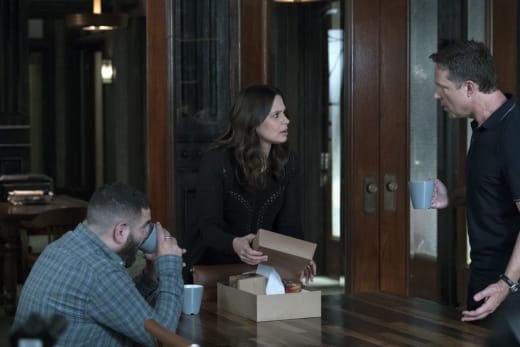 That person turned out to be Mama Pope, and I could not be more excited about it. She was such a cutthroat character during her initial stint on the show, so I can only imagine what traps she will set for our favorite characters on the two-hour season finale. 
That final scene with her watching the news was everything. It rounded off the episode so well. I actually thought when Olivia rocked up in the hanger that she was arresting Rowan. 
Now, I would not have been surprised if he was the one pulling the strings all along and making his poor daughter think he had her best interests at heart. 
I was relieved when Rowan announced his intention never to return again. He's a great character, but he's becoming tired and predictable of late. He got his wish, and Olivia is making her way to the White House. 
Something tells me Mama Pope is going to have the ultimate revenge lined up, and Rowan could become a casualty of that plan. 
I enjoyed Mystery Bitch and Peus, but throwing it all way back to the Mama Pope days was enough to help me get over their sudden deaths. 
What could she have in store? I'm going to be sitting here racking my brain right up until the finale. That is also my birthday, so if the Scandal gods could perform some quick reshoots to make sure Rowan is definitely gone afterward; that would be the greatest gift of all. 
With Olivia making her way into the White House, she needed to do something so that Pope and Associates could be a thing when Scandal Season 7 kicks off. I sat there with my jaw on the floor at the way she was treating Quinn.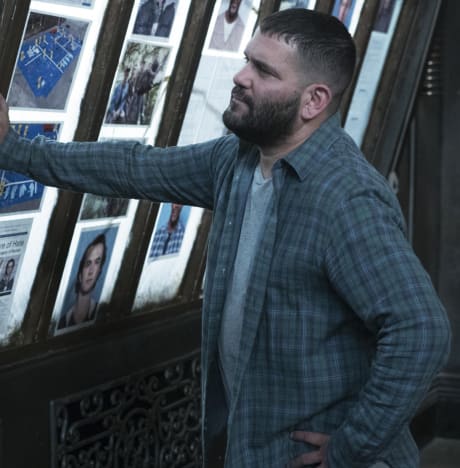 The sudden change of demeanor could not have been down to her being Mellie's Chief of Staff. Like, obviously she is feeling the pressure to get everything ready for the time Mellie takes over the reigns from Fitz, but still, I found myself rolling my eyes. 
However, the penny dropped when Olivia walked over to the safe in her office. She wanted Quinn to prove her worth, and that's exactly what she did. 
Quinn single-handedly proved she had what it took to become Olivia 2.0, and that's all anybody could have asked for. The scene with Quinn calling out Fitz for not wanting to pardon the man was hilarious. 
She genuinely reminded me of Olivia when she knows what she's saying is right. That's probably part of the reason Fitz agreed to the pardon. There is also a possibility that Fitz was in on it all along. 
It is interesting that Fitz is going to be helping people with unfair trials. The episode highlighted in several places that people do not get unfair trials and it's common knowledge. 
It's unclear whether he will use the gladiators in his future endeavors, but something tells me it may be the best way to keep the characters together. 
Abby: David, stop hovering and come in.
David: I can't sleep downstairs with that head.
Abby: You could go home.
David: I'm not going to go home and leave you with that head. I'm a nice guy.
Did anyone else LOVE the scenes between David and Abby? I've always been a fan of their scenes together, and despite a few hiccups, I've always seen them as an endgame couple. 
It was funny and bizarre that they managed to bond over the severed head that belonged to Mystery Bitch. That's certainly one story they should keep between themselves. 
"Head Games" was Scandal at its best: Crazy, soapy and witty as hell. More like this, please!
Other tidbits from the episode:
Mellie clearly wanted Marcus as her Director of Communications so that they could rekindle their relationship. I laughed out loud when Marcus fired back that he was not Olivia Pope. BURN. 
With the news that Scandal is concluding after Season 7, I hope the show manages to maintain the level of excitement the last few episodes have had. It has made all of the dull episodes worthwhile. 
How will Olivia and Fitz navigate their relationship when Fitz is no longer in power? That's one of the bigger questions. 
Quinn, Huck, and Charlie drawing their guns in the dive bar was karma at its best. The way the people in that bar spoke was deplorable. 
Did anyone else expect Huck to try to get Quinn to marry him instead of Charlie? She looked stunning in that dress. 
Remember you can watch Scandal online right here via TV Fanatic. Get caught up now!
Over to you, Scandal Fanatics! What do you think of that big return? Hit the comments below!
Paul Dailly is the Associate Editor for TV Fanatic. Follow him on X.