Stahl was out to dig up a body, Harlee was looking for revenge, and a shooting took things to a whole new level on Shades of Blue Season 2 Episode 9.
Our TV Fanatics Stacy Glanzman, Jasmine Blu and Christine Orlando are here to debate what Stahl will find, who shot up Woz's home, and who is the biggest threat to Woz, Harlee and the rest of the team after "Chaos Is Come Again."
Will Stahl find Miguel's body?
Stacy: From the promo it looks like he's only going to find a tooth, so I guess they somehow managed to move the body before he got there. The tooth is still going to be a problem, but it's not enough to lead back to Harlee.
Even if DNA proves it belonged to Miguel, I don't think that's enough evidence to prove she killed him. 
Jasmine: I agree with Stacy, I think they will have moved the body by the time he gets to the grave, but the tooth will be an issue.
Stahl doesn't play by the rules or the law so it doesn't matter that it's not enough to prove anything. It's enough to fuel him in his dogged pursuit to, I don't know, destroy her. It's certainly suspicious, especially since there is no connection between Miguel and Sap other than Harlee.
Christine: I guess that Woz moved the body and hopefully burned it, but that won't be enough to stop Stahl. The man has nothing left to lose, and he's willing to take everyone else down with him.
Who do you think was behind shooting up Woz's home?
Stacy: Again, based on the promo, I'm going with Bianchi. Promos can be misleading though, and they have a lot of enemies, so really it's a crap shoot. It could be anyone. 
Jasmine: Yeah, Bianchi came to mind first. They do have a lot of enemies,  but unless it was a gang thing, my money is on Bianchi. It could have been an escalation after everything with Woz's wife.
Christine: They've made so many enemies that it could almost be anyone! Bianchi, Quince's crew, I wouldn't even count Stahl out on this one. He's angry enough that he could have set it up, but the most obvious choice is Bianchi, especially after Woz accosted his girlfriend.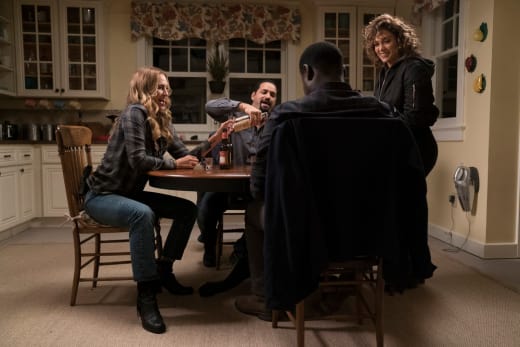 Did you think that Harlee was going to try and kill Stahl? 
Stacy: No, I figured the supplies she was buying was to move Miguel's body. As much as I'm sure she'd love to kill Stahl, it's not the best move right now. Plus, she had just told Woz that there was too much death around her. 
Jasmine: I thought she would try, but obviously she wouldn't. It's not their best move at all. There are too many bodies as it is. I laughed when she got all the supplies from the store though. Everything about them screamed body disposal. 
Christine: Given that Stahl was messing with Cristina, I figured anything was possible, but I didn't think she'd actually do it. Stahl's too much fun and Shades of Blue season 2 isn't over yet! But I loved the look on the clerk's face when she checked out. It did look like a serial killer's shopping cart. 
Who is the team's biggest threat? Stahl, Verco, Bianchi, or someone else?
Stacy: They are all looking pretty dangerous right now. If Bianchi is responsible for the shooting at the house, he's about to have the wrath of Woz brought down on him, so he might not be a threat for much longer. 
Stahl is kind of grasping at straws right now, but we can never count him out. Verco seems to be getting closer and closer to uncovering something, so it may only be a matter of time before he has hard evidence. 
I think right now, Verco might be the biggest threat, especially because the other two are the team's priority, so they're not paying much attention to him. 
Jasmine: Honestly, it feels like it's about neck in neck with everyone coming from different directions. They all pose a serious, imminent threat but all in different ways. 
Bianchi is dangerous and possibly behind the shooting. He's coming at them and coming at them hard, full throttle. Verco is definitely on the brink of discovering something mostly thanks to Loman. Stahl, on the other hand, is more unhinged than ever before. He's blinded by his rage and unpredictable.
Christine: I'm going with Verco because he's the one they don't really see coming. They're so focused on Stahl and Bianchi that I'm afraid Verco's going to be the one to take them all down.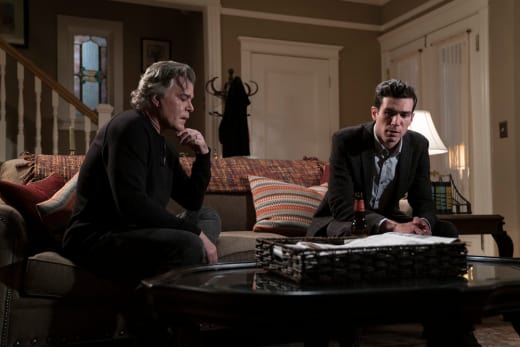 What was your favorite quote or scene from this episode?
Stacy: I really liked watching Woz play chess with that little boy. It was super adorable watching him relate to him. I definitely laughed at his reaction to losing his "horse." 
Jasmine: I loved that too, Stacy! Just to change it up, I'll say Harlee and Tess punching problematic guys in the solar plexus. It wasn't nice, but it was cathartic.
Christine: I'm going with the shootout at the end because even with the flashbacks, I still wasn't expecting the intensity of it or for Nate to get shot. This show never ceases to shock me, even when I think I'm unshockable. 
Now it's your turn TV Fanatics! Who do you think is the biggest threat to the team?
Was Bianchi behind the shooting? What will Stahl find in Sap's grave? Check back in on Sunday for our review of Shades of Blue Season 2 Episode 10.
Want to see that epic shootout one more time? Then watch Shades of Blue online here at TV Fanatic. 
C. Orlando is a TV Fanatic Staff Writer. Follow her on Twitter.