The Americans Season 5 Episode 13 Review: The Soviet Division
Carissa Pavlica at .
It was an utterly sedate finale for The Americans.
It shouldn't come as a surprise that there weren't any big surprises on The Americans Season 5 Episode 13, because the season as a whole was far more introspective than action oriented.
The finale followed that pace, allowing for Philip to yearn for home as much as it appeared Elizabeth might have finally grown closer to her American identity.
The hour began right where The Americans Season 5 Episode 12 left off, with the faux family storming over to Pasha's house, which turned out to be in the wake of his suicide attempt.
Pasha's attempt on his life at first weakened the resolves of both Philip and Elizabeth, especially when it came to Tuan. Elizabeth even wished they could take him home with them to Russia. 
They didn't need to feel quite so touchy-feely about the kid, as he had been busy, too, sending and operations report that condemned his faux parents for their lacking judgment when it came to scheduling their time, as well as their inability to set aside their petty, bourgeois concerns about things like Pasha's life.
I suppose the writing was on the wall when Elizabeth spoke to the little shit about the odds of his success in the spy field, zero to none in her opinion. Being so young and utterly alone Tuan would fail as a spy. The work is too difficult to maintain on a steady basis without someone watching your back.
Elizabeth and Philip didn't allow the things Tuan said or thought about them to phase them because they're confident in their abilities and their work on behalf of their country. They had also decided to go home.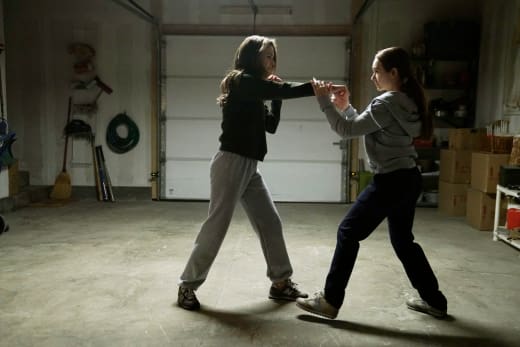 Even as they made the decision, a topic seemingly best discussed in their car, neither of them were very convincing in their desires to pull up stakes and leave.
The most adamant either of them got was when Philip told Henry he could not go to St. Edwards despite the full scholarship. Even that denial had a ring of falsehood to it. It was as if he was more frustrated about telling Henry no to something he dearly wanted instead of possessing a bristling excitement at his next proclamation.
Returning home was a huge decision. Elizabeth and Philip hadn't lived in their country for decades, yet neither of them got even slightly giddy with the idea they'd be making the trip. That should have told them something.
Neither of them was willing to admit, though, that the idea wasn't as thrilling as maybe it once was. 
Elizabeth continued training Paige, who enjoyed thinking of a future without Pastor Tim. Paige can walk through the scary parking lot without being too frightened. She's still not confident, but not too far gone, either.
Philip continued to enjoy playing racquetball with Stan, and when he realized he was leaving the country, stopped to appreciate what the game and Stan's friendship meant to him. He'd miss them.
Similarly, Elizabeth seemed stunned when placing clothing into her closet and later looking around her modern home at all she had in America because she likes what she has. She'd be lying to herself if she tried to say she didn't enjoy the clothing, the light up closet, the TV or the dishwasher.
It's no surprise the two diverged a bit. Husband and wife reached a point where they connected and their paths crossed. Philip can't just do what his country tells him to anymore without thought.
But he's not so far gone he's willing to toss away evidence that would have allowed them to leave the country. Philip's conscience is alive and well.
Philip: It's not just me having a hard time. It's you, too. The kids. We're allowed to have a life.
Elizabeth: I can't. I just can't.
For the first time, I'm questioning Elizabeth's motivations for remaining in the United States. When she said she couldn't stay, I didn't feel her being any more passionate about staying for Mother Russia than I did when she might leave to go home to her.
Are there other factors behind Elizabeth's decision to stay?
Elizabeth: The head of the Soviet Division? I'm sorry.
Philip: It's OK. It's why we came here.
Elizabeth: Maybe you should stop. You need to keep getting the recordings, but maybe you should stop.
Philip: You need me, Elizabeth.
Elizabeth: Not for this. I'm making you stay and it just keeps getting worse for you. I don't want to see you like this anymore.
And are other factors why it is so easy for Elizabeth to volunteer to do the job on her own (sans Kimmy's place and the tapes)? She just finished telling Tuan the job is impossible for one person. Why the turnaround?
Maybe the prospect of giving up the life they created for themselves in the US is more than Elizabeth can imagine, after all. Maybe Philip didn't freak out at Elizabeth wanting to stay behind and do the job alone because he has hope it's all going to work out, too.
Are they fooling themselves, each other, their country, everyone or no one at all?
You know what I think, now share with me your thoughts. 
The Americans Season 5 was unique, and we have only one left. Where do you imagine it will end? Will Perestroika take the Jennings home to Russia, or are they set to remain in the US forever?
Drop your thoughts in a comment! Thanks for riding along with me. And if you watch The Americans online, don't forget to come back and get involved with the discussion afterward.
Carissa Pavlica is the managing editor and a staff writer for TV Fanatic. She's a member of the Critic's Choice Association, enjoys mentoring writers, cats, and passionately discussing the nuances of television and film. Follow her on Twitter and email her here at TV Fanatic.