Sheldon's about to be on his own for the first time. 
On The Big Bang Theory Season 10 Episode 23, he has to come to terms with the fact that Amy is taking a research fellowship position at Princeton, which means they'll be apart for the summer.
Logically, Sheldon knows she should take the position and that it's a great opportunity, but he has trouble dealing with the fact that she's leaving him, even if it is just temporarily.
The fact is that Sheldon has always been dependent on someone.
Before Amy, we were used to seeing how much he relied on Leonard on a day-to-day basis. By the time Sheldon and Amy moved in together, she had already become incredibly used to helping fill that role.
Now, with her leaving for a few months, Sheldon will have an apartment entirely to himself – the very thing he was concerned about when Penny and Leonard first got married.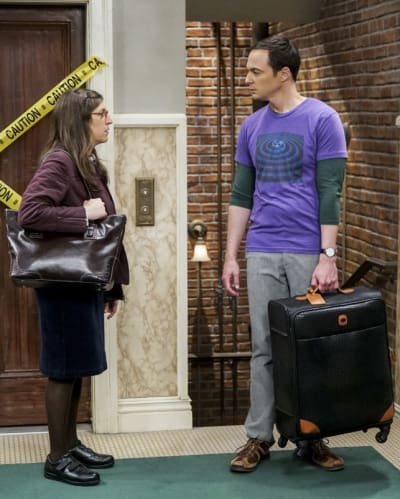 It's a chance for him not only to figure out how to take care of himself and be on his own completely (okay, yes, Leonard and Penny WILL be right across the hall, so he won't be that alone) but also to be supportive of Amy, as Sheldon points out.
Sheldon's relationship with Amy has forced him to grow as a person. He's already learned a great deal about relationships and understanding people, but this is another step in that direction.
One of my favorite moments from this episode is Leonard giving him the advice to show Amy how supportive he can be.
My actual favorite moment, though, is how he does just that.
He arrives home with a suitcase as a gift – a gesture – to show that he's supportive of her taking advantage of such an important opportunity.
He's even willing to make a special exception when it comes to their annual lovemaking.
Sheldon: Alright then, let's go to the bedroom, remove our clothes, fold them neatly, and engage in frenzied lovemaking.
Amy: What if we don't fold our clothes at all.
Sheldon: Or... what if we fold them?
It's okay that it's not her birthday, but the clothes still need to be folded, okay?
Amy has, of course, been concerned about Sheldon being alone too. It's sweet for her to worry about him like that, but I'm glad she's not the type of person who would let an opportunity like this pass her by because of it.
Penny: Oh come on, he's a grown man. He can take care of himself.
Amy: You really believe that?
And I'm glad that Sheldon, even in his initial reaction to the news, isn't the type of person who would want her to.
All of this comes on the heels of the guys losing their guidance system project. They're all so excited to have everything ready, and they arrive at the lab to find everything missing.
The Air Force came in and took everything overnight, and now there's nothing left for them to do. It's out of their hands.
That's probably pretty realistic, but I hate seeing such an important story end that way. It's just a bit of a letdown.
I hope we'll get to see more from it still, or else have the guys work together on something new soon.
Other thoughts:
I'm surprised Penny is so excited to get rid of Raj since they started out getting along so well. It seemed like she was going to really enjoy having him around.
Howard is definitely going to need a new project soon before he drives Bernadette crazy.
Plain oatmeal is disgusting. I'm with Penny. At least put some brown sugar on there.
What did you think of this episode of The Big Bang Theory? Share your thoughts with us in the comments below!
Need to catch up on past episodes?
You can always watch The Big Bang Theory online right here via TV Fanatic. Watch online now!
Ashley Bissette Sumerel was a staff writer for TV Fanatic. She retired in September 2017. Follow her on Twitter and on Google+.