Keeping Up with the Kardashians Season 13 Episode 14 Review: Sister Surrogacy

Sarah Hearon at .
It wouldn't be a Kardashian season finale without a little bit of nudity.
Keeping Up with the Kardashians Season 13 Episode 14 opens with Kim shooting "content" for her app (naked, of course). Kourtney walks in and acts surprised, which is funny since she had a nude photoshoot on the family vacation earlier this season.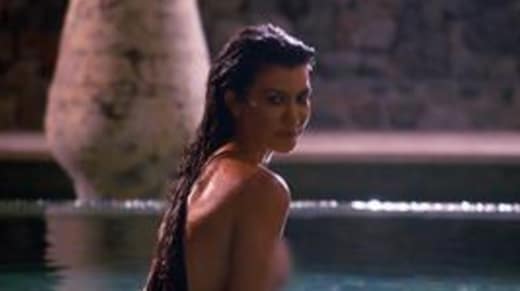 Jeez my app is about chocolate chip cookie recipes.


Kourtney
All three Kardashian ladies have babies on the brain.
So you want me to go ahead, get fat, have your baby and give it back to you.

Khloe
Kourtney casually mentions waiting a fourth kid when she holds Dream... it's unclear who she would procreate with though.
Kim has been talking fertility issues and surrogacy since the beginning of the season, but this is the first time she has seriously approached one of her sisters about helping her out. (She wisely ignored Kris' offer on last week's episode).
Then there's Khloe. She is getting serious with boyfriend Tristan Thompson, and doesn't seem like she wants to carry a child that isn't hers because of him, but clearly wants her own kids sooner rather than later.
Now correct me if I'm wrong, but wasn't Tristan's ex-girlfriend pregnant with his child when Khloe started dating him? It might be a nice way to come full circle.
I would have to tell him, 'I'm pregnant, and it isn't yours. But it isn't mine either!'

Khloe
Speaking of Tristan, Khloe calls him on FaceTime with Kim and asks him about having kids. She casually brings up surrogacy, and eventually makes her way to the subject of Khloe carrying her baby.
Tristan is actually very casual and nice about the subject. I want to believe that Khloe's found her true love, but I'm skeptical for her to go down the basketball wife road again.
Kim: I wasn't sure if you would mind if I borrowed Khloe's womb for a good year.
Tristan: It's up to KoKo, whatever she wants to do.
One of the best moments of this episode was Kris' cousin CiCi admitting that she looked up Tristan on Wikipedia after she found out Khloe was dating him. I wonder how she reacted to Lamar or Ray J's Wiki page.
Khloe goes with Kim to the fertility doctor to find out if surrogacy is even possible.
It's interesting to hear Khloe talk about "fake trying" to get pregnant with Lamar because that was such a big storyline on Khloe and Lamar back in the day. They made it seem like Khloe was desperate for kids, but in reality, she was trying to cover up her failing marriage and Lamar's relapse. 
It says a lot about Khloe that she knew the situation was less than ideal to bring a child into, and I'm glad she waited.
I faked tried... when I was doing my fertility treatments, it was more so for Lamar.

Khloe
However, at the doctor, Khloe finds out that her ovaries look older than they should. He suggest that she gets off the pill and if he still doesn't see as many eggs as he should, he recommends she freezes her eggs while she's young.
Khloe briefly opens up about it to Malika and Kourtney, but the conversation quickly shifts to Kourtney.
For the 25971th time, Kourtney claims she's done with Scott. I think she means it, and even though she deserves to be treated better than Scott treats her, I'll always hold out for a reunion.
It's Rob's 30th birthday, and according to Kris and Kourtney, that means a trip to Disneyland. I think they forgot it was Rob's birthday, not Dream's.
Thank God he brought his life coach to help him decide whether or not he wants to go or not.
The first step in Kourtney's "new life" is making Khloe, Malika and friends play in a pinball tournament. It's very bizarre, but worth it to see them all wear beer helmets and call themselves the "pinball pussies."
Malika tries to make Kourtney mingle and potential meet someone, but she's better off playing pinball.
Are you guys pinballers?

Kourtney
Kim and Khloe also try to help Kourtney find a new man-- by signing her up for Farmer's Only.
Could you imagine being on FarmersOnly.com and seeing Kourtney Kardashian's profile. That could be another reality show in the making.
Kourt reassures them that she doesn't need help, and that she even hooked up with someone the night before. If you're following Kourtney's love life outside of the show, you know that she spent a lot of time overseas with a male model recently, so she's doing just fine.
is birthday, For Rob ditches Disneyland for a movie theater, and it's not exactly shocking that he would prefer a dark room instead of a day full of Mickey ears and paparazzi.
Khloe goes back to the fertility doctor after being off birth control, and gets good news. It sounds like there could be a lot of future NBA players running around Calabasas soon. 
I'm like the fucking Easter bunny. I'm full of eggs.

Khloe
Kim asks if she is still considering on freezing her eggs, but Khloe doesn't seem interested on waiting (and Tristan suggested Good American maternity jeans, so that's one reason to get pregnant ASAP!).
The season ended with a montage of moments from the past and the sisters predicting what is next for each family member. It basically acted as a super tease for 10 more years of KUWTK.
What did you think of season 13 of Keeping Up with the Kardashians? Are you going to watch Life of Kylie? Or just wait for season 14 of KUWTK? 
In the meantime, don't forget you can watch Keeping Up with the Kardashians online via TV Fanatic.
Sarah Hearon is a staff writer for TV Fanatic. Follow her on Twitter.