Animal Kingdom Season 2 Episode 8 Review: Grace

Lisa Babick at . Updated at .
On Animal Kingdom Season 2 Episode 8, Smurf continued to try to manipulate her boys, but it wasn't going as well as she planned – at least with Baz and Pope.
Meanwhile, Deran and Craig made plans for the future while Nicky and J played silly teenager games.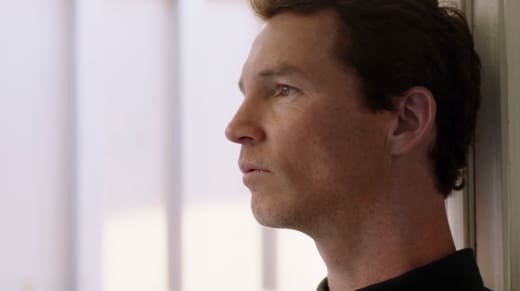 "Grace" was a rather quiet hour which was a nice switch from the recent heart-thumping, high octane episodes of late. It gave everyone a chance to breathe (including us!) and still move the story forward.
As crazy as he is, Pope is still my favorite character. Just when I'm feeling sorry for him and proud that he's trying to make a change, he does something that makes me shake my head in disgust.
He has to save himself and his family, and I get that he'll do whatever is necessary, but couldn't he have just destroyed the checks instead of putting them in Leon's truck?
Leon didn't deserve to have that rap placed on him, but better him than Pope, I guess. I can't remember why he kept the checks, but I wish he would've burned them earlier when he had the chance.
I really believe that Pope is trying to change his life around and being with Amy is helping, but how much is he really going to change? It's not like he's going to get a real job.
He's still going to keep doing what he's doing with his brothers, and we also can't forget that he's a killer. 
Still, he's one of the most compelling characters on the show. He's got such a cool demeanor. Nothing bothers this guy which also makes him the scariest. But I also think he's the smartest.
He didn't bat an eye when the cops were at his place and didn't even hesitate when it came to what he was going to do with the checks. He's very casual about everything, yet so intense.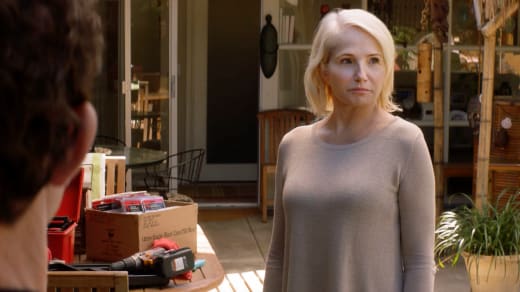 By the way, if anyone is wondering what song was playing at the opening of this hour it was Rituals by Archie Bronson Outfit. I thought the song was a perfect fit for Pope.
It could actually be his theme song. Don't you think Pope should have a theme song? I do.
Smurf tried to get weird with Pope again inviting him into her bed while she was (or at least looked) to be naked. I'm glad Pope walked away. He's not momma's little boy anymore despite the fact he ran to her side when Javi and friends broke into the house.
He's all about family, but he's all about Pope. 
How he's going to handle Baz thinking that Smurf killed Catherine might push Pope to his limit. How far is Pope willing to go to keep the truth from Baz?
He already told Smurf he wasn't going to let Baz take the fall for Catherine's death, and he meant it. But is he willing to let Smurf take the blame, or will he admit the truth of what he did?
Even if Pope admits the truth, Baz isn't going to believe him. He's going to blame it on Smurf no matter what. He'll think Smurf got into Pope's head again and that Pope is just protecting her.
He already knows about her skimming from the jobs, and he's seen what she's capable of. He doesn't trust her anymore, and he never will again. 
He really believes he's not part of the family, no matter how she tries to manipulate him or what she says. 
Craig, on the other hand, is falling right back into things with Smurf. What was with that long kiss on the lips? It won't be long before he's back living at home despite his attempt to change and become independent.
He deserves credit for actually getting a job to plan a job. It was rather clever of him, but how much money are they really going to make? And is bringing Nicky on board to help out a good idea?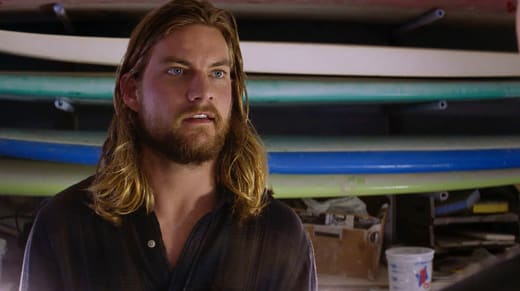 She desperately wants to be part of the family but keeps getting pushed out. Smurf is only going to keep her on the periphery, and it's not going to change. And Baz isn't going to be too thrilled with any job Nicky is part of, so maybe the boat job will just be a Deran and Craig job.
But Deran wants out as he admitted to Adrian. As we all suspected, he wants to go legit, and he deserves to do so.
Only his brothers will prevent him from doing so, and Baz doesn't seem like the kind of guy that will let Deran out. Once you're in, you're in. There's no getting out. Deran doesn't have a chance.
It was cute watching J play silly games with Nicky by bringing Shannon into the mix. Nicky's reaction proves she's not mature enough to handle doing any sort of jobs with the family. But J is being just as childish, though I liked his f/u attitude toward her. She deserved it.
I'm not sure how I feel about a Nicky and J reunion, though. Does she really deserve to have him back after all she did? J is dumb for wanting her back. 
Somehow Smurf is going to get into the middle of it, and it won't be pretty. Nicky is the wild card in all of this. They all better be careful.
What did you think of "Grace"? Will Nicky ruin Craig's job plans? Is it even a good idea to have her involved with anything?
How will Pope handle Baz's accusation of Smurf? Can Deran actually go legit?
Hit the comments and share your thoughts!
If you need to catch up, you can watch Animal Kingdom online right here via TV Fanatic!